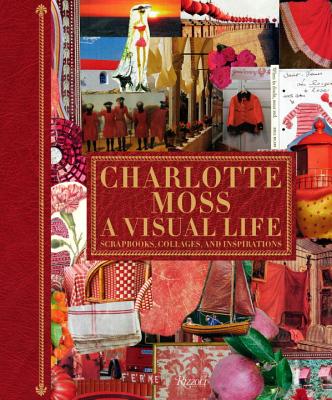 We all love the spontaneous, haphazard appeal of flea markets. But how do you sift through that bounty to discover treasures best suited to your personal style? Celebrated interior designer Charlotte Moss shows you how you can use scrapbooking to make a collage to develop and shape your vintage style sense. Her latest book, Charlotte Moss: A Visual Life, is filled with the personal scrapbook pages of influential vintage style mavens (including Charlotte herself).
Charlotte's 7 Steps to Make a Scrapbook to Inspire Your Vintage Style
1. Start collecting. The first thing you need is materials. But don't limit yourself to pictures; hold onto ticket stubs, invitations, dinner menus, business cards, etc. The more artifacts you save, the more resources you will have available.
2. Get organized. As your keepsakes build up over the years, you will need a way to categorize them. An easy way to do this is to look for themes. For instance, you can group materials by events (such as trips or dinner parties) or topics (like fashion or gardening).
3. Edit. Once you've sorted your memorabilia into categories, pick and choose what you plan on using. Move pieces around until you are satisfied with the layout.
4. Cut and paste. Now all that remains is to bring it all together with some glue and scissors. It's important to remember that there's no right or wrong way to scrapbook—what matters is that you are satisfied with the outcome.
5. Bind it. Take your artwork to the next level by turning your scrapbook pages into books. As you continue adding pages to them, you can watch with delight as your books continue to grow and develop. These books will be on hand to revisit every time you need inspiration.
6. Use the right materials. In order to increase your artwork's longevity, use acid-free paper and sheet protectors.
7. Be spontaneous. Don't be discouraged if your collage comes out differently than you planned. "What collage, blogging and scrapbooking have in common is that they're all done to please the creator," says Charlotte. "I've come to enjoy letting go and allowing instinct to take over."
Charlotte's Tips for Creating a Digital Scrapbook
• Mix artistic media. Candy Pratts Price, Vogue.com's creative director, has scrapbooks containing CDs of video clips.
• Surf the Web. Once you find a source of inspiration (Charlotte looks to influential women), try researching it online. With its endless array of blogs and image sharing sites like Tumblr, you are likely to end up with more results than you have time to peruse.
• Explore new outlets. With social networking sites like Pinterest, you can make your own digital collages that are both creative and green.
• Take advantage of gadgets. Charlotte always has her iPad on hand to quickly jot down notes or snap a picture. Inspiration can occur at any moment!
by Nina Han