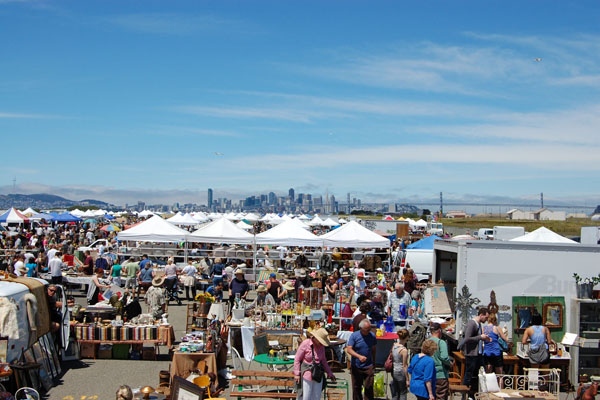 Alameda Point Antiques Fair
More than 12,000 people come from far and wide on the first Sunday of every month to shop the outdoor Alameda Point Antiques Faire's rows and rows of antique books, mid-century furniture, Victorian furniture, garden furniture, antique jewelry, vintage kitchenware, repurposed shabby chic items, collectibles, vintage clothing, textiles, fine art and more. With 900 booths to peruse at this Northern Californian flea market, "It's a collector's paradise," says cofounder and co-owner, Allen Michaan. "It's so big that some people can't even go through the whole thing."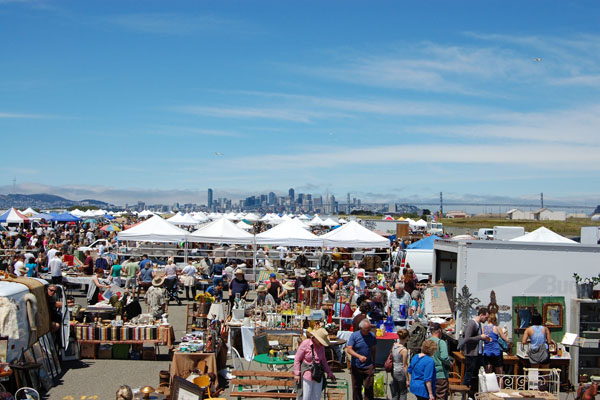 If you love all things vintage, this is the place to be, where you can find every kind of antique, collectible or vintage anything. "It's eye-candy galore—there's such a variety and not a lot of junk you have to rifle through," says cofounder, co-owner and show producer Sandra Michaan. The flea market has a firm "20-year rule," meaning everything sold here must be at least 20 years old. They aim to cater to every collecting interest; right now, mid-century furniture is the hot ticket item, which you'll come across frequently. "We also get a lot of French antiques," Sandra says. "Even people from Europe say they like our show better than the French flea markets."
Deals are waiting to be struck at the Alameda Point Antiques Faire. Intrepid shoppers know they're guaranteed to score some great pieces at a great price, especially compared with department store retail prices. With so many styles of furniture to choose from, "We get a lot of decorators, designers, antique shop owners and people wanting to decorate," says Sandra, who often finds herself bargain shopping the booths for paintings, art prints, curtain tiebacks, tassels, trim and other textiles from around the world, as well as scraps of vintage lace for customizing her clothing.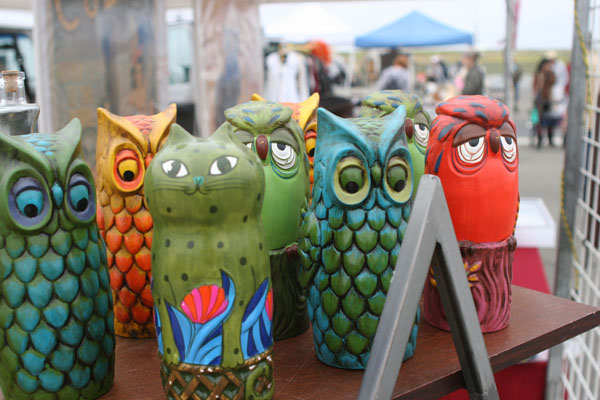 "It's great for gifts," she adds, and she especially loves browsing the jewelry section for costume accessories or quality pieces for $5 or $10. "You can come with a little bit of cash and come out with a lot of great items." Just be ready to walk and ready to haggle—it's all part of the fun.
Collector's Paradise
When there are 900 booths to check out, you've got a lot of ground to cover. Here are Sandra's tips for strategizing your trip and nabbing the best deals.
1. Early bird gets the worm: "Always come early. You've got lots of time to walk around when it's less crowded and you can see everything. The earlier you come and the longer you can stay, the more ground you can cover."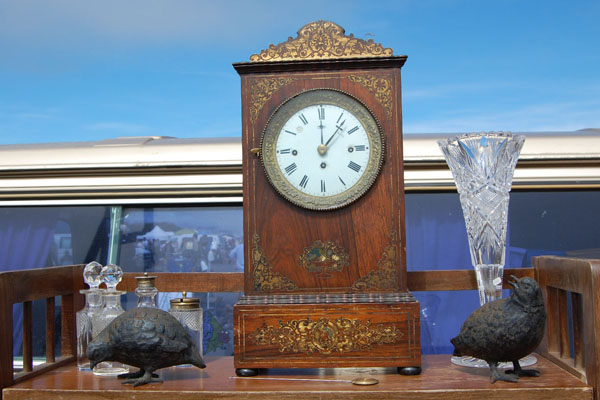 2. But also stay late: "Stay the whole day. If you're looking for furniture, they are cutting bargains at the end of the day."
3. Where to find the bargains: "Hit the back of the fair and work your way up, which is what a lot of people do. The best deals are in the back."
4. How to haggle: "You should be able to negotiate a little. I always ask, 'What's your best price?' The best way is to buy multiple items from a dealer and bring them up all at once. They're more apt to negotiate and sometimes you can get things thrown in for free."
5. Refuel and recharge: "Take a good lunch break. We have an international food court with great food. There's no need to leave."
by Margie Monin Dombrowski
Photography courtesy of the Alameda Point Antiques Fair