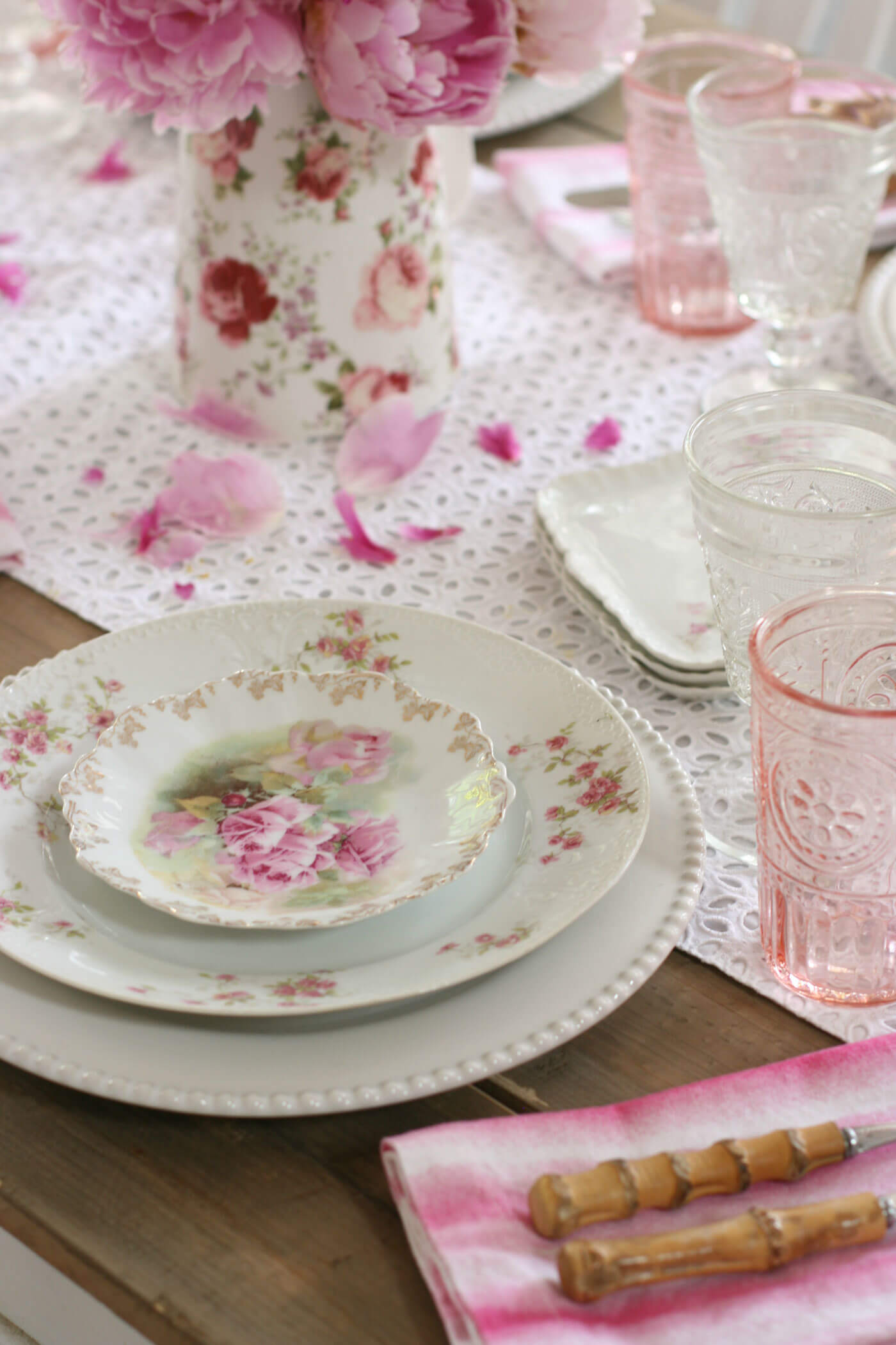 Fabiana Reese
I'm often drawn to flea markets, thrift stores and yard sales. The thrill of the hunt never ceases to excite me! Certain pieces just seem to speak to me, and antique rose china always seems to be on my radar while I'm out treasure hunting.
Recently, I've been drawn towards antique rose china embellished with beautiful patterns and it's become one of my favorite things to collect. These vintage patterns are feminine and flirty, and best of all, they work beautifully for a romantic table setting.
Rose Patterned China is Easy to Find
The next time you visit a flea market or thrift store, be on the lookout for pretty pink rose patterned plates. You can often find them in small sets, which is my favorite way to acquire them, but unique individual plates are also quite practical and fit in nicely if they're in the same pink color palette.
My favorite patterns are made in England and made of fine bone china, but I've found gorgeous German examples that are quite unique and look like they're hand-painted.
Mix and Match for Fun
Just like any collection, mixing and matching is made easier when the plates have a common design or color. Dinner plates, salad plates and bread plates all layer beautifully with each other, and especially look lovely in coordinating but mismatched patterns. I've found that collecting different size plates also helps when arranging them together at a table setting.
Accessorize with Pink
To get more bang for your buck, tie the whole table together with pink accents. Adding pink glassware, napkins and flowers will naturally accentuate the pink rose pattern on the china, and capture everyone's attention. Think pink when setting this kind of table!
Include Feminine Details
What's the easiest way to turn an ordinary table into a romantic table? The answer is feminine details. Of course our rosy plates add feminine charm, but go ahead and add one or two more girly elements, just remember not to go too over the top with frills and such. To keep this table from looking stuffy, an eyelet table runner does the trick and adds a little whimsy to this whole look.
Incorporate Modern Elements
A few modern elements help keep the table from looking a little too old-fashioned. As romantic as roses are, a pitcher of pink peonies adds modern flair to the table, while the colors of these fresh flowers work perfectly with the roses on the plates. Vintage bamboo flatware offers the perfect contrast against the pink tye-dyed napkins and both these elements add a much needed dose of fun to this tablescape.
Collect What You Love
Vintage or new, rose patterned dinnerware is fun to collect, but if your passion is collecting another type of china, you can still keep these tips in mind when setting your table. The same rules apply for other fun collectable plates like transferware or cabbageware.
Just remember to mix and match, accessorize with a fun color, add a modern touch and incorporate feminine details. Your table is sure to be a hit with your friends and family!
Crafting elegant tablescapes is one of Fabiana's many talents and passions. She regularly shares her inspiring designs on her blog, Ciao! Newport Beach and on instagram.