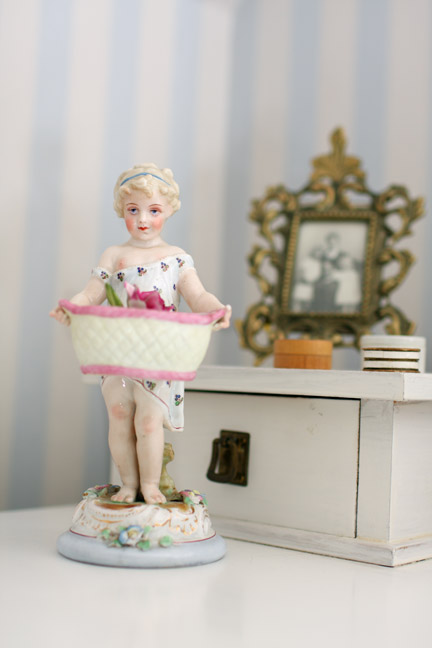 When we think of seasonal collectible figurines, we usually think of rosy-cheeked St. Nicks and antique German tree ornaments. But come springtime, expand your collecting horizons to include clay-based figurines of chicks, bunnies and children with Easter baskets.
Porcelain Figurines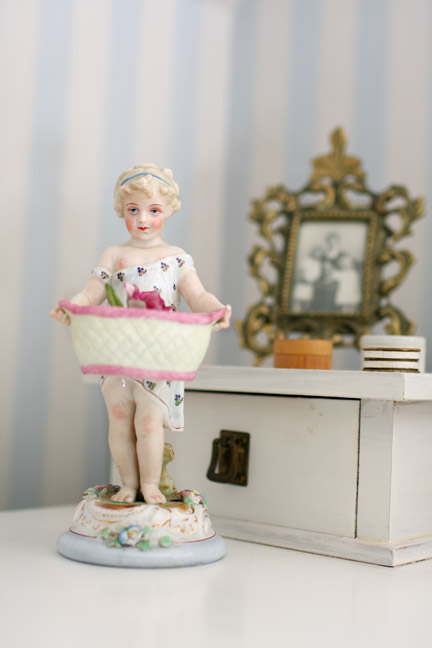 What is it?
Porcelain is created by kiln-firing a clay composite to over 2000 degrees Fahrenheit.   Depending on what the potter includes among the raw materials, porcelain can be either "hard-paste" or "soft-paste." Hard-paste porcelain is the better-known and older type: it's Grandma's best china, which was invented in, well, China, at around the turn of the 11th century A.D. Soft-paste porcelain–more often referred to as "bone china"–was first created by the Medici in Florence in the 1500s in an attempt to imitate imported Chinese hard-paste porcelain. It wasn't until the 1700s that Europeans managed to recreate hard-paste porcelain with local techniques and materials. As soon as its craftsmen cracked the clay code, the factory at Meissen, Germany, began to produce everything they could think of, from forks to figurines. Even for doll-makers, porcelain became a popular material in 1830s Germany. Although it made for an impractical child's toy, the porcelain dolls were so beautiful that English and French craftsmen of course had to imitate them in turn. Porcelain dolls fell out of favor, however, in the early 1900s, as the culture turned toward a simpler lifestyle.
How much it'll cost:
Antique porcelain figurines are lucrative collectibles; expect to spend at least $100 and up to thousands of dollars. For example, a circa-1900 Meissen porcelain figurine of a child can sell today for about $500-$900, and a 1915 figurine of folk dancers made of Dresden lace porcelain is easily worth over $1,000. A Royal Worchester floral figurine might sell for about $550, and an 18th-century Russian figurine might sell for about $600. Vintage pieces, such as the one shown above, are more affordable; a US-made porcelain figurine may sell for about $10-$80.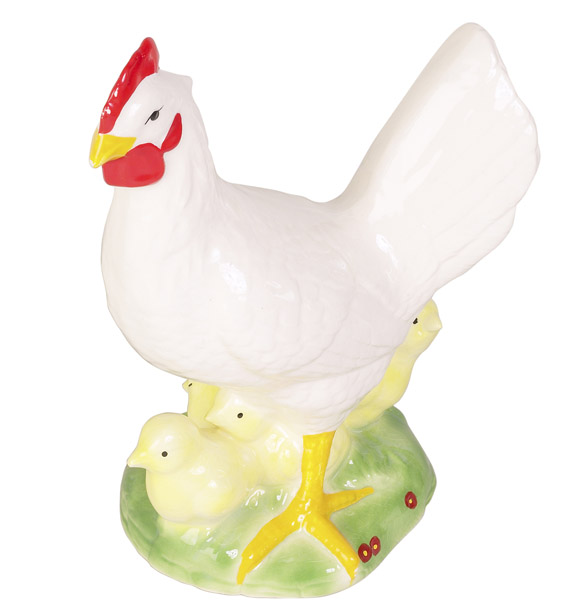 Where to find them:
To find genuine antique pieces, try Ruby Lane or eBay.
How to care for them: 
Use a soft duster to clean your figurines regularly. When necessary, hand wash with mild soap; do not scrub or submerge your figurine or use any harsh chemicals.
Clay Figurines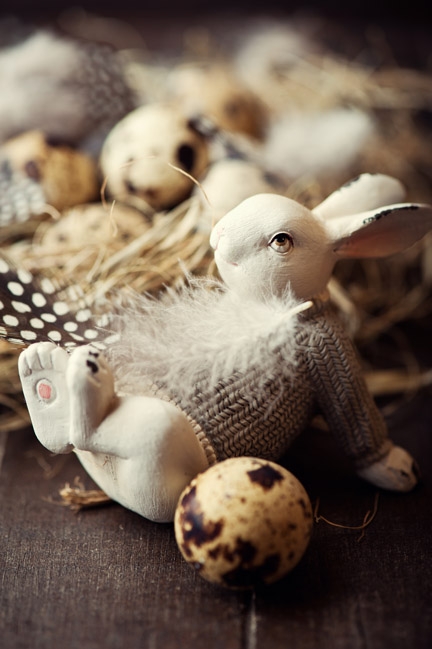 What is it? 
Unlike porcelain figurines, you don't need a kiln and heat-protective clothing to create a clay figurine–all you really need is a package of plain white clay, deft fingers and some patience. You can mold, paint and air-dry clay figurines with your kids as an easy Easter break project. And since it's that simple, you can imagine how many vintage clay figurines there are floating around the internet.
How much it'll cost: 
Vintage clay figurines are generally not lucrative collectibles. An intricate piece hand-made by a master sculptor can sell for $200 or more, but you can easily find more basic pieces for as little as $15.
Where to find them: 
Collectors often sell vintage clay figurines on their Etsy shops.
How to care for them: 
Keep in mind that clay pieces are often air-dried, and never use water to clean your figurine. Clean with a gentle cloth or duster.
For decor ideas using vintage china, see our previous post here.
by Elaine K. Phillips