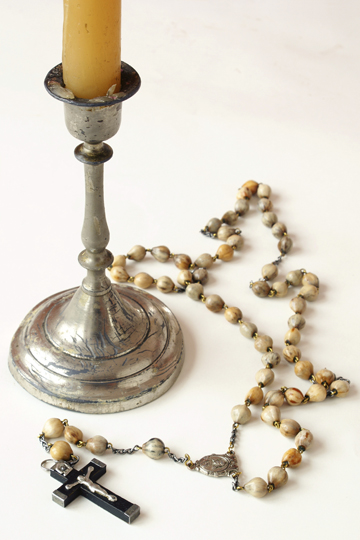 You might not think of antique rosaries as a hot collectibles, but these fairly affordable pieces have such a rich global appeal and history that their variety of materials and styles will blow you away. In addition to their fine craftsmanship, these beautiful, one-of-a-kind pieces are imbued with sentimental value that can't be rivaled. And there's no better time than now, as we look forward to Easter, to begin a collection of these sacred treasures.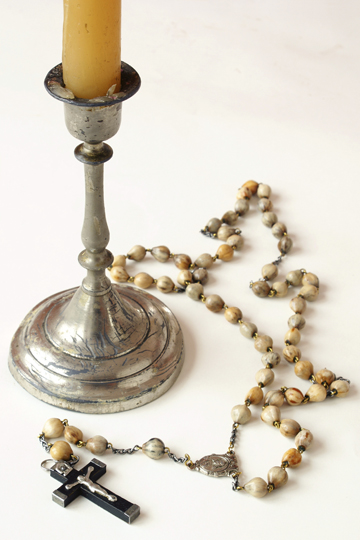 What is it?
A rosary is a Catholic tool for prayer and devotion; the crucifix and beads each represent a different prayer or confession, such as the Apostle's Creed, to be spoken in the order of the beads. So essentially, a rosary is a mnemonic device: hence, they're sometimes referred to as "prayer counters."
The most familiar kind of rosary is the "five decade" or "Dominican" rosary, which has a short chain featuring the crucifix and 5 beads. Connecting the chain to the loop is a rosary center or medal (such as the silver oval in the above photo). The loop consists of 5 "decades" (sets of ten beads), each divided by another bead.
Other common kinds of rosaries are the Franciscan (7 or 15 decades), wedding (two 5-decade loops joined by a single crucifix, 5-bead chain and rosary center) and one-decade (the 5 initial beads, which are often joined at both ends to create a bracelet).
Where can I find it?
In addition to your local flea market, try online vendors like Etsy.
How much will it cost?
The cost of a rosary will depend on its age, size, place of origin, materials and quality of make and condition.
As with most collectibles, a rosary made within the last 100 years is considered "vintage" but not "antique." In the 20th century, common rosary materials included glass for beads and sterling silver for the rosary center. A simple, 5-decade rosary of this description can sell for around $100. In contrast, a 19th-century rosary featuring beads made of bone, carved wood, mother of pearl, art glass or cut crystal can sell for $200 or more.
How can I display it?
It's hard to hide something so beautiful inside a special box–but we understand why some may want to keep their antique rosaries hidden away. Still, why not store your rosaries so that you can enjoy their beauty all the time? Some display ideas include special hand-made hangers, a simple DIY stand, or, as a homeowner did in our upcoming summer issue, a vintage oval mirror.
For more ways to incorporate antique and vintage rosaries into your decor, check out our summer issue of Flea Market Decor magazine, which hits newsstands on April 2. To learn more about vintage and antique rosaries, visit The Sacred Bead or the Rosary Workshop. To discover more antique Easter collectibles, peruse the upcoming series of Easter posts from Victorian Homes magazine and further posts in Flea Market Decor's Easter Collectibles series.
by Elaine K. Phillips