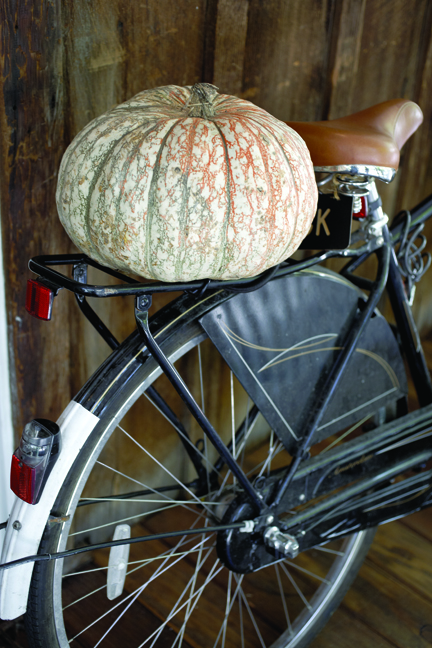 Written and Styled by Jacqueline deMontravel
Photography by Jaimee Itagaki
Leave the warty gourds and marshmallow side dishes on the kiddie table. When it comes to creating a Thanksgiving celebration with personal flair, throw some vintage details into your holiday preparation. At the Ramos House Cafe in San Juan Capistrano, California, owner John Humphreys creates a memorable setting that has nostalgic appeal.
It's certainly helps that John's restaurant and home are situated in a classic bungalow, right in the center of a historic neighborhood. The charming environs is complete with the rumbles of passing trains and an old wagon across the property, which is the recurring focal point for many en plein air canvases. The setting conjures up the best from the past.
I try to work with the elements that already exist and complement them, John says. "For example, my home is turn-of-the-century old board and batten, and I couldn't change that even if I wanted to."
Decorative yet functional accents play off this formidable foundation, such as jam jars repurposed as drinking glasses and heavy pewter utensils. John also looks to burlap, gas lanterns and copper wine buckets to build on the nostalgic feel. His antique gramophone adds to the novelty and, for whatever the reason, the music seems to sound better when crooned from that wizard's hat of a speaker.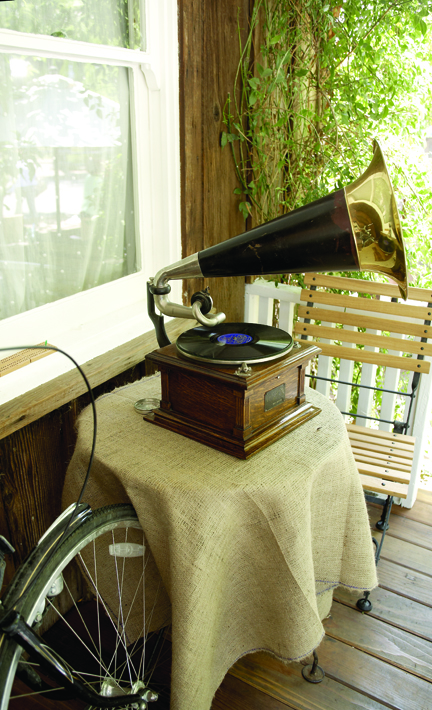 I usually crank up my gramophone and spin some old 78s. That seems to get everyone feeling nostalgic, John says. The music keeps to the beat of the affair, and John assures a playlist that elevates moods. I play Johnny Cash or the blues because classical just wouldn't work, he adds.
"The menu is traditional. Wine and refreshing cocktail" or the special here, a Bloody Mary" are offered. Large jars of dried cranberries and pumpkin seeds add beauty while also providing satisfying nibbles until the main course arrives. The featured turkey and classic pies remind guests of this day of thanks. Our table setting is softened with a color palette that's more soothing than the expected autumnal browns and reds. We set up a few stations to keep the occasion loose and carefree."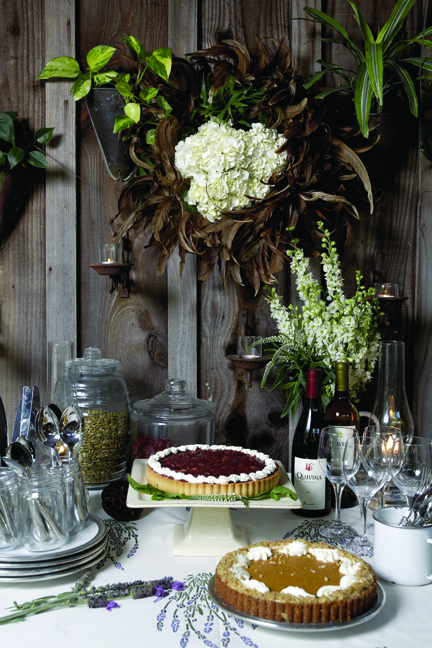 One table has an earthy tablecloth printed with sprigs of lavender and fresh bundles of the herb splashed here and there, along with an arrangement of feathers and flowers to add beauty and a palatable scent. On another table is a basic piece of fabric that has been made into a runner from simply ironing the raw edges under.
The delicate pattern of pale peach, green and purple florals is the scheme that Amanda Heer of Fantasy Floral Designs used to create the star centerpiece. When setting an arrangement that would make the great Old Masters gush with delight, Amanda keeps it simple yet provocative. I began with a candlescape of assorted shapes, then added fruits and loose flower heads. Choose available flowers in unexpected colors such as deep pinks, soft peaches, light apricots and antique ivory," she says.
Mini vegetables in interesting colors, which can be found in most markets, add to the festive appeal. Amanda used her own whitewashed urn and recommends working with your favorite container. Also consider such simple arrangements as herbs planted in a vintage pot.
Creating a Thanksgiving holiday does not have to be of Mayflower proportion. Find inspiration in the things you already own, share such bounties with guests and add something inspiring to the mix. Overall, you will be the host of a festive gathering that beckons second and third and fourth helpings of pleasure.