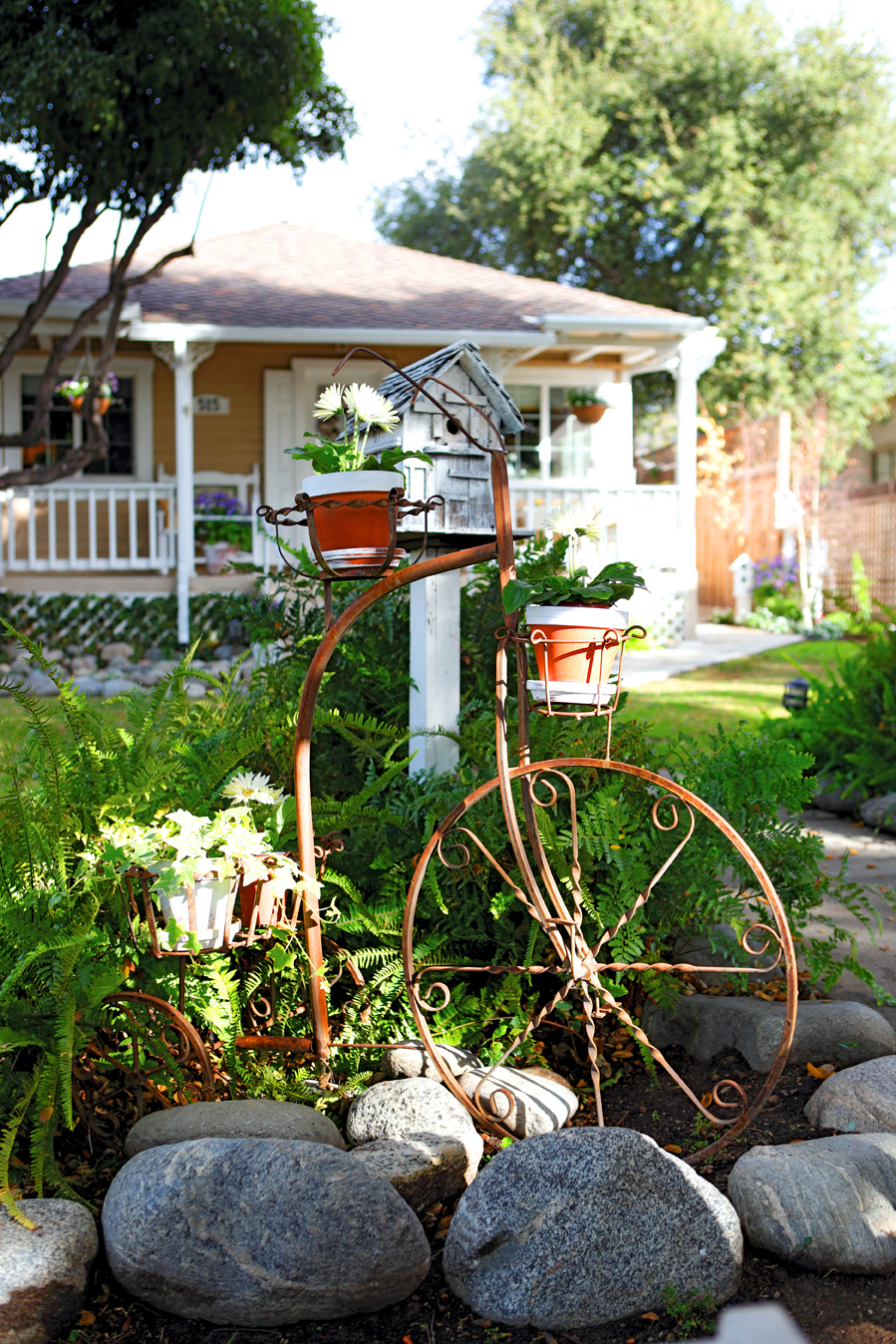 Flea marketing and gardening make a heavenly pair; digging for great deals and digging in the dirt are close cousins and you will always enjoy the fruits of your labors.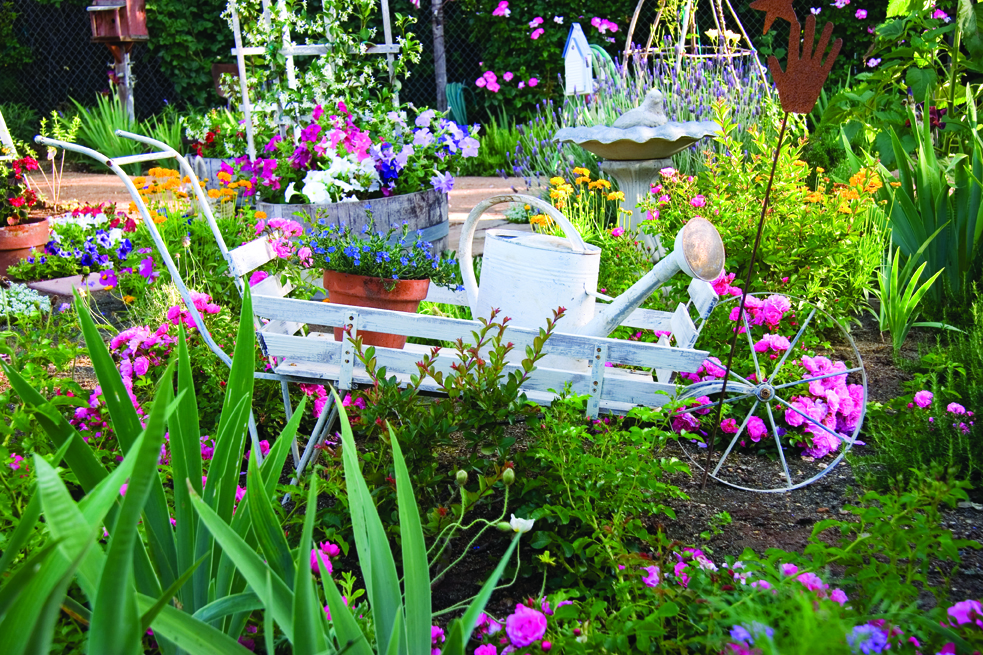 If you love flea markets and you garden, you forever have a place to display those special finds you just can't leave behind. In fact, if you lack a green thumb and your landscape shows it, flea market finds can help fill the space that will make your garden more welcoming. From the classics, such as weathered bird houses and birdbaths, garden benches, ironwork and vintage concrete figures to the not-so-obvious such as broken plates (they make a colorful flower bed border, or use pieces to create mosaic designs on flower pots, stepping stones and more), flea market finds add magic to a garden space big or small. Even if you only have a front porch to decorate with potted plants, repurposing your found treasures as outdoor decor lets you further express your style and creativity.
Repurpose Architectural Salvage to Build Rooms
If you have the space, you can use a range of items to create garden getaways. An old door leaning against the fence as a backdrop to a favorite rosebush creates visual interest. Add a small bench and you've got the perfect spot to meditate or write in your journal.  Like a room divider, use an old wagon, planted with flowers, for a stunning, easy-to-access flowerbed. Continue the theme: Nearby, place a wagon wheel and plant flowers or herbs between each spoke. An old tree stump or stool provides seating and finishes the vignette. Pieces of an old fence, ironwork, gates, ladders, fabric and even windows offer creative options for designating garden areas. A stained glass window hung near your front porch may be just the touch you need to make the space special.
Repaint your Finds to Create Style
While the easiest look is rustic, using as-is flea market finds in all their weathered glory doesn't mean you can't opt for other styles. A light sanding and a fresh coat of colorful paint on that wood bench or table give you more options, a finished look and offers color when flowers are between blooms. And not all flea market finds are rustic either, though you may have to pay more for gently used, more modern items or remember to bring delicate pieces inside when fair weather wanes. Timeless pieces like colorful flowerpots, tin signs and brass sundials can embellish any garden style.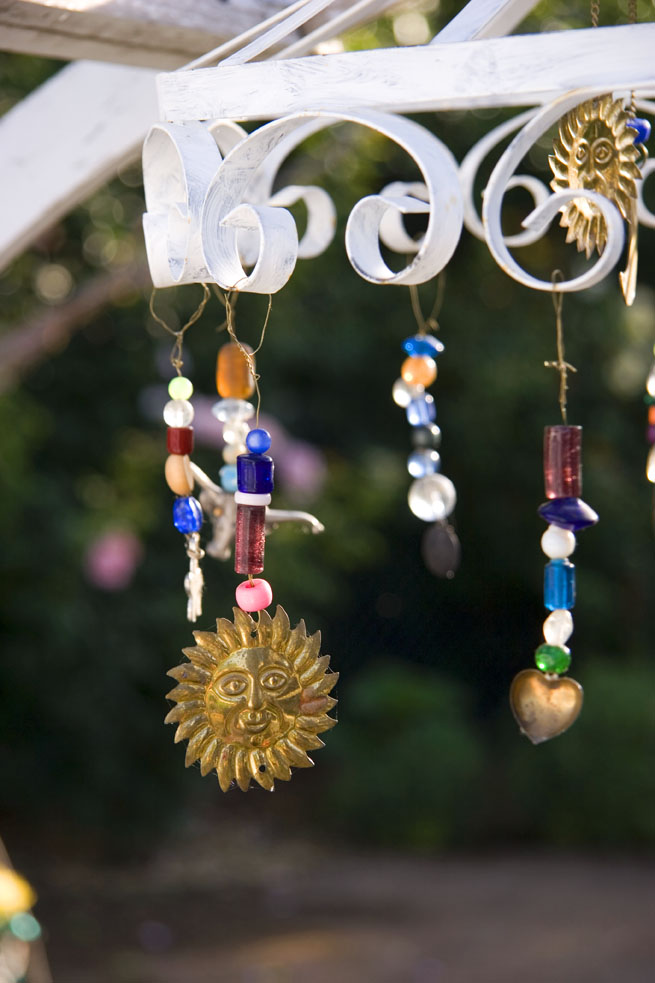 Make a Treasure Map
It's a good idea to take an inventory of your garden space before you head out on your next flea market excursion. Make sketches if you like, note colors and plant styles, etc. When imagining your new œrooms, think vertical as well as horizontal, imagine color and texture, which spaces would make good seating areas, etc. Create a wish list of items that might embellish those areas. Once on the hunt, you'll have a map to follow or veer from depending on what treasures you discover!
By Hillary Black