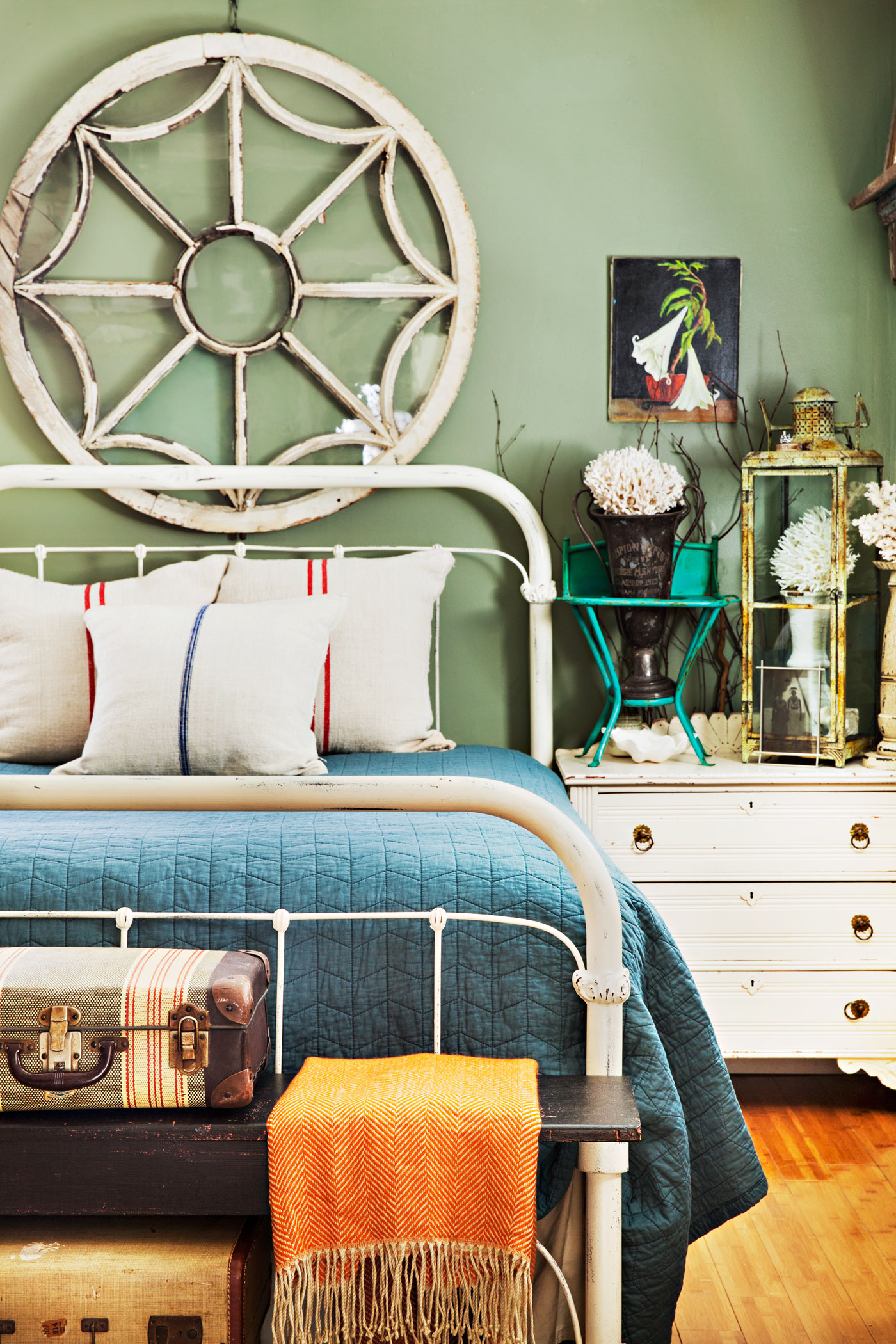 Written by Kristin Dowding
When it's time to get out and hunt for your next vintage find, add another venue to your list of favorite shopping destinations: the architectural salvage company. Though similar to fleas in purpose, salvage businesses take their wares from old houses or commercial buildings destined for the wrecking ball. Salvage sellers specialize in identifying structural and decorative architectural pieces for new uses.
"We made coffee tables out of doors from the Civil War period," says Susan Hudson, an artist at Black Dog Salvage, in Roanoke, Virginia. "Within two hours, we had sold 60 of the 80." Homeowners are seeing the benefits of adding salvaged products to their home, and its popularity is quickly growing.
Salvage can be found in many places, but the companies themselves get the materials primarily from house demolitions and donations. "People will come to us before a demolition and ask us to check out the property to salvage the architectural elements," says Susan.
What Exactly Is Architectural Salvage?
Examples of salvage include antique corbels, flooring, wainscoting, beadboard, windows, structural beams, windows and doors. Really, it's anything that's given a new purpose instead of going to the trash. "Everything from a building is reusable," says Justin Green, Executive Director of Big Reuse, a nonprofit in New York City.
Author and designer Joanne Palmisano, owner of Burlington, Vermont- based Salvage Secrets Design, likes to break it down into two categories: functional salvage and decorative salvage. You can add character to things that are functional, like sinks, bathtubs, doors, lighting and flooring, by replacing them with salvaged items. "You don't need to add decorations around it, because the piece itself is the decoration," she says.
"Decorative salvage includes everything else, like windows, old maps or architectural molding that you hang on the wall for artwork." Joanne wrote Styling with Salvage: Designing and Decorating with Reclaimed Materials to show homeowners the benefits of styling with repurposed pieces and to exemplify unexpected ways to make your home unique.
What Is the Cost?
The costs of salvage will vary, depending on the rarity of the item, its age and material. "You're always going to pay for quality," says Don Short, owner of West End Architectural Salvage in Des Moines, Iowa. "Sometimes, salvage can be more expensive for a product that will last longer," he says. Other times, you'll find pieces that are half the price of what you'll find new. It's a hunting game.
Along with the quality and strength of a piece, cost can also come from the work that you put into it. "Sometimes, you'll find salvaged material that's less expensive," says Joanne. "But unless you're doing everything yourself, labor costs can make it more expensive." If you have to hire someone to fit the frame and paint your salvaged door, it may end up costing the same as a new one—but you're still benefiting from its character and craftsmanship.
Why Salvage?
Salvage materials are not only unique, but also environmentally friendly. "Our goal is to keep everything out of a landfill," says Susan. Materials and items that would ordinarily go to the trash are now being given a second chance at making a home special. "Why cut down a tree to make a table when there's timber just sitting unused?" says Don.
Older materials also bring character, emotion and feeling to a space through their history. "It makes your home into something non-cookie cutter," says Susan. "It will individualize your home." It's also useful if you're renovating an old home and want to match the look. "New stuff looks new if it's supposed to look old," says Justin, so turn to salvage to complete your addition.
And let's face it: many products were made with better quality in the past. We now expect things to fall apart shortly after we've purchased them; that's what makes salvage so valuable. It's survived the life it had before you, so you know it will continue on. "In today's disposable society, salvage shows appreciation for things that are built to last," says Joanne.
5 Tips on Incorporating Salvage
Start small. If the creative possibilities are overwhelming you, begin with one piece and go from there. "If you're nervous, start small with a little piece here and there," says Joanne. "Slowly add things to your home that mean something to you."
Have an open mind. When you're looking for pieces to repurpose, you have to open your eyes. "Train yourself to look at things differently," says Joanne. "Every time you see an interesting piece, ask yourself what are three things you could do with it."
Think creatively. "Sometimes it takes more creativity to use salvage," says Justin. "The best way to start is to pick your piece and design around it."
Go for meaning. You'll find plenty of pretty and interesting pieces out there. Sometimes it can be best to "start with something that has sentimental value," says Susan. "It's a way to hold onto our past and turn it into our present."
Be cautious. There are some things to consider when purchasing architectural salvage, especially if it's been painted. "Check older painted things for lead with a lead swab," says Justin. Inspect pieces for sharp edges and bugs. Most companies will do this before selling, but ask if you're unsure.
Top 7 Places to Find Salvage
1. SALVAGE SHOPS
2. RECYCLING CENTERS
3. REBUILD CENTERS
4. ANTIQUES FAIRS
5. FLEA MARKETS
6. GOODWILL
7. SCRAP-METAL YARDS