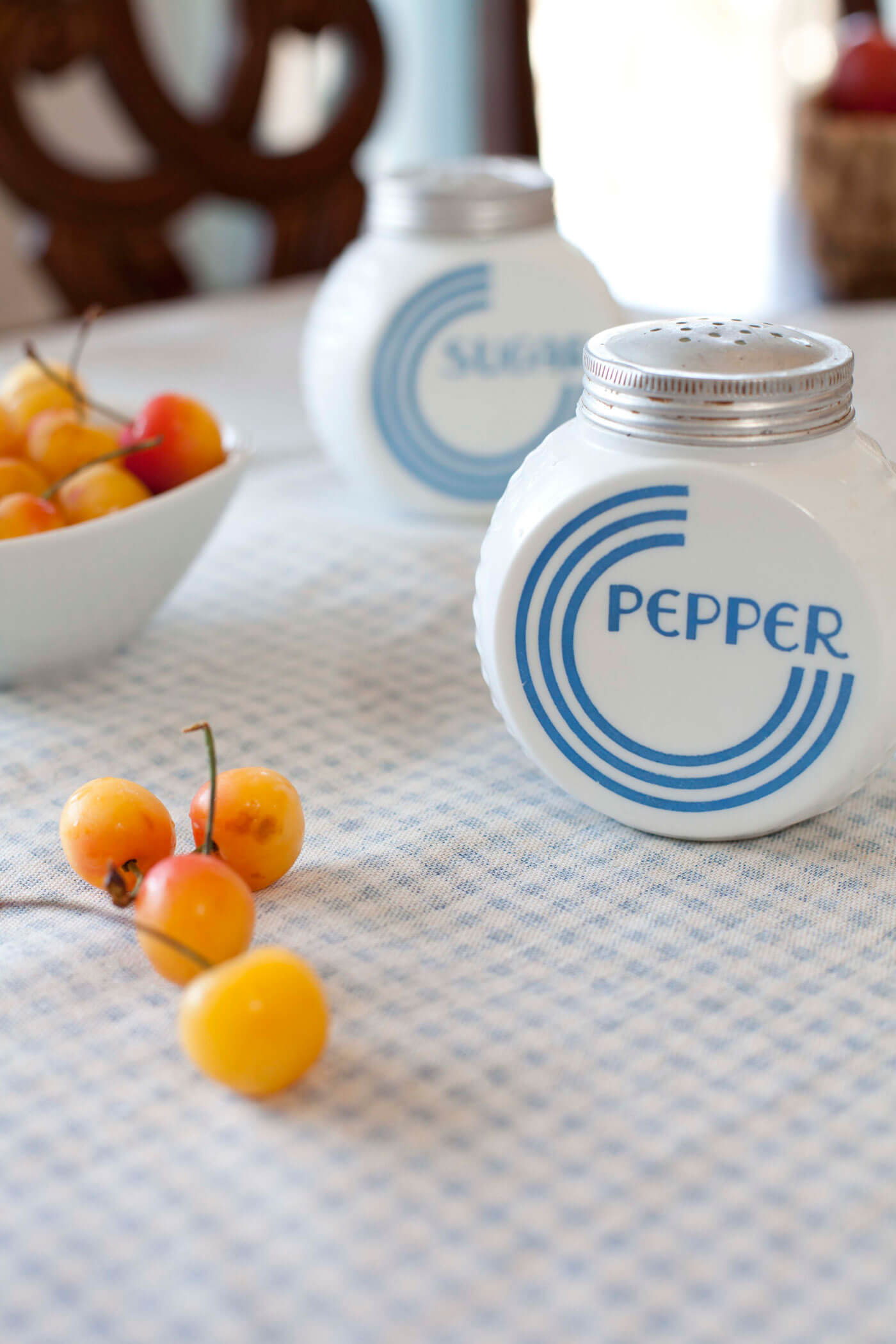 Jickie Torres
Written by Meryl Schoenbaum
Even if you are on a restricted diet, vintage salt and pepper shakers can safely be added to your dining table as well as to your collectibles menu. And just like seasonings themselves, there are myriad "flavors" to suit everyone's taste.
Every category imaginable has been represented in shaker form—from animals, vegetables and fruits, and from soda pop to pop culture—so chances are you will be attracted to at least a few of them. There's even a Museum of Salt & Pepper Shakers in Gatlinburg, Tennessee, that showcases more than 20,000 varieties! And shakers are available for a variety of seasonings, such as cinnamon, nutmeg and sugar.
I've included photos of salt and pepper shakers from my own collection here as well as others that have caught my fancy. I hope they will inspire you to start your own collection, but be warned: As with eating your favorite salty treat, you won't be able to stop at having just one.
History – Andrea Ludden, who manages the two Salt & Pepper Shaker museums in Tennessee and Spain that house a combined 43,000 pieces, explains that the human body requires a moderate amount of salt. Since salt derives from a rock and needs to be chipped away, the first containers were little dishes. However, problems arose when the weather turned humid or rained because salt crystallizes under those conditions. In the late 1800s,chemists and inventors tested different additives in order to eliminate the problem, and Morton Salt, Inc., was the first manufacturer to discover that coating salt with silica made it possible to pour it under adverse conditions—hence the company's slogan: "When it rains, it pours." Other salt makers followed suit, and the need for proper containers grew. In the U.S., pottery houses such as Fostoria and Corning added salt and pepper shakers to their lines.
Andrea says the next production boom came after World War II, when the U.S. government asked ceramics manufacturers to go to Japan to help its economy recover after the war. The shakers had to be stamped "Made in occupied Japan." By the late 1940s to early 1950s, the pieces flooded the U.S. market and were marked "Made in Japan." They were frequently made from Bakelite, acrylic and plastic. There are numerous materials used to produce them, including ceramic, wood, plastic, bone, antlers, leather, stone, marble, onyx, milk glass, cut crystal and sterling silver. As a rule, the shaker with the most holes is pepper; the one with the least amount is for salt.
Pricing – Antiques shops sell the shakers in a wide range of prices, from the mid-$20s to $200 or more, Andrea says. A pair of pink Depression glass shakers recently sold for around $3,000. Reproductions can be had in the mid $20s.
Where to Find Them – It's almost impossible not to find these pieces at antiques shops, flea markets and estate sales. Online auction sites, such as eBay and Etsy, have them in abundance as do many specialized websites. Just search online for "vintage salt and pepper shakers" and you will find many sources.
How to Display Them – Their size makes the shakers easy to display even in the smallest of spaces. You can use them for their intended purpose as dining accessories, or you can put them in less obvious places, such as part of a vintage vignette on a small table or mantel. Prop them on windowsills, in open cupboards and on kitchen counter-tops. Andrea has a set in the shape of seashells in which she sprinkles potpourri. If you are going to store them away, Andrea warns not to use newspaper to wrap them. "Use white tissue paper or paper towels—always white —never newspaper because the ink will get onto it."
Market Appeal – Vintage shakers never go out of style. The breadth of styles and their undeniable charm ensure that collectors will always find a spot in their homes for them. Among the categories showcased at the Salt & Pepper Shaker Museums in Tennessee and Spain, are: Christmas, plastics, Native American, Amish, houses, people, wood, vegetables, chefs, transportation, food, beverages, animals and marine. Andrea says the most popular category is souvenirs, with the name of the state or country on them. "People love them," she says. "Not everyone has a car, but everyone has salt and pepper shakers."