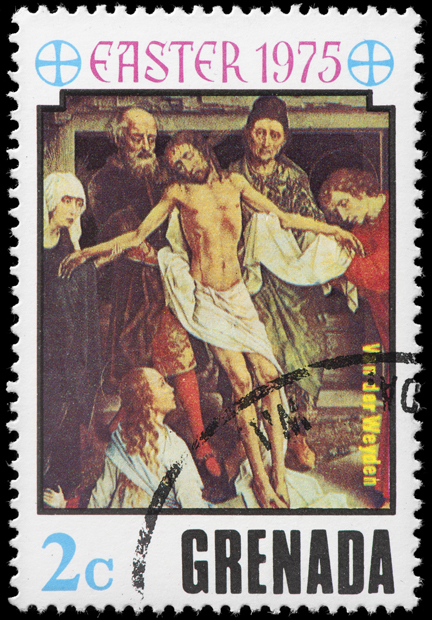 Here, our Easter Collectibles series continues with one of the most iconic of all collectibles: vintage religious-themed and Vatican City stamps.
The First Postage Stamp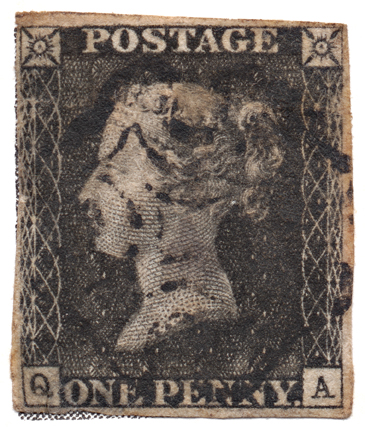 The iconic Penny Black Stamp was introduced by the British in 1840 as a result of Sir Rowland Hill's three-year Parliamentary battle for postal reform. Previously, the postal process was cumbersome: not only did the local Postmaster have to postmark each piece of mail with a rubber stamp, but also the recipient, not the sender, had to pay the postage cost in cash. If you were poor, the prospect of digging up a stray ha'penny to hand to an impatient postman would be rather embarrassing–and potentially impossible. But with the introduction of adhesive postage stamps, the task of postmarking and the cost of mailing were shifted to the sender. To this day, Sir Rowland is internationally credited with originating this efficient system and praised for championing the poor.
Well, the truth is that he wasn't the first person to raise a standard for postal reform–in 1835, the Austrian government in Vienna rejected a proposal from a Slovenian, Lovrenc Kosir, to create postage stamps. Yet it seems unlikely that Sir Rowland would have heard of Kosir's proposal.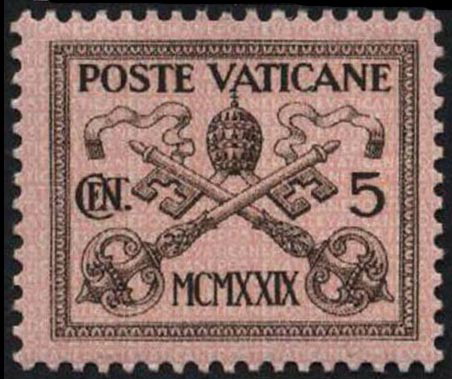 Vintage Stamps to Collect and Display for Easter
Vatican Stamps
As with all postage stamps, Vatican City stamps offer a glimpse into the changing culture of its creators. Vatican City began to issue its own stamps along with the rest of the world in the mid-1800s; however, when Rome was invaded and Italy forcibly unified in 1870, the Vatican postal organization was swallowed by the new Italian state's. Vatican City stamps didn't reappear until 1929, when the Lateran Accords rendered Vatican City independent of the Italian state. One of the first things the Vatican did after regaining its political sovereignty was re-establish the "Poste Vaticane" and issue its own stamps, such as the one shown above. While Vatican City stamps pictured mostly Popes, saints and religious symbols, over the decades the images reflected current events: during the Cold War, for instance, historic martyrs began to appear frequently, as well as previously-obscure Eastern European saints. In the 1960s and 1970s, stamps grew in size and gained colored ink, which allowed the stamps' subject matter to widen still further to international figures and scenes.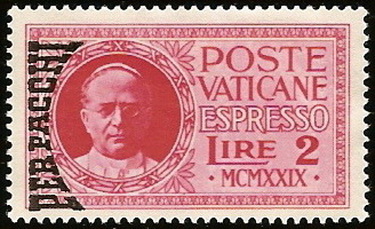 Religious-themed stamps
For a fascinating look into global culture, consider collecting religious holiday-themed stamps, such as the one from Grenada shown below. And it's easy: you can find a wealth of affordable vintage stamps featuring Catholic art at online vendors such as P8iosities. These stamps often feature iconic Easter-themed images, such as the Pieta. As you collect stamps from around the world and throughout the century, you can see how different cultures chose to depict the Holy Week differently.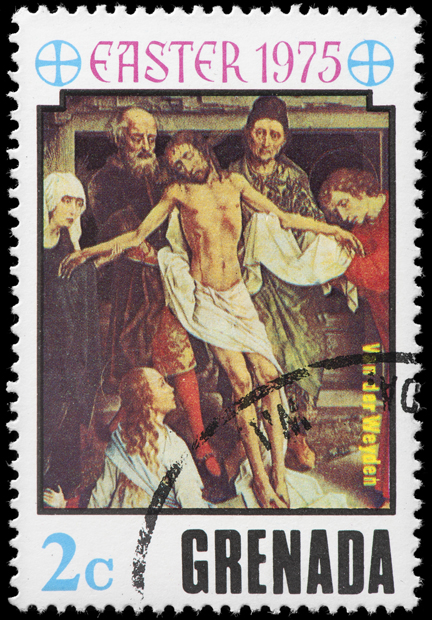 What to Collect and Where to Find Them
If you long for the thrill of a needle-in-a-haystack search, consider collecting rare antique stamps. You can select the stamps you collect by origin, topic (for example, birds), purpose (for example, revenue stamps) or even "flaws" (strangely shaped stamps). If you want to go for gold, try to find the now-rare Penny Black Stamp–if you do, you'll have to fork out at least $3,000 to buy it.
But if you would rather not spend a fortune or a lifetime looking for rare stamps, you can easily collect vintage stamps that, while beautiful and interesting, will be glanced over by more serious collectors. You can purchase individual vintage US stamps here for mere cents; and find a set of vintage British Empire stamps for under $20 here and here. Vintage Vatican City stamps, although popular, are also inexpensive, often selling for less than $1 per stamp. When buying online, be sure to verify that the stamp hasn't been used if you have any thoughts of using it to mail something yourself.
If you feel your interest in vintage stamps has been piqued, consider visiting the National Postal Museum. To learn more about the history of stamps, click here and here. Or peruse a wide array of vintage stamps at Vintage Stamp Designs. And discover more vintage and antique Easter collectibles, such as cards and rosaries, continue to explore our website.
by Elaine K. Phillips