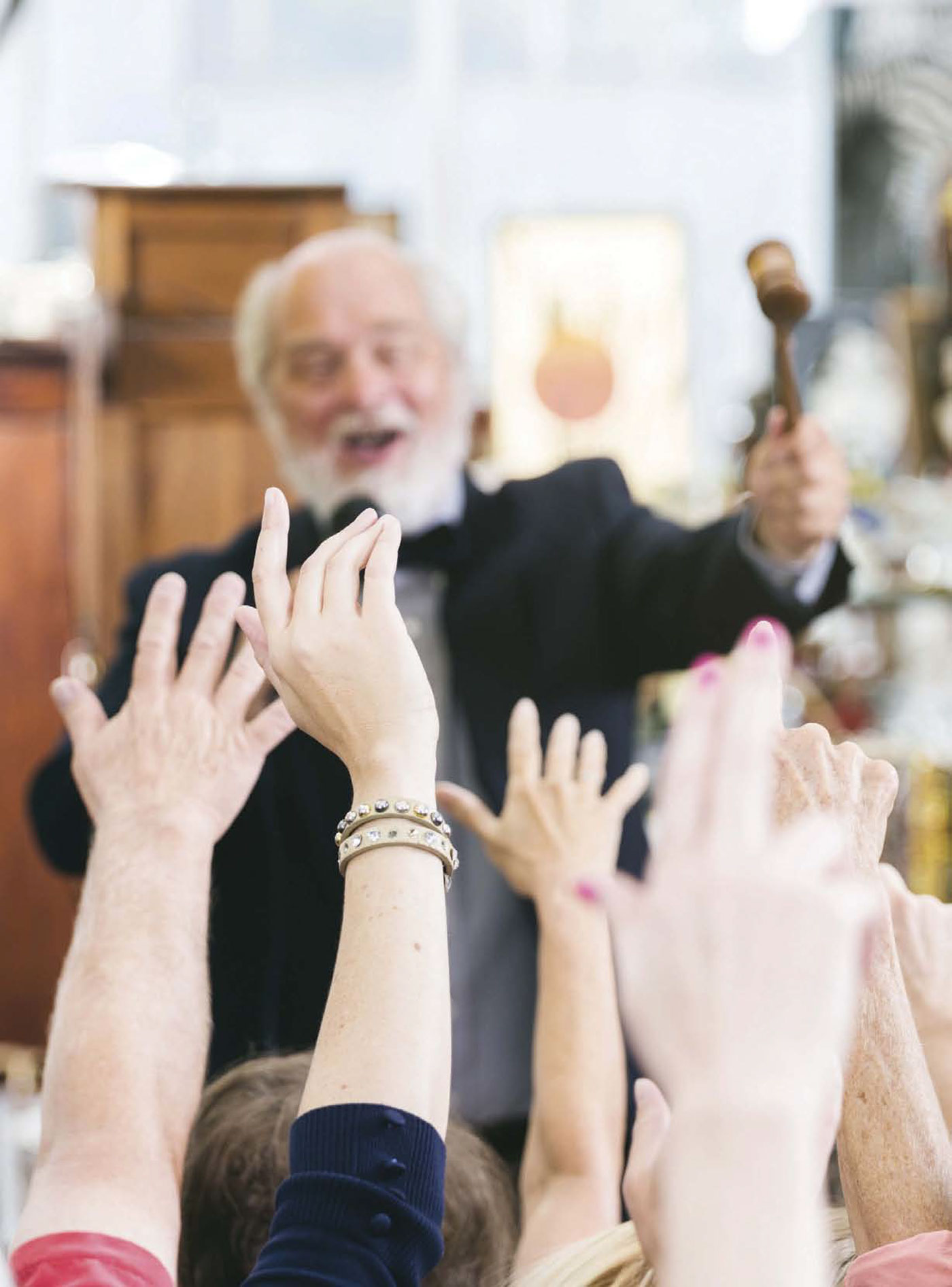 Written by Kris Christensen
Tips for navigating auctions like an expert.
Are you ready to attend your first auction? We've got the inside scoop on auction etiquette from professional auctioneer Neil Webster. These auction do's and don'ts will help you scoop up bargains the same way flea-market vendors often do.
---
Do: Bring a note pad to write down the lot number of items that interest you.
Don't: Get impatient. The lots you're interested in may not appear at the beginning. "It is bad form to ask for items to be moved up in the sale sequence, although this happens later in the day at most auctions," Neil notes. "Some auctioneers even have a time where they take requests."
Do: Bring a guide or your smart phone to research items and their market value during preview hours. Knowing an item's value ahead of time will help you keep a clear head when the numbers start climbing.
Don't: Let your phone distract you during the actual auction. Neil remembers, "When cell phones first became popular, they were a real distraction at the auctions. I was working as a ring man, holding up things and delivering them to winning bidders. Phones were ringing constantly, so I started calling out 'phone bid' every time a phone rang. You never saw such a scramble to turn off the ringers on phones!"
Do: Investigate items for damage. Items are sold in "as is" condition, so you'll want to make sure you can realistically deal with any refurbishment the piece may require.
Don't: Move items between lots. "You want those two books out of one box and that nice jacketed book out of the other box, but do not move them. They may belong to different consignors," Neil warns.
Do: Stick to a budget. Auctions are great opportunities to score vintage items at a bargain, and you'll feel better about your purchases if you stick to that budget.
Don't: Get too aggressive. It's easy to find yourself getting carried away in a bidding war! Bidding is a competitive sport, but the losers are those whose winning bid is above the item's actual value.
Do: Bring your own packing material, just in case.
Don't: Lose track of your purchases. Take note of your winning lot numbers and what items are contained in each lot.
Do: Keep your voice low during the auction. Our expert says, "Try to keep conversation to a minimum and keep it at a minimal volume. Auctions work on verbal communications. Anything that disrupts clear communications causes problems."
Don't: Bother the clerk. "I know they appear to be a great source of information," Neil says, "but they are listening to everything going on and are responsible for correctly entering all the bid numbers and prices."
Selling at an Auction
Are you interested in selling your items at auction? Neil suggests searching the National Auctioneers Association website for local auctioneers who specialize in the type of items you're looking to sell. Cars, jewelry and sport memorabilia will require different skill sets. Neil suggests, "Look at designations such as CAI, Certified Auctioneers Institute, a National Auctioneers Association 'master's degree' in the auction business.
Also, look at your state association." When you've found an interesting candidate, the next step is to visit one of their auctions. Neil asks, "Do you like what you see? Is the chant clear? Is the merchandise organized and presented well? If you are not impressed, look at another auctioneer. One will 'click' with you, and you can establish a friendly, professional relationship that will serve your needs."