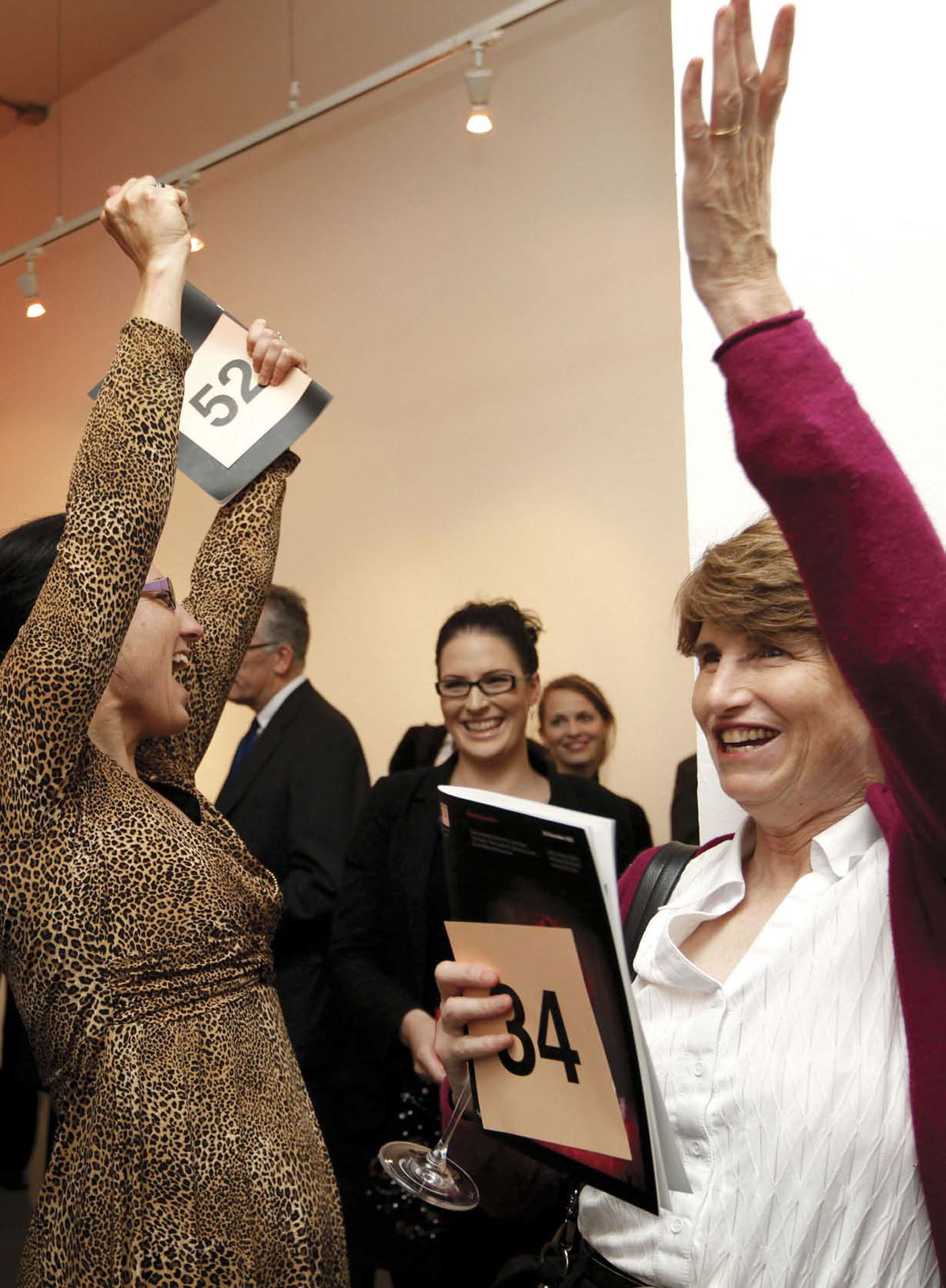 Written by Kris Christensen
If the idea of attending an auction immediately brings to mind visions of intense bidding wars over Van Gogh's paintings and Ming dynasty porcelain, think again. While events at Christie's or Sotheby's make headlines with record-breaking sales, your local auction house is a far more casual and approachable environment.
It's also one of the best-kept secret sources for bargain vintage furnishings and accessories. Much like estate sales, auctions can be clearing centers for a lifetime of accumulated goods.
We spoke to professional auctioneer Neil Webster (CAI and CES) to get the insider's scoop on everything you need to know about auctions and why they deserve to be in your regular lineup for treasure hunting.
What's So Great About Auctions?
You know that antiques store where you fell in love with the cute displays and perfectly imperfect furnishings? We'll let you in on a little secret… These items are probably sourced at auction! With hammer prices often far below market value, vintage vendors and antiques dealers frequently purchase at auction for resale in their shops, booths or online stores.
Home decorators and collectors who are willing to invest their time in the process can also take advantage of these deals and snap up one-of-a-kind items before they make it to a boutique or an antiques mall. Unlike at those boutiques and malls, however, your choices are not going to be attractively curated before you enter.
Instead, you have the full variety displayed and available for picking and choosing, according to your taste. "There is always the excitement of discovering new things," Neil says. "I've been working auctions for 20 years, and I see something new every week. Buy directly from the auction and you get to look at everything that's available, not just what a particular dealer decided to bring."
Here's everything you can expect to experience and some additional tips to help you succeed.
The Process, Step-By-Step
Step 1- Find An Auction.
"You have to be proactive to follow the auction business," Neil advises. Auctions have maintained a low profile, and most people aren't aware of when or where they're being held. He further explains, "Some auctions have a fixed location and an established day for the sale, but several onsite auctions necessarily show up in a different place every day."
Neil's favorite resource is auctionzip.com, where you can search options based on distance, select categories for items of interest, view a calendar of events and even see images of available merchandise. Your local paper may also print listings of upcoming sales, and it's certainly worth the effort to search online for local auction companies.
Step 2- PREVIEW THE MERCHANDISE
If you've seen something enticing in the listing photos, be sure to follow through in person during the preview hours. Usually held the day prior and in the few hours before the bidding takes place, the preview is your opportunity to examine the "lots." These items, or groups of items sold as a unit, are on display and typically numbered for reference. Look for defects, check for labels or maker's marks and decide if something is worth your bid.
A thorough investigation is important, as Neil notes that, "Auctions are 'as is/where is' transactions. A bid is a contract to purchase. When you bid $50 for that chair, you have promised to pay for it. You can't change your mind because the color isn't quite right or because you can't get it in your car. You bid, you owe. Just be sure of yourself before you bid."
Step 3- REGISTER FOR A BID NUMBER OR JUST WATCH
"This will require a picture ID at most auctions," says Neil. Your bid number is your identity for the rest of the event, so keep the card nearby at all times. If you're curious but you've got cold feet, consider attending as an observer. Neil says, "There are some very knowledgeable people there, and they are glad to answer your questions."
Step 4- Bid
You've got your bid card and your seat, and you're ready to go! "The auction will open with terms and conditions of the auction. Listen carefully," Neil recommends. "Most auctioneers have their standard terms printed on their bid cards, but each auction has unique elements that will be explained at the beginning, including the planned schedule of the sale."
Our expert also recommends staying alert during the rest of the process as well, even if your lots are not up yet. "Listen to an auctioneer for a while until you understand his chant," he says. "Some use a lot of filler words, and it can be difficult to pick out exactly what the bid is and what he wants. If this is an item you want, and it is still within your budget, put your bid number up, or raise your hand. Make eye contact with the auctioneer to be sure he has your bid."
Don't worry, though, your inadvertent movements are not likely to make you the owner of something ugly you wouldn't dream of taking home. Neil jokes, "Despite what you've seen in the movies, you can scratch your ear or rub your nose without buying the camel with the clock in its stomach."
Step 5- You Won!
Congratulations! "If you are the winning bidder, they will ask you for your bid number again, to be sure the item is correctly listed with the clerk," Neil explains. Be sure to consider the buyer's premium when accounting for a lot's total cost. This is typically around 10 to 20 percent of the hammer price, but there may be exceptions.
"At the end of the auction," Neil continues, "or when you are ready to leave, settle up with the cashier. You will be given a receipt. Some auctions will require that you show your receipt to remove items from the building." You'll also likely have a time limit to remove your purchases, so confirm if that limit is ASAP or there's a multi-day grace period for storage.
Ready for your first auction? Read these etiquette tips before you go!