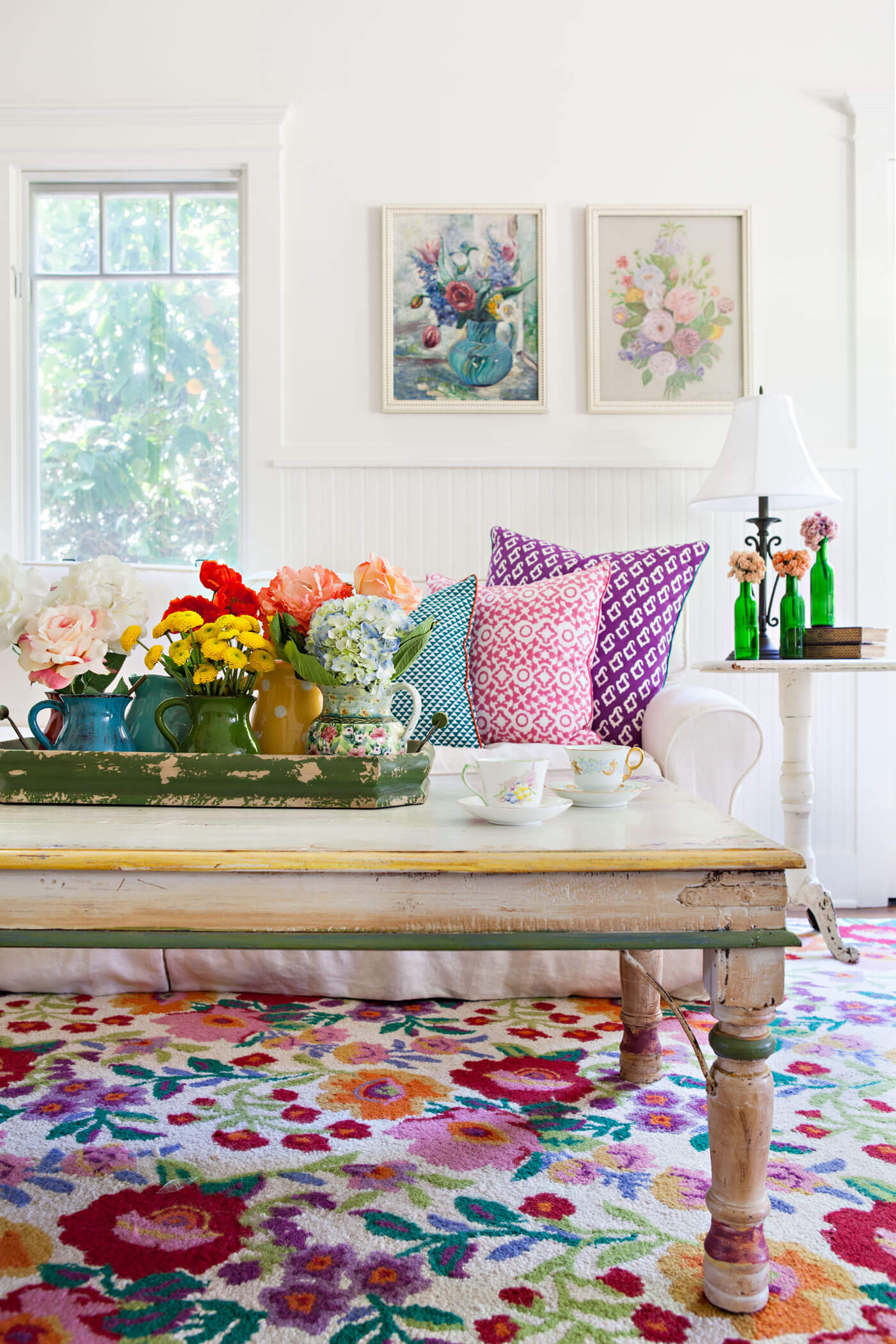 Written by Meryl Schoenbaum
Photography by Bret Gum
Styling by Alison Kandler
and by Jickie Torres
and by Staci Dumoski
You already know that to turn a house into a comfortable home you need to make it fit your style and lifestyle, but you are probably less certain of how to make all the elements come together in the most effective personal and functional ways. That's when an interior designer can be your friend—and in homeowner Joan Swartz's case, the designer actually was one.
"We chose Santa Monica for the neighborhood and good public schools, and this house had enough bedrooms that even with a live‐in nanny and home office, I imagined we would never have to move again," Joan explains. Although the house was two stories with six bedrooms, there was no real master suite, and it was in poor condition. It had also been remodeled with cheap finishes, such as aluminum sliding windows.
"So we tore it down to the studs and reorganized the entire floor plan and front elevation to restore it to look and live like an original, traditional Cape Cod‐style house," Joan says. "I was determined to use every inch of this house—and I did."
About 12 years later, Joan met interior designer Alison Kandler, who helped her remodel a second time, to redesign the kitchen/family room, entry and powder room on the first floor.
"Another decade went by before we tackled the second story," Joan says. "My sons were all out of the house by then, so we remodeled the master suit and kids' bathroom, and cannibalized a couple of bedrooms to become my home office and an upstairs family room."
A third remodel of the home included the attic area. Although the three remodels were done many years apart, Joan wanted them to look seamless. "I wanted to make it feel cohesive, like it was all done at the same time, even though it was a work in progress for 25 years," she says.
Some of her favorite architectural details include sloped ceilings, dormers in the bedrooms, and niches that are very romantic and charming. "And a lot of windows—about 65 windows," Joan says. "Windows on at least two sides of a room help to let light into a room at different times of the day. I love living so near the ocean for the constant ocean breeze and beautiful sunsets."
Redecorating the Rooms
Through the years, Joan and Alison became business partners as well as close friends. Joan trusted Alison's intuition and skills as an interior designer to achieve her desired décor. "You can't collaborate well unless you feel comfortable with someone else having a better idea," Joan says. "There's an absence of competitive ego between us, so we work really well as a team.
Alison is the keeper of the concept and helps me to balance all these beautiful colors without getting carried away." Alison's familiarity with Joan was a great asset in making decorating decisions. "Joan has a lot of personality; she's very outgoing. She loves life and wanted her home to feel happy, warm and colorful," she says.
On Joan's request list was opening up the kitchen for entertaining, so Alison made some creative changes in design and functionality. "I opened it up by getting rid of the upper cabinets and rearranging the overall space," Alison says. "We wanted to include an island with a stove on it, but the kitchen wasn't quite big enough, so we created a C‐shaped island so Joan can stand on an angle to cook while seeing through to the family room and socializing with guests."
Alison had to find another creative solution for a column next to the refrigerator that couldn't be moved, so she hid it behind laminated glass. She chose American cherry wood for the countertops, since Joan loves the warmth of wood. "The wood counter is a bit of maintenance, so we put a fresh coat of polyurethane on it every year," Joan says. Since Alison knew Joan loves color, she painted the island in eggplant (plum) and the chairs in different colors.
Making a Splash in the Bath
"My favorite aspect of the project is the tiled shower floor in the master bathroom. It's covered in a floral design," Alison says. "An artist in Phoenix creates unusual tiles, so I gave him a color palette of purple and pink flowers, and I told him the kind of flowers I wanted to use." Joan adores the floral shower floor. "I really like to bring the outdoors in. I feel like I'm showering in a flower garden," she says.
Another favorite is a guest bathroom that boasts a charming gingham purple floor. "Alison said to me, 'When are we ever going to get to do a purple floor?' So I trusted her and went with purple instead of green. It's fabulous!" Joan says.
Adding a Personal Touch
An unexpected but enduring effect Alison has had on Joan was introducing her to the world of being a collector. "She didn't have collections at the time, so we started going to flea markets, and she caught the bug."
Joan has amassed several collections that she enjoys displaying. "I love to buy amateur art and paint‐by‐number paintings at flea markets. I'm a quilter, so I display them as well as my needlepoints, Sandy Kreyer floral ceramics, pitchers, miniature teapots and antique Barbola mirrors from the early 20th century."
The architect and designer are both thrilled with the outcome. "We live in each other's art," Alison says. "You want the family to feel like they could never live anywhere else." Joan says she is finally living in her dream home. "I feel like Cinderella. Every morning I wake up thinking how lucky I am to live here," Joan says. "We have plenty of room to have friends stay with us and share our comfortable home. We are really blessed and grateful. It fits us like a glove!"
You can learn more about architect/homeowner Joan Swartz at Joan Swartz Design. To learn more about interior design Alison Kandler, visit Alison Kandler Interior Design.