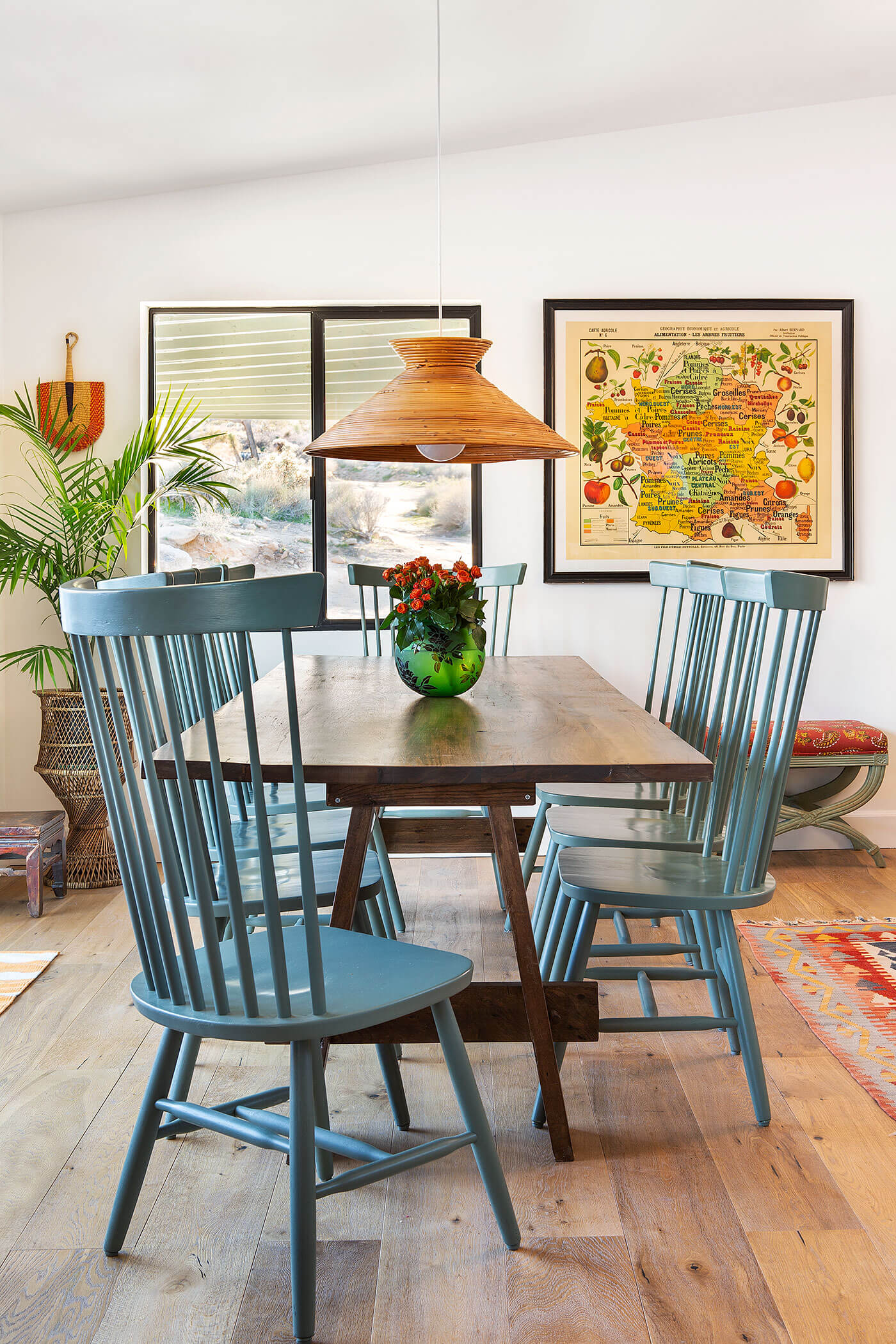 Bret Gum
Written by Emily Irby
Photograpy by Bret Gum
Styling by Julia Chasman
It takes a true visionary to look at a disheveled, outdated space and see it for what it could be.
And when designer Julia Chasman bought a home on two-and-a-half acres of Joshua Tree land, she accessed this potential, creating the chicest desert dwelling out there!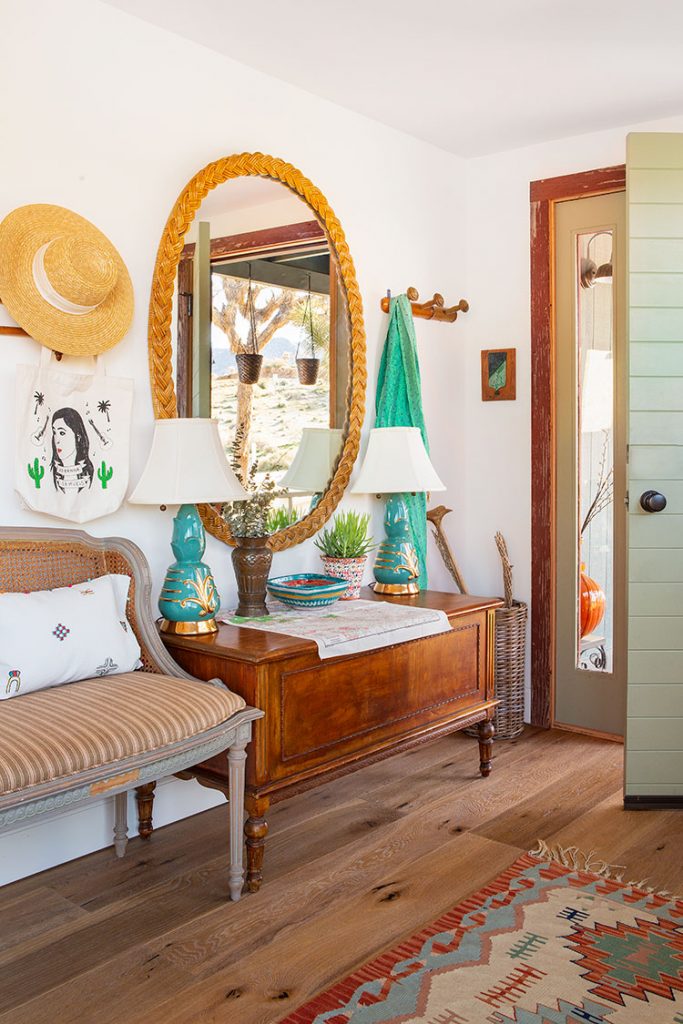 Julia's home is equal parts Joshua Tree quirky and Moroccan elegant. And for her, it wasn't hard for her to nail the former style, as she frequents local shops to find pieces like the antlers, the dresser in the master bedroom and many of the vases and blankets on display.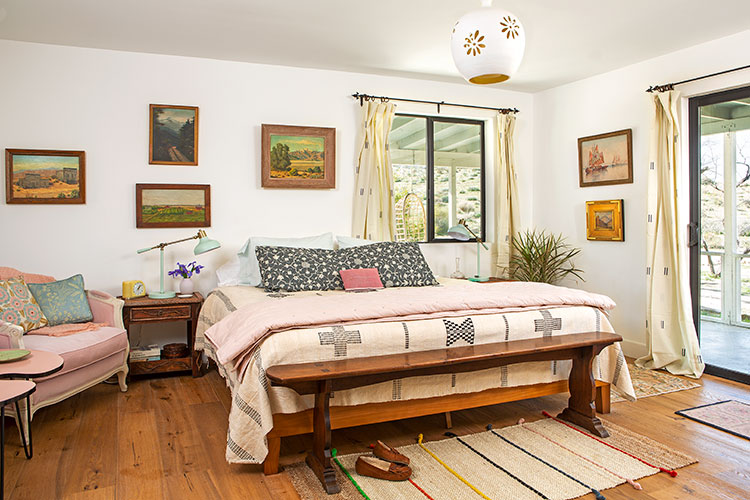 To balance the cutesy accents like the cactus and desert-animal motifs, Julia pulled inspiration from her travels around Europe to round out the desert vibe. She filled the home with carefully curated pieces from her travels in Morocco. The woven fans in the dining room and the black-and-white rug and embroidered pillows in the living room are a few of the scores from her trip.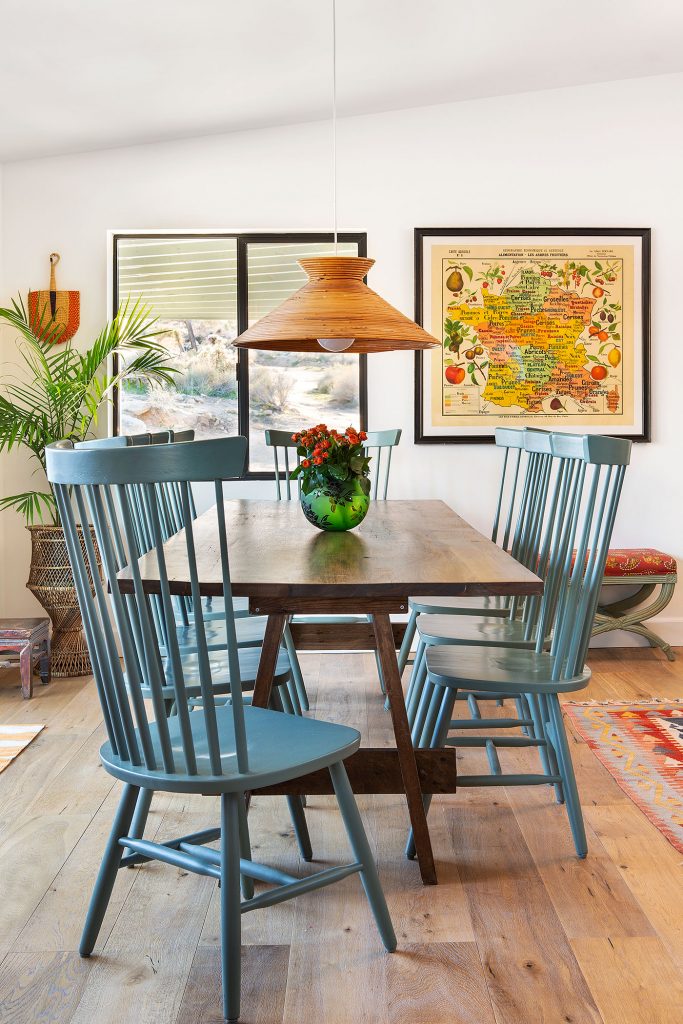 Julia is always on the hunt for secondhand or antique pieces, and she sees the potential in everything—from the chair she happened across on the highway (now painted red and sitting next to her piano) to the Napoleon era chairs found on a Paris shopping trip. Her secret to finding high-quality furniture is to shop vintage and then reupholster with fabric that she finds for a bargain.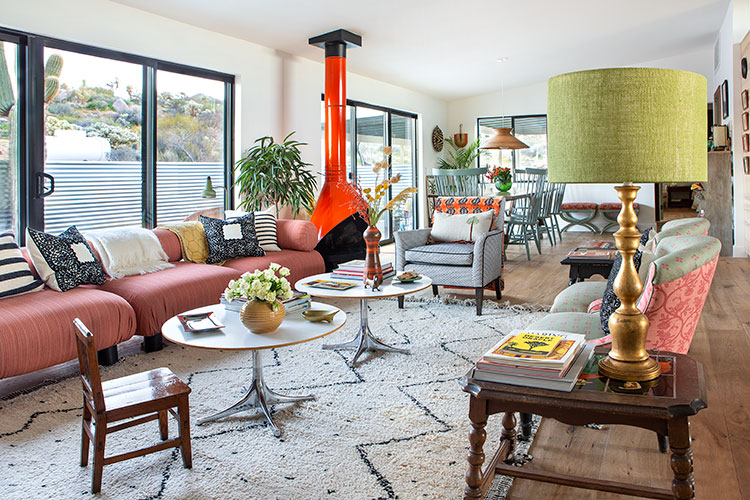 One of Julia's biggest tips to vintage shopping is to never let a good deal pass you by. "When I find a bargain, if it's cheap, I just buy it," she says. Even if she doesn't have an immediate idea of where to display the piece, if it's something that truly speaks to her, she knows that she'll eventually find a home for it.
For example, her mid century modern fireplace sat in storage until she designed this home and knew that it belonged in the living room, sitting atop a leftover slab of quartz that was used in building the kitchen countertops.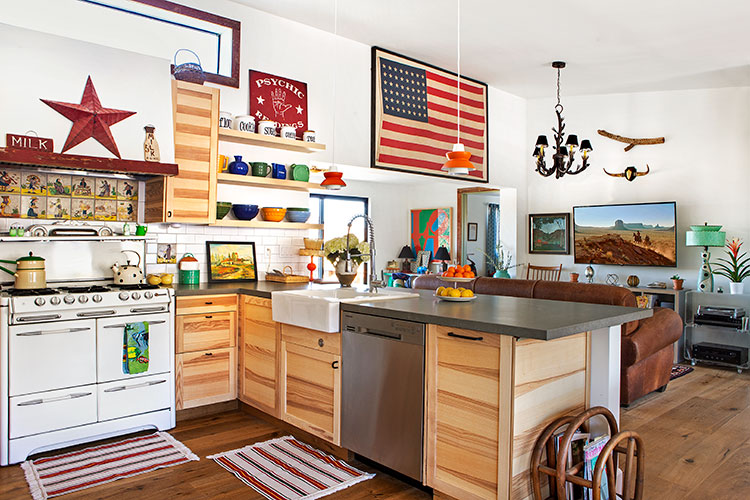 Other times, Julia knows immediately what to do with a piece and where to put it, like the clawfoot bathtub in the center of the master bath, perfectly aligned with the skylight. She wanted to recreate a wow-factor in her bathroom, something she found lacking in most modern bathrooms.
It's not surprising that the place feels like home to Julia, as she has put so much of her own personal style into the design. From the vintage double-oven stove she's had since she moved to California, to the doors framed with unfinished red barn wood, this Moroccan home renovation exudes a warmth all too perfect.
---
Want to see another house blooming with unique decor? Check out this rental home and its alluring antique collection right here!
And of course, don't forget to follow our Facebook, Instagram, and Pinterest for some fresh flea market inspiration!