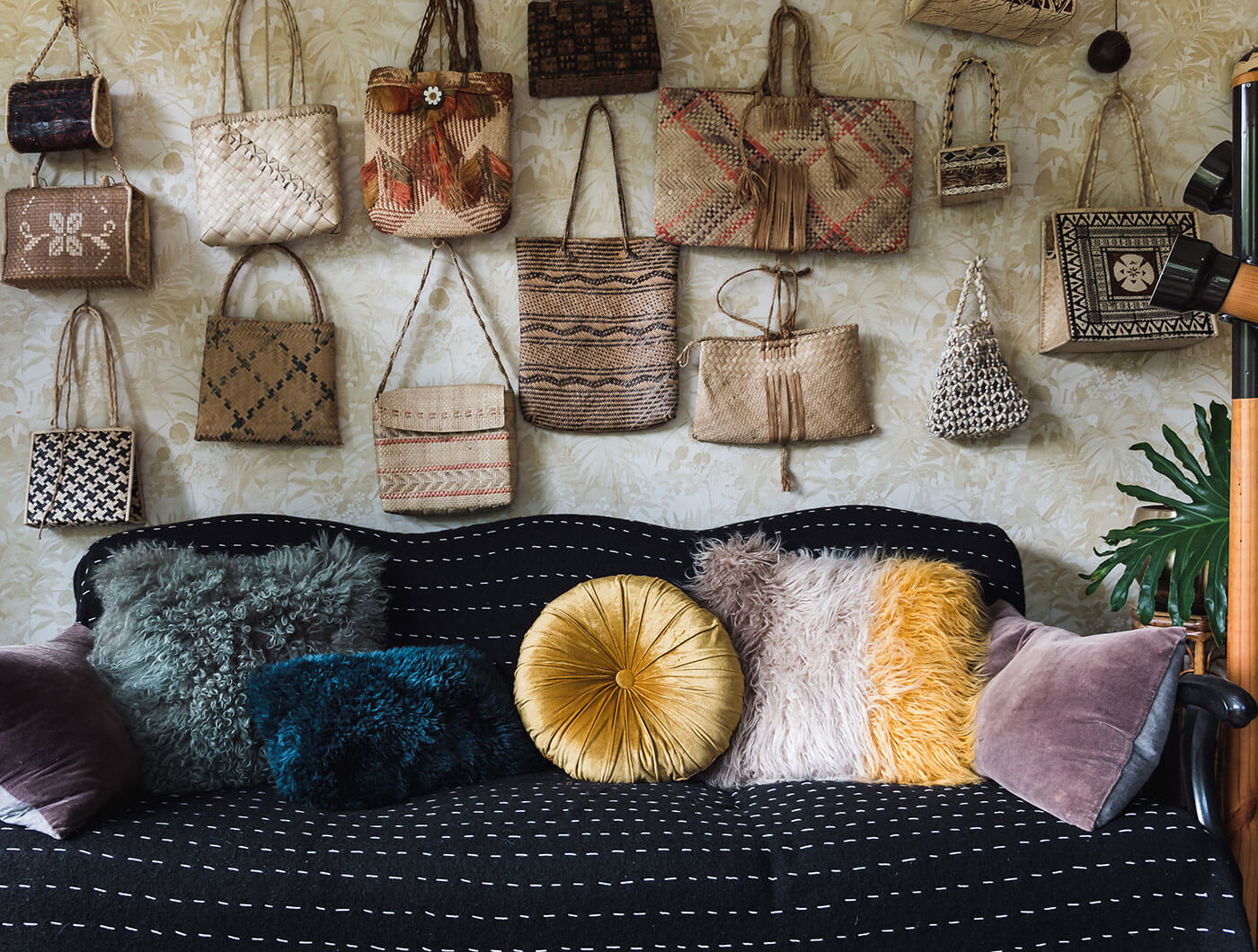 Kate Hansen
Written by Shelby Deering
Photography by Kate Hansen
It takes an impeccable eye and an unparalleled knack for detail to put together a movie set. Forging worlds, creating experiences and bringing characters to life are all a part of the puzzle, allowing the set designer to incorporate unique decor and vintage collectibles that truly steal the show.
Victoria McKenzie happens to be one of those ingenious people, using her design-savvy to devise some of the most magical sets. She's worked as a set decorator and art director for several Australian films and television shows, including all three installments of The Lord of the Rings.
"I love my job as a set decorator," Victoria says. "Every day is different. We create whole rooms that reflect the characters in the script. We research and build up the look for each character for each location, which means a lot of op-shopping (thrift-store shopping)."
As a matter of fact, all of these collective experiences have come together to form Victoria's home, which in itself looks a lot like a movie set. The home was built in the 1940s and renovated in the 1970s, with a look that lends itself to the top-to-bottom vintage allure seen throughout the spaces.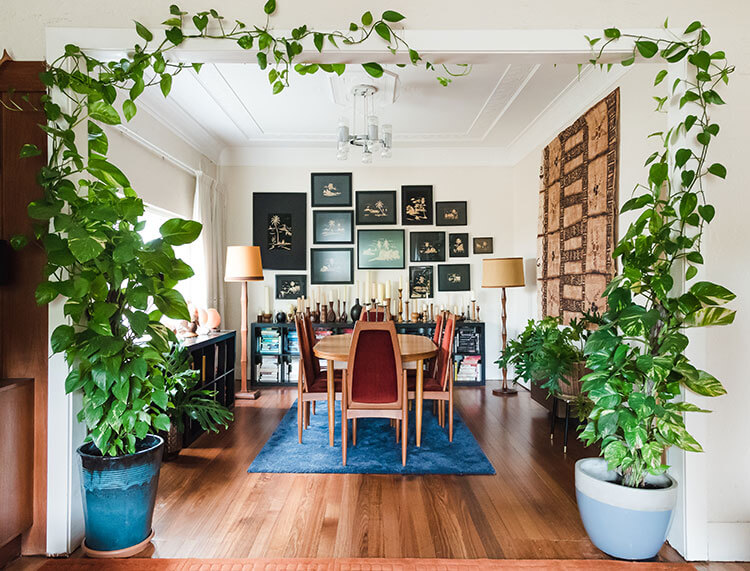 Making a Dreamworld That Dazzles
Victoria had been living across the street, and when it was time for a change, a friend urged her to consider the nearby home. She says, "I didn't consider the house for rent across the road as an option as it was 'too old' for me. I was keen to find a 1960s mid century modern house, but a friend made me peek in the windows. I was thrilled to see all the built-in teak cabinets; funky tiles; bright, open spaces and the huge garden."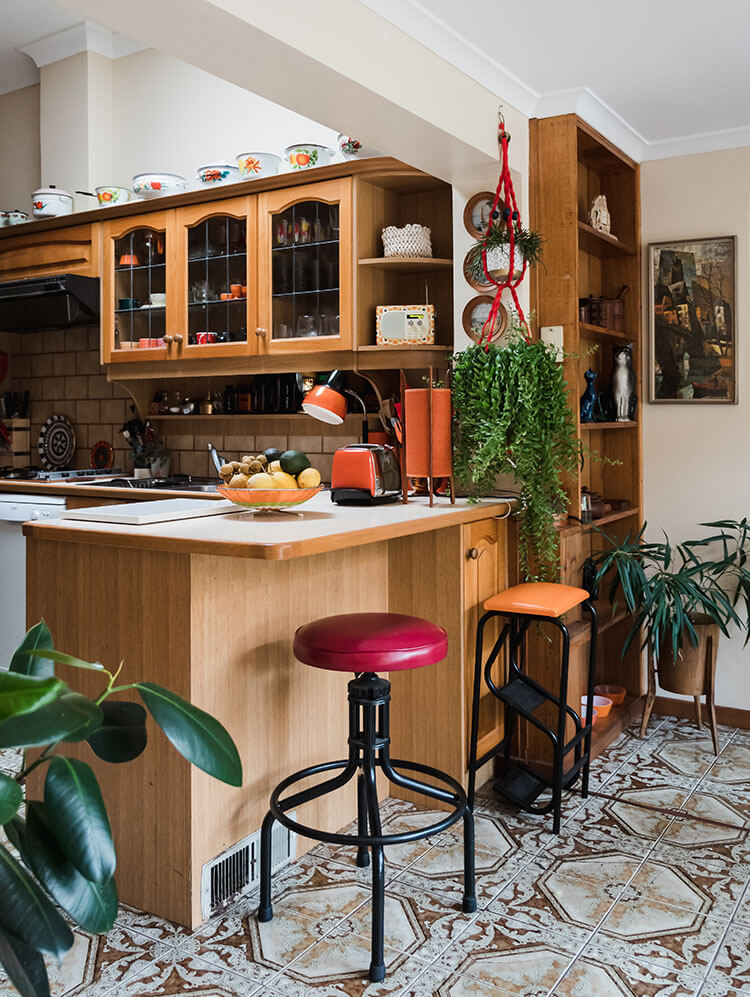 The home already had several original fixtures that appealed to Victoria's love for bygone design. Over four decades ago, the last owners of the home added a sunroom, dining area, terrace and bungalow, and in the lounge, they installed teak shelves, cupboards and even a built-in record player and speakers.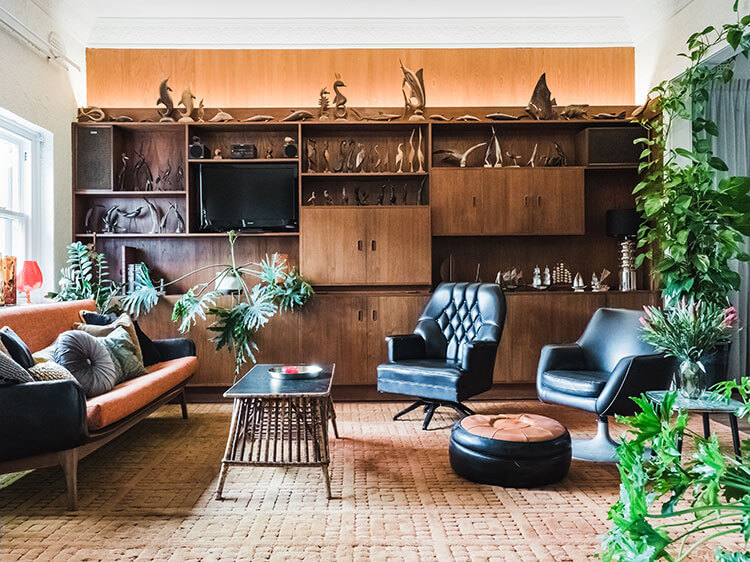 The bedroom came with a huge teak wardrobe and many areas in the home feature "groovy" floral wallpaper, chunky, woven curtains and brown and tan tiles.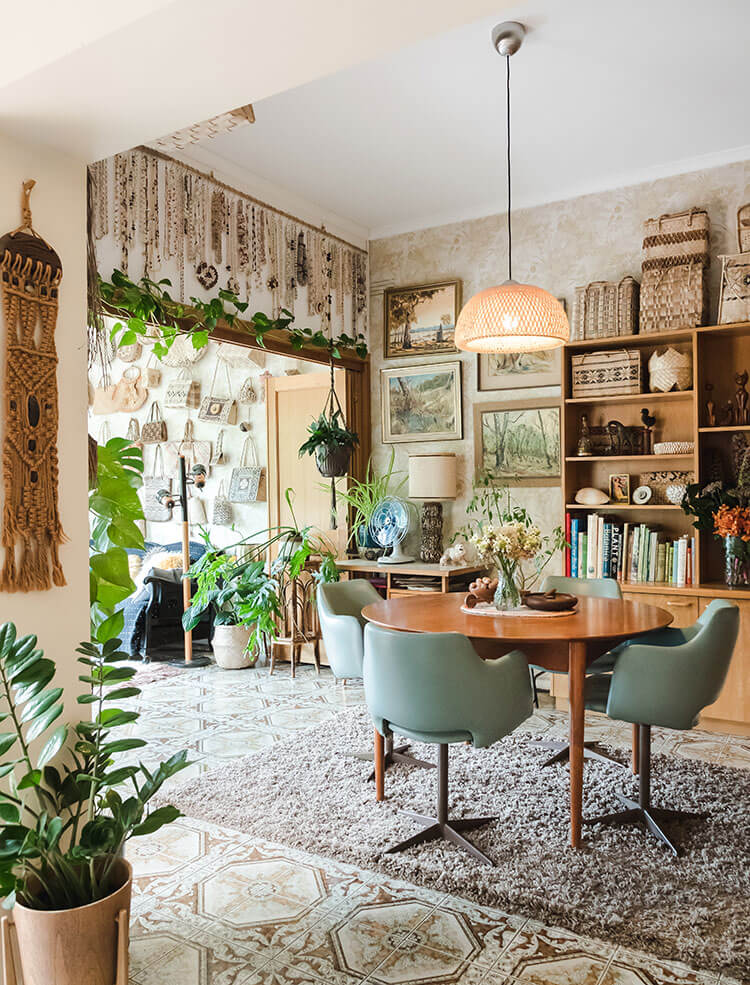 And on to the Collectibles…
Now, after a year and a half, Victoria has made over the Melbourne rental home into a vintage wonderland, setting the scene with authentic furniture and a staggering array of collections.
"I love to display my collections en masse, and I am lucky enough to have lots of built-in shelves in this house," she says. "As much as I love each individual piece, it is seeing them relate together and interconnecting that excites me."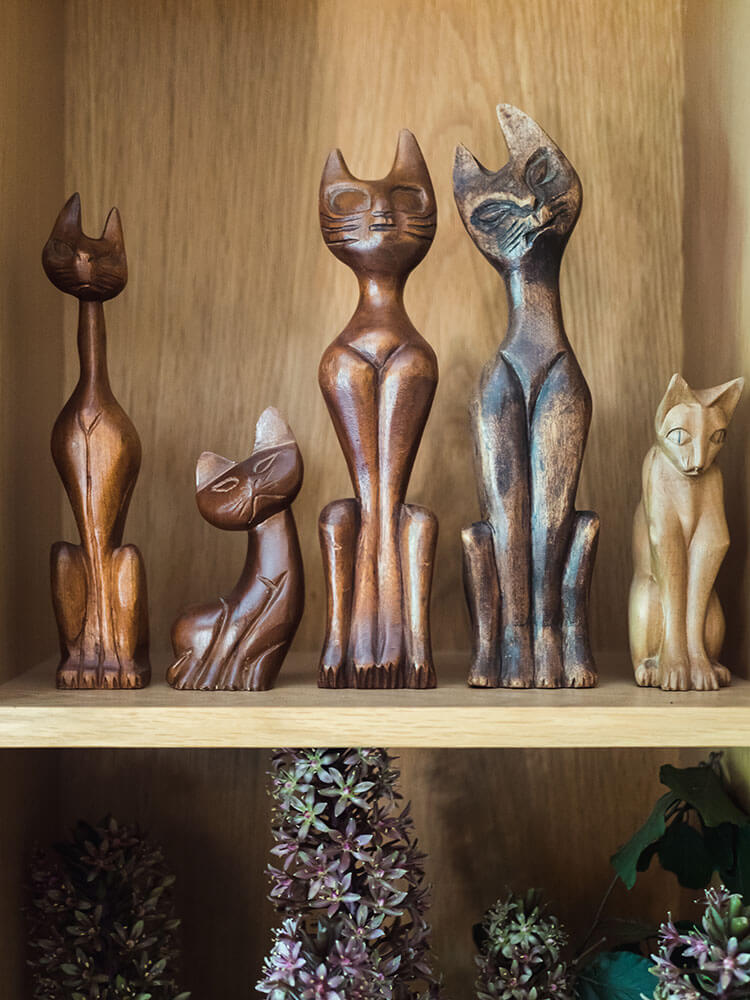 The collections reflect decades of shopping and searching, and many of the items Victoria happened upon while she combed for set décor. Although she adores them all, she's partial to a couple of her collections.
For example, Victoria has an affinity for straw bags, which she refers to as "baskets" and began gathering 30 years ago. While she was studying craft design, she learned to weave traditional Maori flax baskets, also known as kete. "This sparked the woven basket collection, which now exceeds 130 including 10 that I created," she says. They look exquisite grouped together on a wall in the sunroom.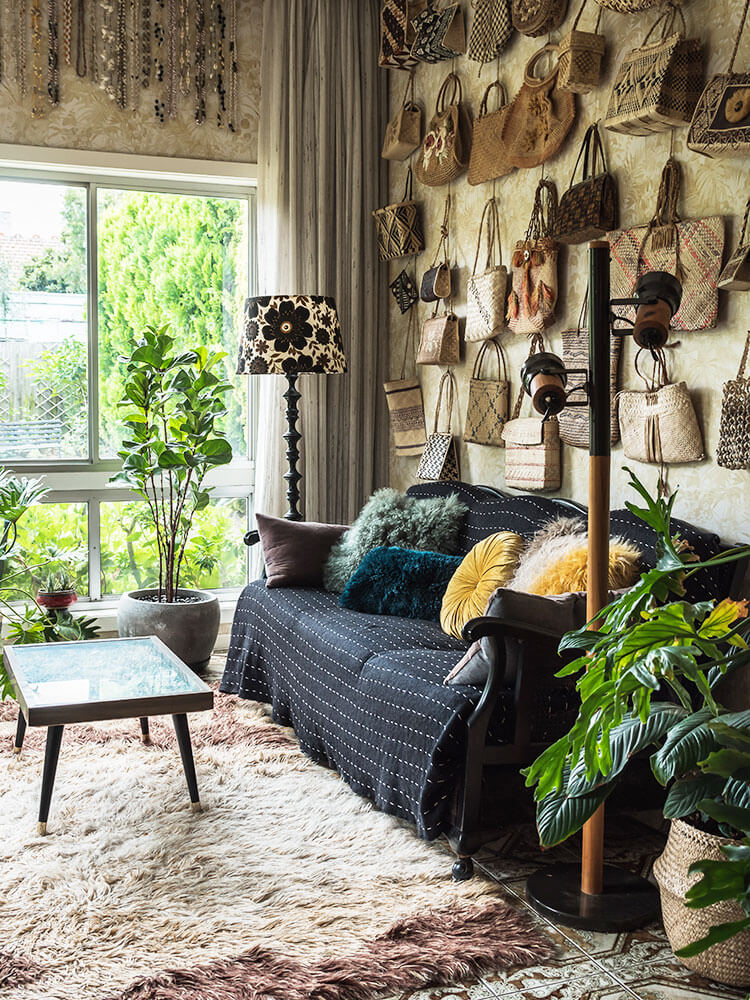 Victoria describes her collections as "1950s, '60s and '70s with a South Pacific presence," Victoria's home is the embodiment of tireless hunting and an unabashed love for vintage décor. She says, "For me, vintage is the beauty of craft and industrial design from other eras and countries. I love that vintage wares are still intact after so many years of service. They are often better made, and I enjoy the patina of wear and age. It is very satisfying to find a new delight to add to all my different collections."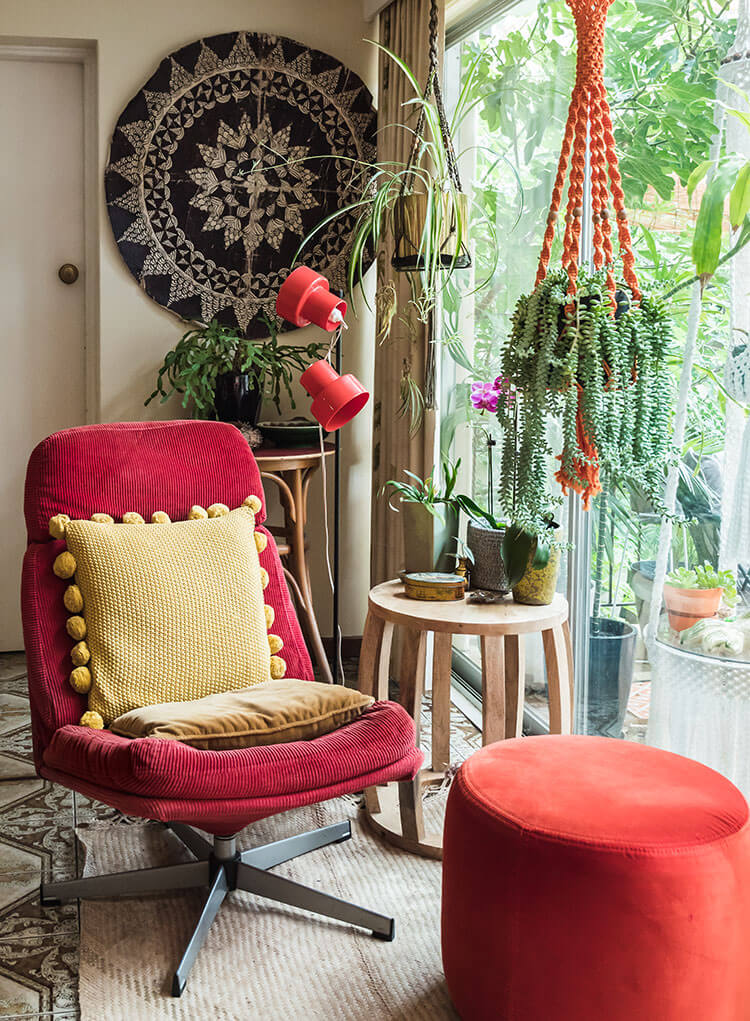 ---
Searching for another house tour overflowing with vintage-inspired pieces that steal the show? Check out how this couple incorporates antique decor with a French spin, right here!
And of course, don't forget to follow our Facebook, Instagram, and Pinterest for some fresh flea market inspiration!