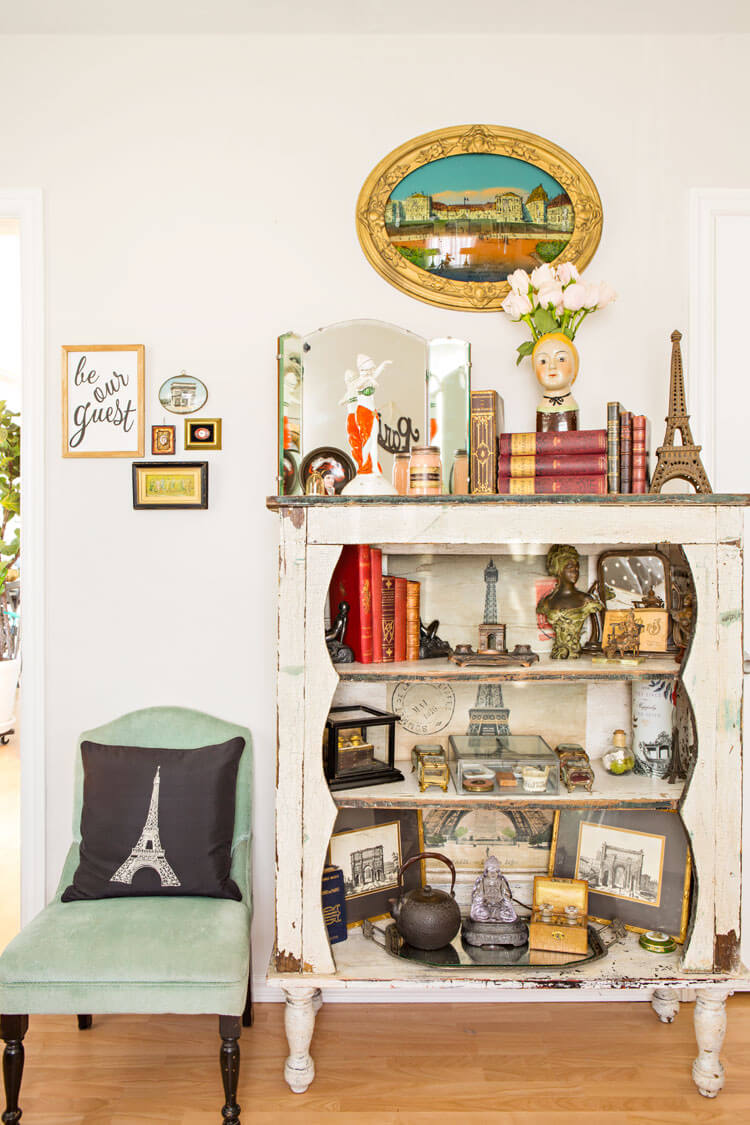 Written by Kathryn Drury Wagner
Photography by Bret Gum
Styling by Karen Wilhhelmsen
Throughout Emily and Marshall Yep's home, you'll discover references to the City of Light. An old map of Paris, for example, serves as artwork. Tiny boxes feature the Eiffel Tower. "The Eiffel Tower is kind of my thing," says Emily, who is the founder/owner of Magnolia and Willow, located in Long Beach, California. The couple honeymooned in Paris, and the romance of the place adds special accents to their home in Southern California.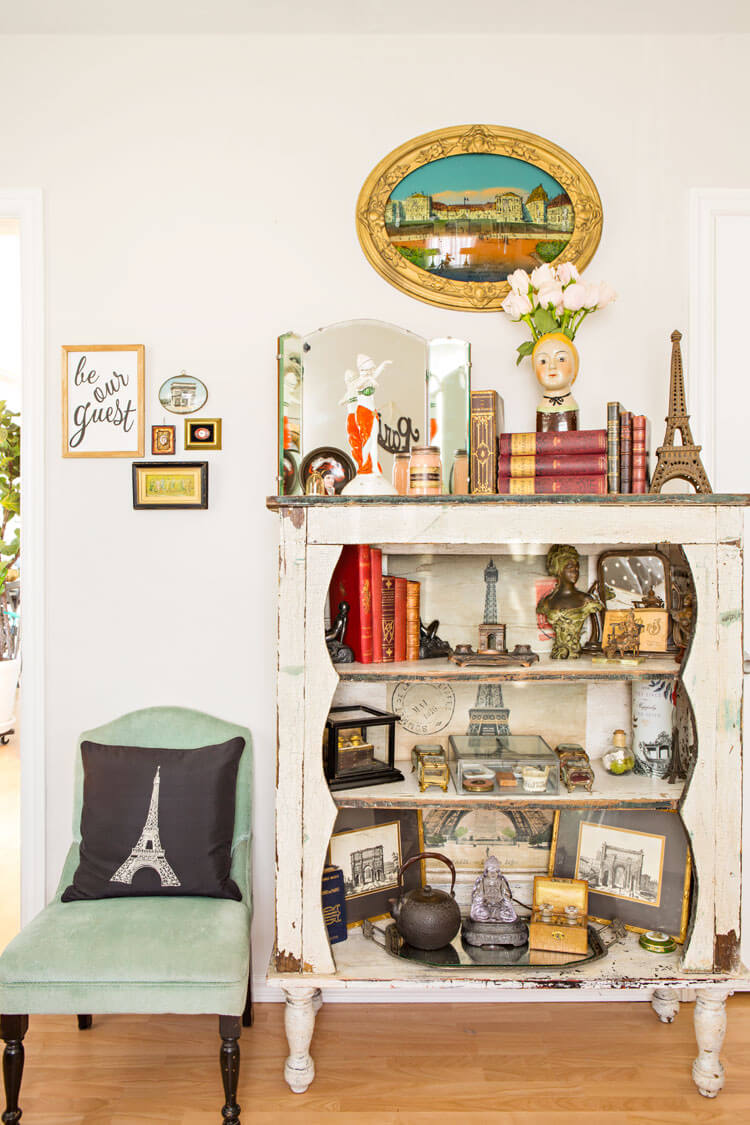 Emily grew up in the antique business, as her grandmother, mom and aunt had a store in Emily's hometown of Bakersfield, California. "I remember walking to the shop from school and doing homework in the back. As a teen, I started doing estate sales with my mom."
In October, Emily celebrates the seventh anniversary of Magnolia and Willow, a 500-square-foot space filled with offerings from various antique and vintage dealers. The store came about after Emily left her managerial job and began selling things on eBay.
She noticed there weren't a lot of vintage or antique shopping places in Wrigley, the Yeps' neighborhood in Long Beach. "On the corner of Magnolia and Willow, there was this vacant shop space. It was run down. It was sad."
"My mom collected three vintage silver patterns, and I got to choose one when I got married," says Emily.
Within a month, with her supportive family wielding paintbrushes, the space had been transformed, and the store was ready to open. It provides plenty of inspiration—and opportunity—for the Yeps' décor.
"I do shop a lot from our store," says Emily. "If I'm drawn to something, I try to make it work at the house. I upgrade as I go. If I find a better chair, I get rid of the current one and update. Since I'm constantly surrounded by opportunities to buy, I could be a hoarder otherwise!"
She and her husband have been in their current home about two years and while it dates to the 1940s, she says it had almost no style at all when they moved in. "Sadly, any character from that era had all been previously removed." Luckily, she's been working to give the place some joie de vivre.
ANOTHER PINCUSHION DOLL, this figurine has been wired to be turned into art; in the past, it would have been sitting on a fabric skirt. To the right are French perfume bottles.

THE JEWELRY CASKETS, designed for use on a vanity top, feature scenes from—where else?—Paris.
In addition to the Paris theme, another motif is nautical, both because Emily's grandfather was in the navy and because of Marshall's profession. He's a seafood broker who works in downtown L.A. "There are some nods to that in the house, such as in our kitchen, where there is a lot of fish décor," says Emily. "We're kind of weird with the nautical, though; Marshall is Japanese- Chinese and he's into fish that relate to sushi, which are harder to find in home décor."
Marshall gives Emily free reign to decorate, as he has little interest, says Emily. His only request? Not too girly, please, so she keeps just a few pink accents confined to the front living room. There, flea-market finds blend with items she purchased from dealers at her shop and gifts from her family.
Take, for example, an American-made blanket by Faribault Woolen Mill Co. "It's one of my favorite gifts, from my mother-in-law. And the pillows on the couch spell out Y-E-P; those were found on Etsy and were gifts from my mom. If something isn't vintage, we try to buy U.S. and quality made. And we support mom-and-pop businesses, because we're mom-and-pop."
Since Emily has opened Magnolia and Willow, she's seen the neighborhood transform, with a new brewery, Italian restaurant and coffee shop. It may not be Paris, but it's the Yeps' little slice of urban delight. And at home, there are always plenty of Eiffel Towers and charming vintage accents waiting.