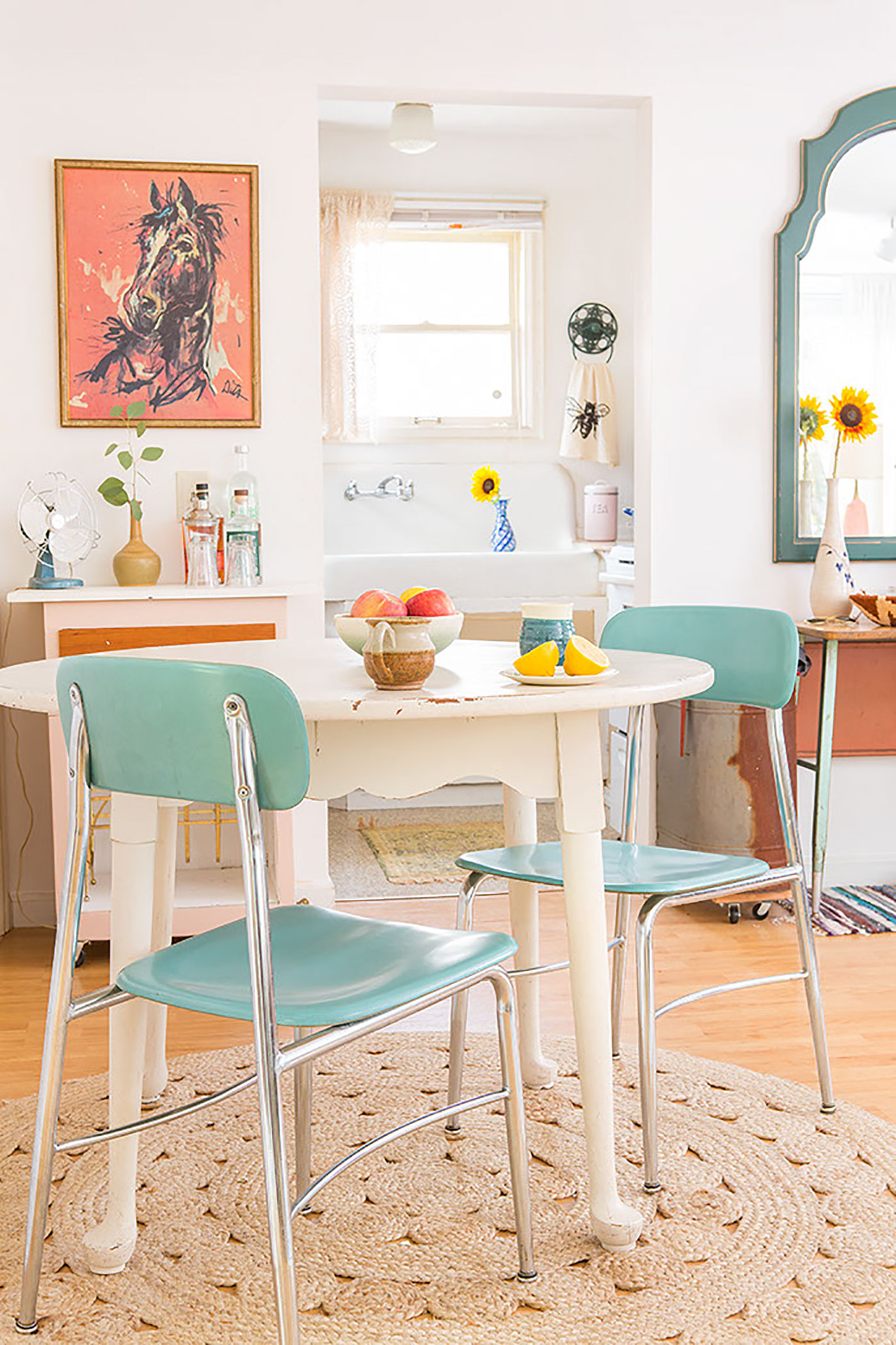 Written by Kris Christensen
Photography by Bret Gum
Styling by Sarah Bennett
Full of treasures, natural light and zero clutter, this Etsy seller's tiny vintage cottage in Oregon has a rich history of creative determination. The story of the Corvallis Cottage begins with three young World War II veterans under the age of 25, one electric saw and a hay field.
This is what the cottage's current inhabitants, Sarah Bennett and her husband, learned upon receiving a letter from the granddaughter of one of the three GIs. The letter details the investment of time and resources the three men poured into the process of building the home.
As for many young veterans in the post-World War II era, benefits offered by the GI Bill brought the letter-writer's grandfather to pursue higher education in a new town. He set out from Portland, Oregon, in 1947, with his brother, father and a childhood friend, sharing the goal of building their own college residence. Each young man invested $1,000 and many hours of sweat equity that began the same summer morning the group arrived on the property.
The first day saw a new foundation dug out of the hay field covering the area and poured over firm soil. For the next several weeks, the men camped on the property, showered once a week during return trips to Portland and used only one electric saw with a 200-foot connection to the nearest power source. The result still stands as a tiny, but efficient, 504-square-foot cottage.
Over 70 years later, Corvallis Cottage has seen few changes, with no additions or extensions to modernize the small structure's footprint.
Many of the original features, such as the farmhouse-style kitchen sink, still offer period charm that reflects back to the decade in which this vintage cottage was built.
Yet as charming as the vintage cottage is, renting such a home is not for the faint of heart. Vintage lovers Sarah Bennett and her husband, however, have risen to the occasion undaunted. They choose to honor the home's handmade history and embrace its limitations without sacrificing their personal style.
Sarah describes her home décor style as "light and airy Bohemian vintage," and uses an all-white backdrop, light natural finishes and pretty pops of color to achieve the look. These decisions are not merely subjective preferences, but also function on a practical level to suit her needs.
Bright white walls were the first change the couple made to personalize the place on moving in. "White walls are necessary for me since I sell vintage goods from home and take all my product shots in our house, Sarah says. "I also knew I needed to paint all the walls white to make our small space feel more open and airy."
The open and airy feeling is further encouraged by painting other large surfaces white also. The dining table, Sarah's office desk and the bedding all visually recede into the background, creating a uniform look that allows colorful pieces to garner all the attention.
These items are either artisan-designed or vintage pieces sourced from garage sales, antique stores, estate sales and flea markets. "I'm really drawn to earthy collections, vintage patterns and lighter palettes," Sarah explains. "I love finding unique, one-of-a kind items and almost always buy secondhand, which is aligned with my belief in recycling."
Before anything can come into her home, however,each item is held to careful scrutiny. Sarah says, "Living in small quarters really forces me to be very intentional about the objects I'm purchasing and integrating into our home. I also try to be mindful of how much is around us; because it is a small space, it can feel overwhelming quickly if there are too many décor pieces. It's actually a great challenge that I enjoy taking on."
Although bright white covers the majority of surfaces and the size of her home necessitates a strict approach to the volume of her décor, Sarah's home does not approach a minimalist aesthetic.
Her selection of floral patterns and pieces with vintage patina, and the personality apparent in so many design choices, lend a homey quality of coziness to each room. Sarah says, "Also, weaving lots of greenery in to my home is really important to me. Plants add life and comfort to a space. I like to refer to the houseplants as our quiet little friends!"
With a careful approach to color and the strategic display of vintage treasures, Sarah and her husband have added their chapter to the story of Corvallis Cottage. In a time when most other houses of this pedigree have met with many changes, it's refreshing to see a home with history continue to live on in the spirit of its creation.