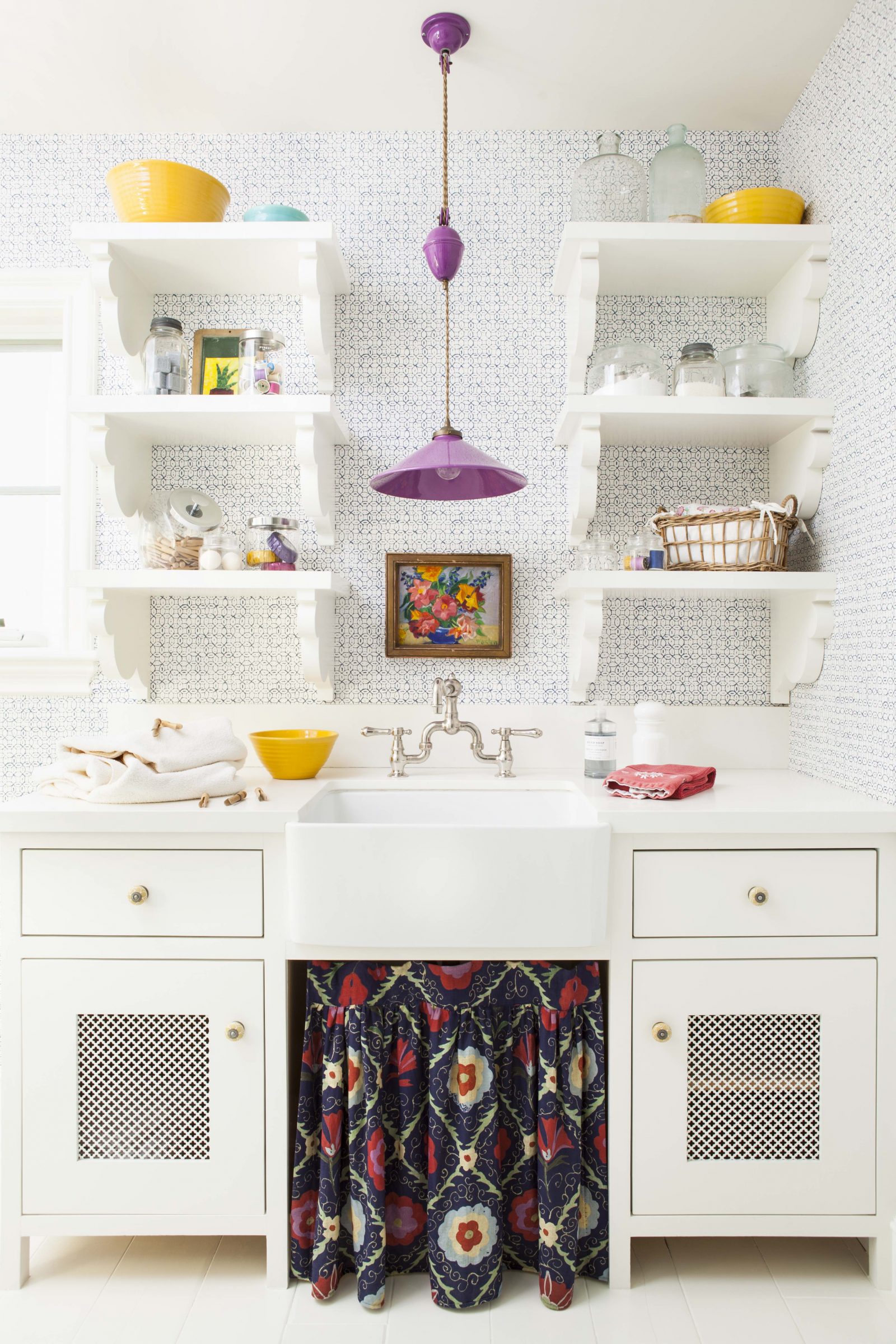 Bret Gum
Written by Sarah Jane O'Keefe
and by Rabekah Mattix
Open kitchen shelving is more than just another trend in interior design. This beautiful and practical look has so many advantages, we can't seem to find a reason not to give it a try. Here are our tips on how to style your open shelving.
Location Vs. Look
The style of your shelving will likely depend on where your shelving is located. Shelves hung above a prep area or sink lend themselves to more functional usage, while shelves near the dining area or on an opposite wall are ideal for display.
A functional set of shelves can be a lifesaver in a small or cramped kitchen. Not only do they bring in easy-to-reach storage, open shelving takes up less space than a traditional cabinet. For an already-too-small kitchen, this can help give needed storage without overcrowding.
Organizing It
If you plan on using your open shelving for daily storage, create a hierarchy on your shelves. Things used most often, like plates, mugs, or bowls, should be on the lowest shelf. Larger, less frequently used items like mixing bowl sets and service ware, belong on the second shelf.
Higher shelves that may require a step stool, are a great home for items that can be difficult to store or are seldom used. Vases, heirloom pieces or vintage treasures should be stored here. Even better, putting these items on the top shelf where there isn't a height limit will give them the space they need to truly shine.
Stack It Up
Whether your shelves are a used as a display of vintage service-ware or a replacement for a dish cabinet, don't be afraid to stack items on top of one another. This technique will create more space and give a more interesting, layered look.
Try stacking up similar items, like a set of bowls or a few cute mugs. You can also give your shelf a fun mismatched look by layering different types of items, like a dinner plate, a salad plate, a bowl, and a glass. You can even put seldom-used items, like holiday plates, to work as a stand for some of your favorite trinkets like frames or figurines.
Mix & Match
For a different look, give your shelves a bit of color by incorporating a few mismatched pieces. If a collection of milk glasses are carefully displayed, add in a few pieces of green vaseline glass. A few carefully selected mismatched pieces will help showcase their contrasted counterparts.
Or, take a step further and throw out matching entirely! You can easily create a fun collection of dishes that span styles and decades by doing this. If your collection is more along these lines, show off your eclectic taste by piling up your favorites and enjoy their unique colors and patterns.
Open kitchen shelving is an easy way to bring your own style into a kitchen. You can learn how to do it here, or buy some open shelves pre-made here.
---
And don't forget to get more Flea Market Decor inspiration by following us on Facebook, Instagram, and Pinterest!