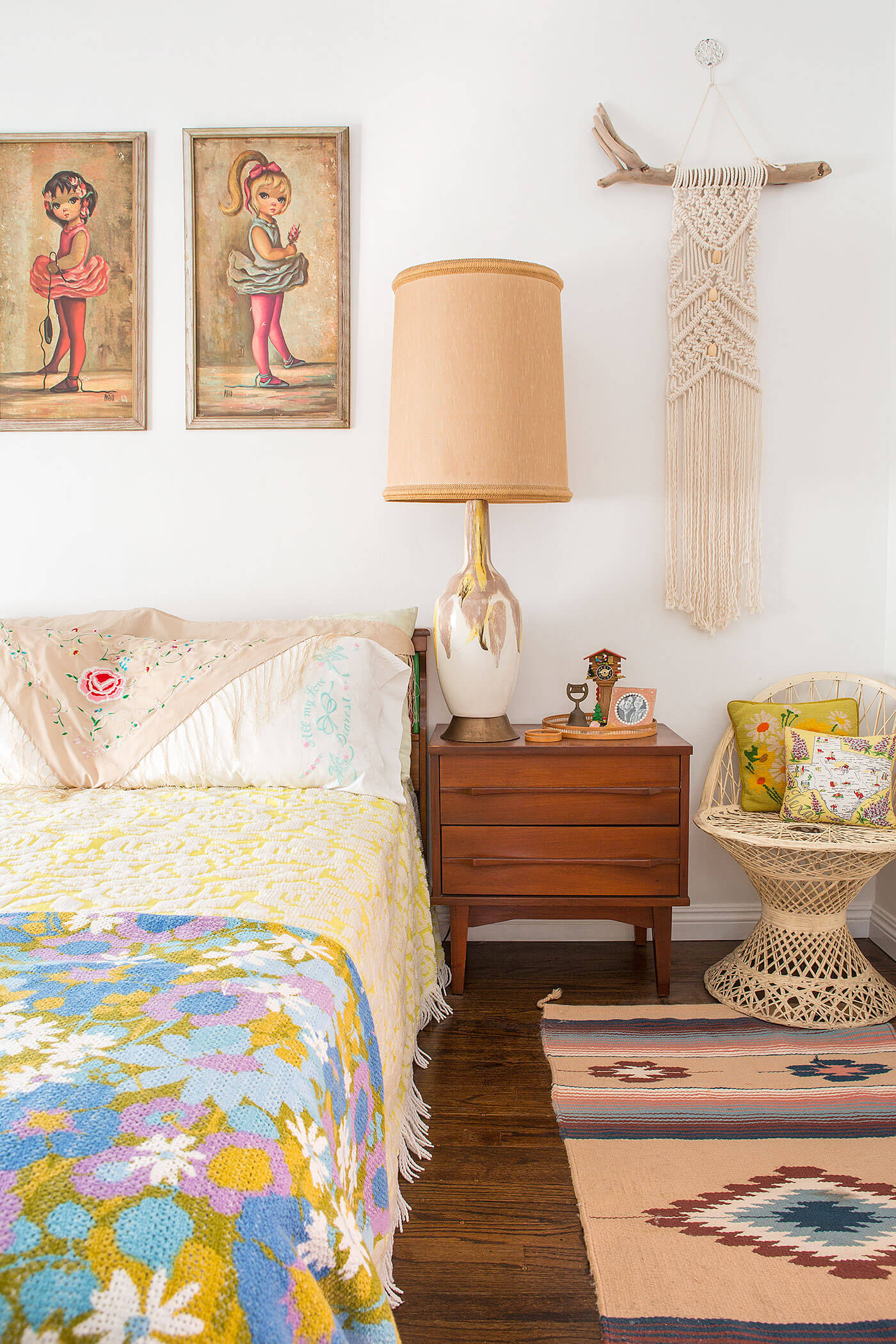 Written by Kathryn Drury Wagner
photography by Bret Gun
Remember the Vallely family from this Rock-n-Roll meets sweet sunshine house tour?
Interestingly enough, daughter, Emily Vallely, has a knack for selling antiques with her mother, and showcases her unique aesthetic by curating a range of decor. So when we heard she was moving into her own apartment, we were delighted to document the results.
"I was so excited to move into my first place," says Emily. "Before that, I was decorating my little room in my parents' house".
So, expectedly, Emily enjoys having free range to furnish a whole apartment, especially the kitchen, in which her collection of vintage Pyrex and cookbooks go perfectly.
As for Emily's experience with vintage pieces, she has been selling antiques for about two years through her booth at Magnolia and Willow in Long Beach, California. However, her eye for treasure hunting didn't start there, given that her family has "been collecting forever".
And with a background in "antiquing," her new apartment is a 1937 gem that perfectly suits Emily's vintage ardor. There's a black-and-white tiled kitchen with built-in shelves, a living room complete with hardwood floors, and the most perfect pink-themed bathroom.
When preparing to move into her nest, Emily "got into the decorating mindset," shopping for two months until "the apartment got pretty well filled."
She used her vintage-collecting savvy to complete this endeavor, stating that, "Magnolia and Willow is my favorite place to shop because I'm there all the time, and the dealers have amazing taste!"
She also frequented The Vintage Emporium of Long Beach, estate sales, and the Long Beach Antique Market. Not to mention, her network of antique dealer friends helped out along the way, "swapping from garages" and such.
So, what's her advice to anyone looking to start designing their first home?
"Don't rush into decorating all at once," she says. "I did that, and it put a lot of pressure on me financially and otherwise. It's better to take your time. You might find something you like in six months. Take your time."
For Emily, shopping vintage is about both the environmental impact and the joy of exploration. "If you go into a store and you already know what you're going to find, it takes some of the fun out of it. If you go vintage shopping, you never know what you might discover."
So take her advice, and get to decorating!
---
Of course, don't forget to follow our Facebook, Instagram, and Pinterest for some fresh flea market inspiration!