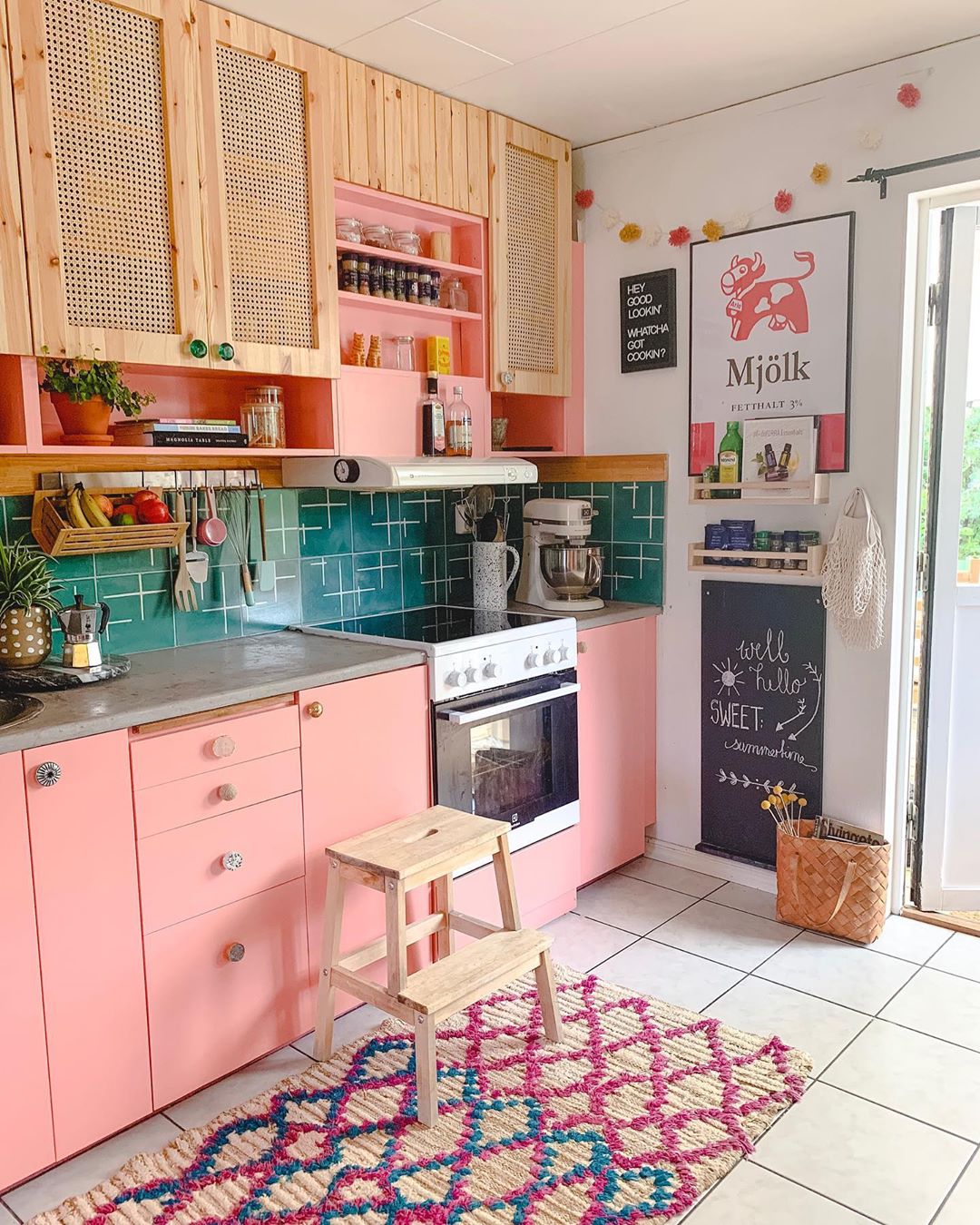 Written by Kristin Dowding
White cabinets and neutral kitchens have their place, but sometimes your mornings could use a bit of color for that extra energy jolt to go along with your coffee. What better way is there to infuse fun and depth than with colorful cabinets? We've compiled eight of our favorite kitchens that aren't afraid to stand out with their unique color palette.
1. Burnt Orange
@colorful_kimmes shouldn't have a hard time waking up in the morning with this eclectic beauty! The orange cabinets perfectly complement the dense teal walls and bring out the lighter hues in the backsplash.
2. Dark Blue
Just because your cabinets are dark doesn't mean your whole kitchen has to be. If you limit the color to the bottom half of the cabinets, you can paint a lighter color on top to keep the light bouncing through the space. Paint color: Stiffkey Blue by Farrow and Ball.
3. Pretty in Pink
Pink is the perfect color for a vintage vibe! The teal backsplash complements the retro look, and the bare wood on the top cabinets provides balance with natural tones.
4. Sunny Yellow
If you're in need of some energy in your life, go bold with a burst of yellow! Versatile and bright, this color works well for any style, including bohemian, retro, eclectic and rustic.
5. "Mint" To Be
For a soft look, At Home With Ashley chose to give her kitchen a DIY makeover in mint and pink. Her lower cabinets are painted in Dixie Belle Paint's Sea Glass. As for the upper portion of the kitchen, Ashley used the paint color, Fluff. And for the fridge, Soft Pink. These subtle hues make her once dark, outdated kitchen light and bright.
6. True Red
A pop of red on island cabinets complements the red drawer pulls and adds a bold focal point in this space. If you're not ready to commit to all colorful cabinets, consider painting smaller pieces as a compromise.
7. Hunter Green
The color of nature, green is a great option to bring life into your kitchen area and balance out any brighter colors. For bohemian style, CeCe Restyled used Palmetto by Dixie Belle Paint and gold drawer knobs to complement her pink backsplash from the 1950s.
8. Pop of Purple
What came first—the rug or the cabinet paint? Whichever piece inspired the other, we're loving the color combinations in this kitchen by Alison Kandler, as the purples, pinks, reds and greens represent a no-fear, spunky attitude. Showcase the colors you love and don't apologize for it! Click here to see more on this home.