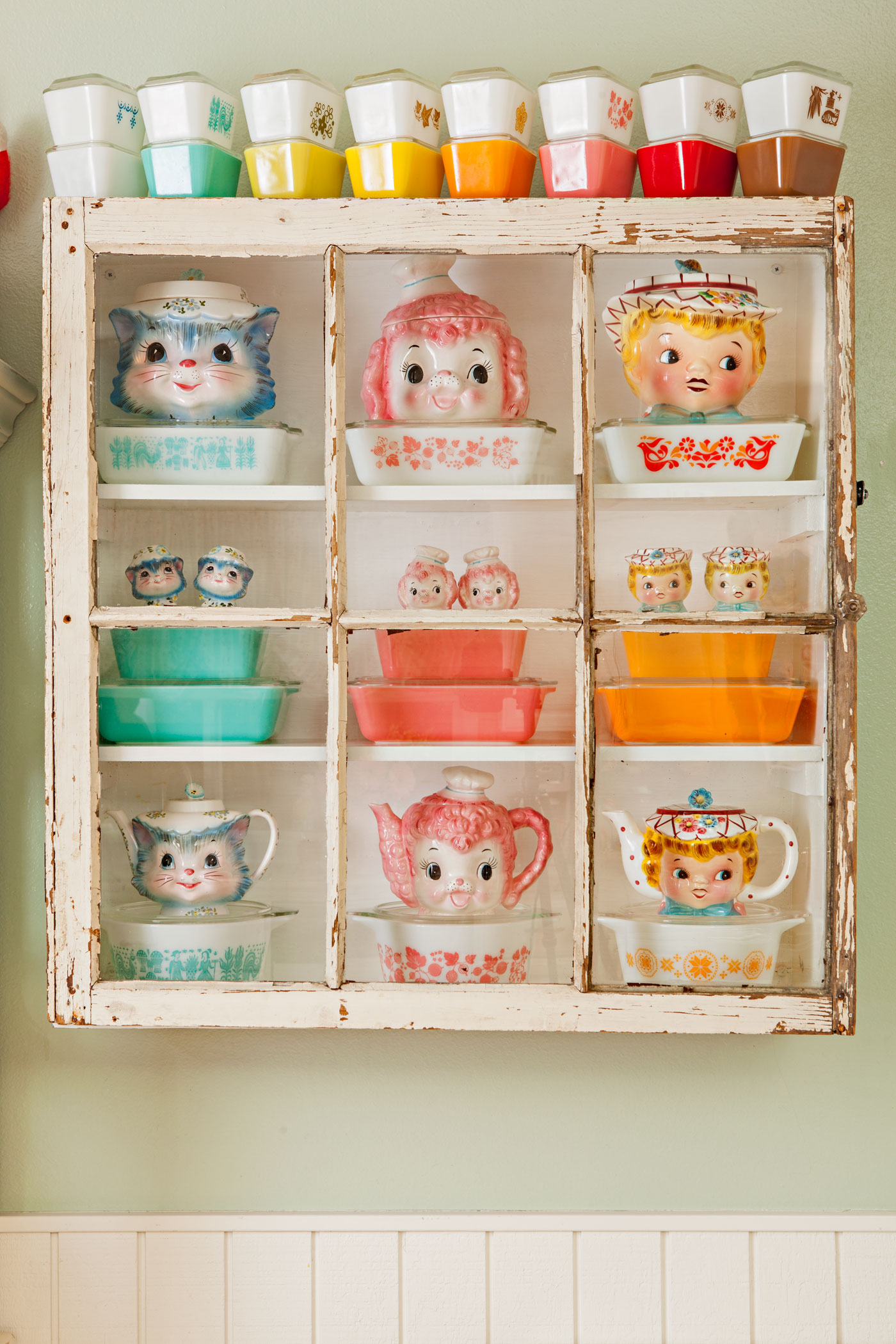 Bret Gum
Written by Kris Christensen
Photography by Jessica White
Styling by Jennifer Reed
Able to withstand high temperatures, colorfully produced and sentimentally linked to sweet memories of baking with Grandma, vintage Pyrex is experiencing a popular renaissance, and for good reason. Though the brand has been taken for granted as a kitchen mainstay for more than a century–with pieces regularly handed down from one generation of home cooks to the next–Pyrex glassware was once a revolutionary innovation.
Domestic Science
Over 100 years ago, a resourceful housewife named Bessie Littleton requested and received a wet-cell battery jar made with a new type of glass that her husband, Jesse, had introduced her to. He was a research physicist at Corning Glass Works at the time, and the company was testing and producing temperature-resistant glass for industrial applications.
Legend has it that yet another of Bessie's baking dishes had cracked, and she was inspired by Jesse's work to find out if the same material Corning developed for railroad lanterns and battery jars would be useful for baking and cooking. Jesse cut the height of the jar down, and Bessie successfully baked a cake in it. The couple's domestic discovery led to further research at Corning, and in 1915 the company launched a line of kitchenware under the brand name Pyrex.
In the following decades, a series of advancements in manufacturing made Pyrex cheaper and easier to produce, while World War I, the Great Depression and World War II drove patriotic and budget-conscious homemakers to the American-made, affordable kitchenware. These pieces were produced in clear glass up until 1936, when opaque white "opal ware" was introduced. Opal ware is the blank slate over which the bold colors or playful patterns were later added that we know, love and collect today.
Popular Appeal
Jessica Freitas, an avid collector of Pyrex, who shares some of her vast collection on these pages, fondly remembers the pieces her mother used and how she came to appreciate them herself. "At a young age, I honestly didn't think much about Pyrex. Back then I was more concerned about not having to wash dishes! Truth be told, I'm still not excited about washing dishes, but I love collecting them," she laughs.
A chance encounter at the 3 Dotters Vintage Market in Utah, where Jessica started selling furniture as a vendor, reintroduced her to the delightful dishware of her childhood. "The wide variety of colors and patterns excited me, and I've been hooked on buying, selling and collecting Pyrex ever since."
Similarly, aficionado Jennie Elizarrez recalls that her collecting journey started with one particularly arresting piece. "I found a pink Gooseberry mixing bowl in a thrift store, and I thought it was so pretty. Of course, I started searching for the other pieces on eBay and realized that they were quite desirable and expensive," she says. "At that point, it became fun to start searching for Pyrex at thrift stores, estate sales and flea markets." Jennie's favorite pieces are her Hot Air Balloon chip-and-dip set, and Starburst and pink Stems casserole dishes.
Market Madness
As the fan base for vintage Pyrex grows, so too does the value of desirable patterns. Prices on rare or hard-to-find Pyrex tend to fluctuate, and when pieces of practically mythical rarity make the evening news–as a Lucky in Love patterned casserole dish did by selling for $4,250 on eBay–it creates a ripple effect among viewers, who dash to their cupboards to check what riches might lie inside. Though sentimental value may be significant, Jessica notes that "having Pyrex doesn't mean you're sitting on a small fortune."
Purchasing an unusual dish, however, could cost a small fortune. "Most collectors like myself have invested in rare and one-of-a-kind pieces," says Jessica. "A with most hobbies, collectors who want the best have to pay for the best!" Highly prized in her collection are Butter Print mugs and a Dianthus-pattern bowl.
There are a few caveats to consider before jumping feet first into the colorful world of Pyrex collecting. Jessica, a seasoned authority on the subject, warns that many who play with the idea of starting a profitable collection "tend to think they can simply walk into a thrift store and discover that hard-to-find piece. In some states that may be the case, but this rarely ever happens," she advises. "Ultimately, many collectors get their most prized pieces from other collectors and usually pay top dollar for these vintage gems."
An aspiring collector would be wise to invest time in research before investing money in Pyrex. Different marketplaces, and different vendors within those marketplaces, command different prices. Likewise, Pyrex patterns, and color variations within those patterns, command different prices. This often confusing and arbitrary system can make it difficult for a novice to fix a reasonable value on eBay listings described as "ultra rare" or "very hard-to-find," because sellers often use these terms to attract attention to items that are really quite common.
Jessica advises that research helps to cut through misinformation. "First and most importantly, don't believe everything you read." In agreement, Jennie says, "Pyrex, like most things, is only worth what someone is willing to pay." Complete sets in excellent condition and printed in popular shades–such as pink and turquoise–are among those desirable patterns currently dominating consumer attention.
The Thrill of the Find
Over 150 designs have been documented–such as the ever-popular turquoise Butter Print– by passionate Pyrex collectors who are thrilled with the hunt for that last mixing bowl to complete a set or that certain casserole dish they've always coveted. But what really keeps enthusiastic collectors on their toes is the potential to uncover a rare piece–like the famously elusive Lucky in Love pattern–or even better, something mysterious that no one else has recognized.
Uncommon color variations, pattern test samples, promotional dishes, factory errors, employee experiments and other limited production Pyrex pieces are treasures to be studied and the crowning jewels of a serious collector. And yes, they are still out there and waiting to be found! "Being in the right place at the right time can happen," Jessica says. "There is always a chance you will get lucky! This only adds to a collector's excitement."
With options available at every price and in so many different shapes, sizes and colors, anybody–serious collectors and casual kitchenalia admirers alike–can find a vintage Pyrex piece to suit their personality. Perhaps your next trip to the local flea market will reveal another Gooseberry bowl or a complete set of Friendship.
This story originally appeared in the April/May issue of Flea Market Decor. You can subscribe here to enjoy more stories on your favorite collectibles and tips for decorating with an eclectic touch. You can also follow on Instagram for more vintage inspiration.