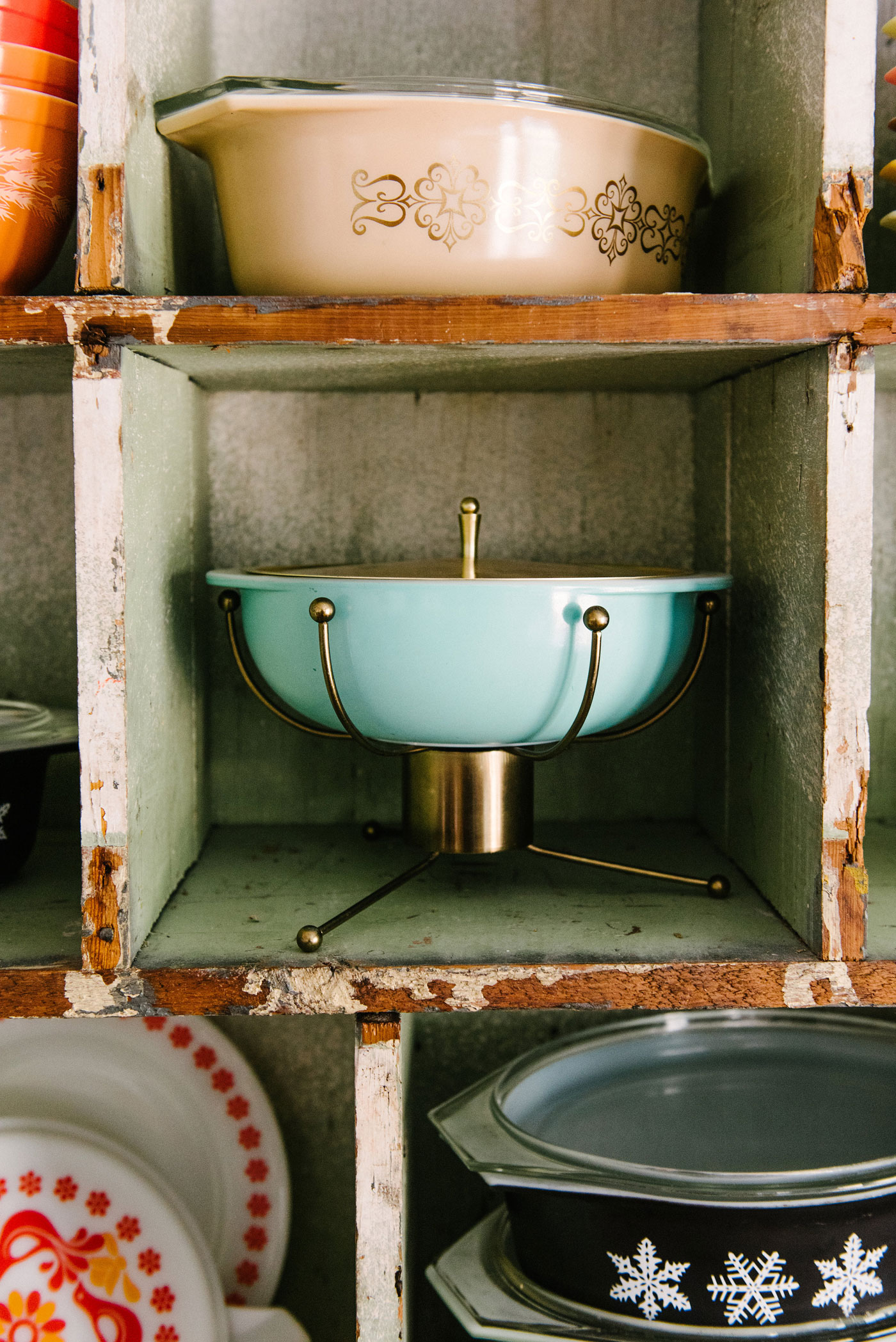 Written by Kris Christensen
Photography by Jessica White
Styling by Jennifer Reed
Do you love vintage Pyrex? Whether you're head-over-heals for Lucky in Love or seeking the perfect Friendship match, this fridge-to-oven-to-table ware has a pattern to suit every personality.
My personal favorite patterns are Pink Gooseberry and Turquoise Butterprint (also known as Amish Print, or Butterprint Amish). These patterns are incredibly popular right now, and prices certainly reflect that! But I've still found a few pieces at great prices to add to my collection.
If you are looking to add to a collection, or you have just started searching for a set of the cutest cookware ever made, here's a rundown of where you can shop for vintage Pyrex, what you'll find, how much you can expect to pay and a few tips for your shopping strategy.
Before we continue, I want to point out that an item's prices may be influenced by many factors. These include condition, popularity, rarity, vending location and the seller's own perceptions. Pyrex has skyrocketed in popularity over the last 10 years, and prices across all venues are likely reflect this interest.
Thrift Stores, Garage Sales, and Estate Sales
These venues tend to have the lowest prices, but the trade-off is many of these pieces have been purged by their former owners because they are in less than stellar condition. Be prepared to wade through shelves of chipped, faded, marked or otherwise damaged goods before finding a fantastic specimen.
What You Can Expect to Find
More common designs.
Less popular patterns.
Single pieces separated from their sets.
Faded, dishwasher damaged or marked pieces.
Exciting surprises. My first Pyrex purchase was of two Gooseberry bowls at my local Savers in mint condition. I paid $14 for the pair, a fantastic deal!
How Much You Can Expect to Pay: $
Tips:
I rarely find Pyrex at Goodwill, one of the most popular thrift stores in my area. Instead, I see Pyrex auctioned through shopgoodwill.com. The site is a great resource for Pyrex, but prices are comparable to eBay.com.
Fun fact: The most expensive piece of Pyrex ever sold was auctioned through shopgoodwill.com.
Faded or dishwasher damaged pieces are likely to be perfectly functional for their intended use (mixing, cooking, serving or storing), but may not add aesthetic value to open shelving.
Flea Markets and Antiques Malls
These sources frequently host vendors who curate the vintage Pyrex they sell, weeding out pieces with the aforementioned imperfections. Vendors who put effort into culling and cleaning their merchandise can be expected also to have made the effort to research their wares for appropriate market value.
What You Can Expect to Find
Complete sets sold together. Instant collection!
More options.
Popular patterns
Higher quality pieces
How Much You Can Expect to Pay: $-$$
Tips:
Antique mall and flea market vendors may expect customers to negotiate price, so feel free to politely proceed.
Many sets will be taped together to avoid separation. If the tape gets in the way of thoroughly inspecting the individual pieces, ask the vendor or salesperson to remove it so you can adequately evaluate condition.
Avid Pyrex collector Jennie Elizarrez advises, "When buying Pyrex, it's important to hold it up to the light and check for scratches. It is also important that it has a nice shine to it and does not have dishwasher damage."
In a location with multiple vendors, browse your options and check prices frequently to get an idea of the price range before purchasing.
Etsy, eBay and Other Online Vintage Vending Sites
The thrill of the hunt can be more fun in person, and online buyers also sacrifice the ability to physically evaluate a piece before purchase. But if you know exactly what you're looking for or love browsing Etsy in your PJs on a Friday night, the tradeoff may seem fair!
There are endless options at reasonable prices for sale on Etsy, eBay and other vintage commerce sites. Serious collectors who are looking for the rarest pieces are also searching online. It's unlikely that anyone will come across an Atomic Eyes chip and dip set at the local antique mall, or find a limited edition promotional piece among flea market wares. If you want something truly unique, get online!
What You Can Expect to Find
Rare, unusual and one-of-a-kind Pyrex dishes.
That last piece you need to complete the set.
A lid to replace the one you accidentally broke yesterday.
How Much You Can Expect to Pay: $-$$$$
Tips:
Take advantage of the platform's message center to ask the vendor for additional photos if you don't feel satisfied by those provided in the listing. Sellers welcome the opportunity to engage with their customers, and are generally happy to give additional details to serious buyers.
Review the vendor's return policy before checking out.