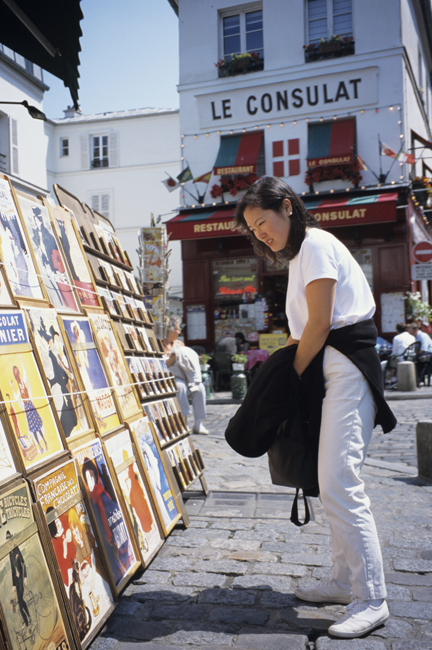 Karl Weatherly
Tips by Alexandrea Gourevitch
Produced by Produced by Hillary Black
Between cultural differences and practical logistics, flea marketing overseas can be a challenging (but rewarding!) experience. Alexandre Gourevitch, co-organizer of Flea Market Insider's Tour in Paris, offers these important points for successful junking in Europe or even further afield.
Talk a lot first, make friends with the dealer and be nice.
Know that every object must be negotiated. Ask for a reduction on the official price. Right before shaking hands, ask for an extra discount for paying in cash.
When you make your last offer, everything matters; not just the price, but also the way you say it—sound firm and confident. As for body language, if you keep the object in your arms it shows that you're already too attached to it. If you put the artifact down and start taking a step out the door—it will put pressure on the dealer.
Think about your market's schedule. For example, it's best to buy on Monday afternoon because that evening the flea market closes for four days and the dealer is more likely to have the desire to close that sale.
Buy not only one, but two objects at a time; and ask for a bigger discount.
If you know about the object, let it show. If the dealer initially puts a high price, but thinks that you know its real or fair price, he or she will be more likely to bring the price down. Do not act like you are an art dealer; being an art lover is enough.
Ask what restoration work has been done and ask to have it described in writing.
Never put the word of the merchant in doubt.
Most importantly, make friends. Deep down dealers are passionate collectors, who are sorry to have to part with their objects. Make the merchant feel good that you are the one taking the object home, and that his or her object will be in good hands.
French flea market dealers are now required by law to label and price all their goods. That is a good starting point on price negotiation. Also, the Internet has changed the market a lot; you can't fake a price because people can check easily. As a result, in most cases at least, the price being shown is close to being "fair." That said, after negotiating you can hope for up to a 20 percent discount.
Have you gone picking at markets abroad? Share with us your international stories and tips in the comments below.