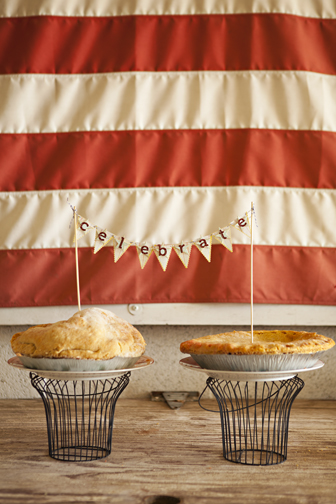 Show off your vintage 4th of July spirit  with summer-friendly décor ideas for flea market finds.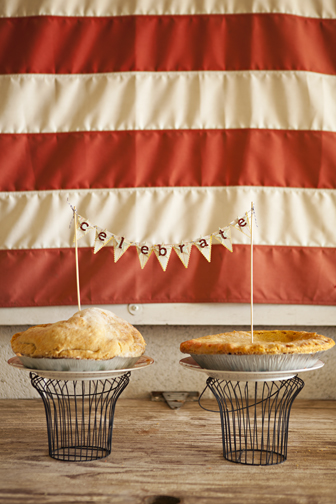 The Fourth of July is the perfect excuse to throw an outdoor dinner party. Whether in a barn, open field or your backyard, dress the table with red, white and blue vintage finds for a patriotic vibe your guests will love.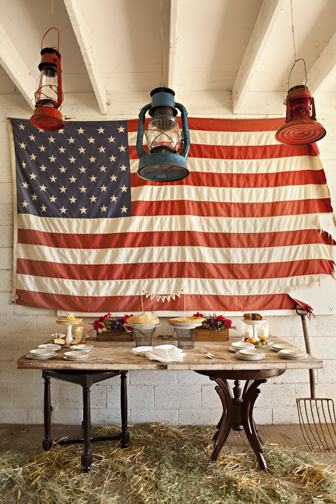 Display a vintage flag as the backdrop for an outdoor dining area. Setting a reclaimed butcher block on top of two smaller tables can create a larger dining space. Complete the homey feel with vintage place settings, colorful flower boxes and painted antique lanterns.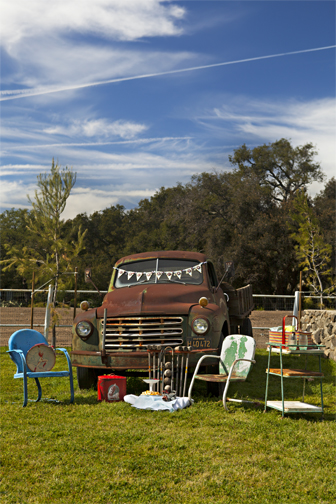 An antique truck can become the backdrop for a summer picnic. Start by arranging vintage patio furniture nearby, with the truck or antique car as the focal point. Use 1950s-era chairs, picnic supplies and a rolling cart to add to the nostalgic feel. Keep a classic outdoor game, such as croquet, nearby to entertain the kids.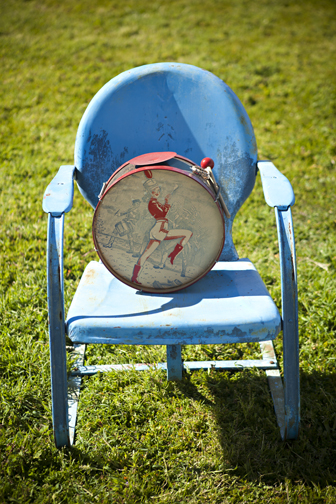 Musical instruments like this wooden drum are great flea market finds—clean and paint old instruments to repurpose them as décor.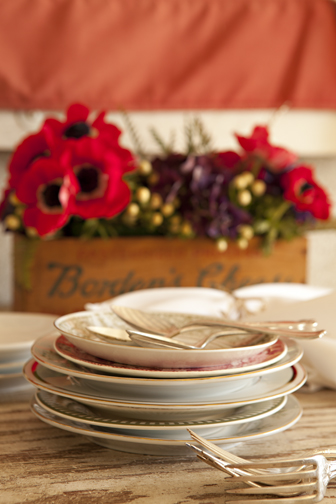 Assemble a combination of plates and place settings to use for outdoor meals–similar colors, but different patterns–for an eclectic effect. For cutlery, start a collection of mismatched vintage spoons, knives and forks. Guests will be charmed by the variety. Antique plates generally sell for $5 or less at flea markets.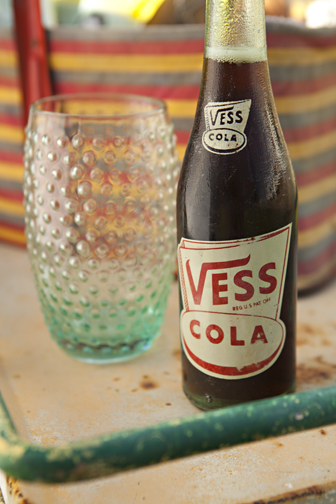 Serve glass-bottled soda in vintage tumblers like this textured drinking glass. Similar glasses were popular from the Depression Era through the 1970s, and some stores sell new glasses with the same retro, textured style. Vintage glasses like these are priced at around $10 to $15 for sets of four or five.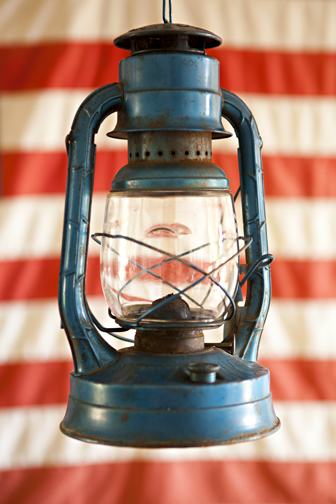 In the early 20th century, the fuel for camp lanterns like these was pressurized using a hand pump; working hand-pump lanterns from the 1920s cost from $50 to $100, while those from later decades are about $25 each. Repurpose an old lantern with a coat of colorful blue or red paint, and hang it for a soft glow when lit on a summer evening.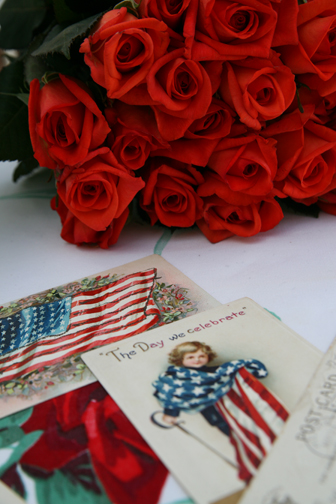 Holiday postcards became popular in the early 1900s as a way to send short messages at a minimal expense. Edwardian Fourth of July postcards like these sell for around $5 each and pull together a red-and-white color scheme with a touch of elegance.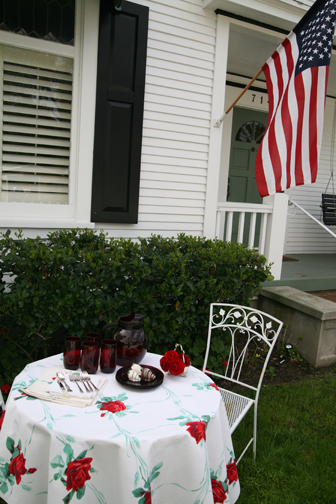 Set the table for a summer picnic with a linen tablecloth, such as this one from the 1950s. Match the flower pattern on your tablecloth with fresh flowers of the same type and hue–in this case, red roses. Freshly pressed linen napkins, also vintage, complement the theme.
Have a happy Fourth!
By Jessica Boling