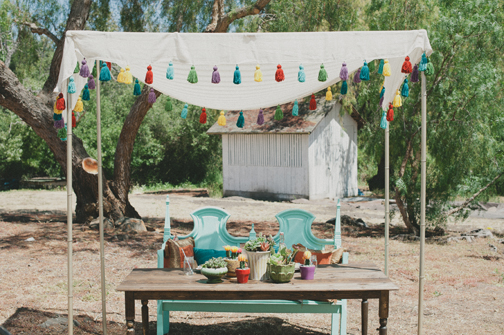 John Newsome Photography
6 ways to celebrate a Southwestern-style vintage wedding by repurposing flea market finds.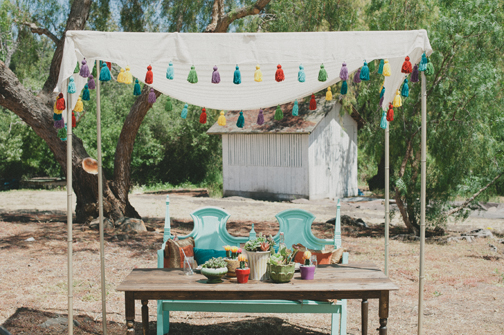 1) To create the turquoise loveseat (above) that became the bride's favorite piece, vintage designer Melissa Strukel of PowWow Vintage transformed a bedframe into a bench. "Find a vintage headboard and footboard at a thrift store or garage sale," Melissa says. "Use it as the back legs of the bench. Then, all you need to do is find a plan for a simple bench, build it and attach the headboard."
2) Melissa constructed her favorite piece—these colorful shelves—by stacking vintage benches (above). The vibrant ikat fabric backdrop echoes the table runner and provides the color scheme for the tassels that hang at the benches' edges. By stacking wooden boxes on the top shelf, Melissa expanded the space; filling in the boxes with knitting, potted flowers, vintage glassware and cowboy boots creates visual interest and depth while keeping the vignette from becoming too symmetrical.
3) Throughout the dining area, Melissa juxtaposed wooden chairs of various historic American styles—spindled Shaker, balloon-back Windsor, ladderback Colonial and stile-and-panel Early American—to further the reception's rustic feel while adding Northeast class to the Southwest theme (below). "Don't be afraid to mix pieces from different periods," Melissa says. "Use height, texture, color and proportion to create your composition."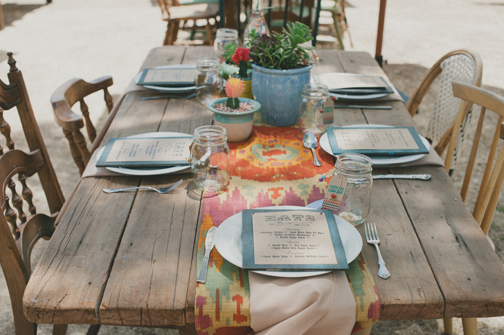 4) For a character-filled table setting, the wedding coordinator displayed the mismatched vintage cutlery Melissa has accumulated over the years alongside rusted flowerpots (above).
"Finding the fabric for the runnerwas a jumping off point for Melissa and me," bride Leigh Ann Conate says. "While it's an ikat fabric with a tribal look, it provided our Southwestern colors: turquoise, coral, mustard and purple." The mother of the bride joined in on the DIY process by sewing the Cost Plus curtain fabric into the pattern Leigh Ann and Melissa designed.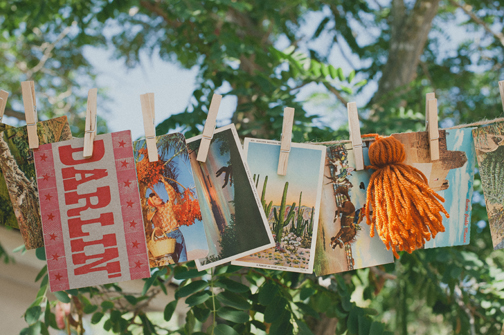 5) "At a re-purposed antique wash station," Leigh Ann says, "guests could write notes on old postcards and hang them on a clothesline as a streamer near the DJ" (above)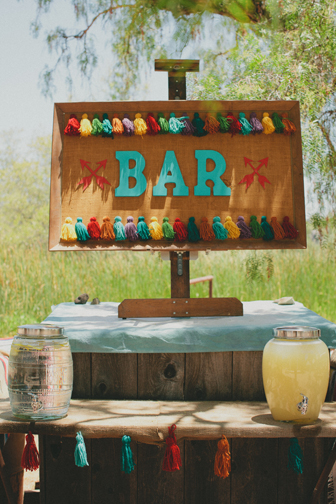 6) Melissa stacked whiskey barrels and old scaffolding to create a cheery art installation that functioned as a bar (above).
As you consider how to repurpose vintage finds for a wedding or other celebration this summer, "don't let the era of a find determine its value," Melissa advises. "You can always sand and wax a dining table from the 1970s to give it the feeling you want."
Written by Elaine K. Phillips
Styling by  Melissa Strukel of PowWow Vintage
Photography by John Newsome Photography