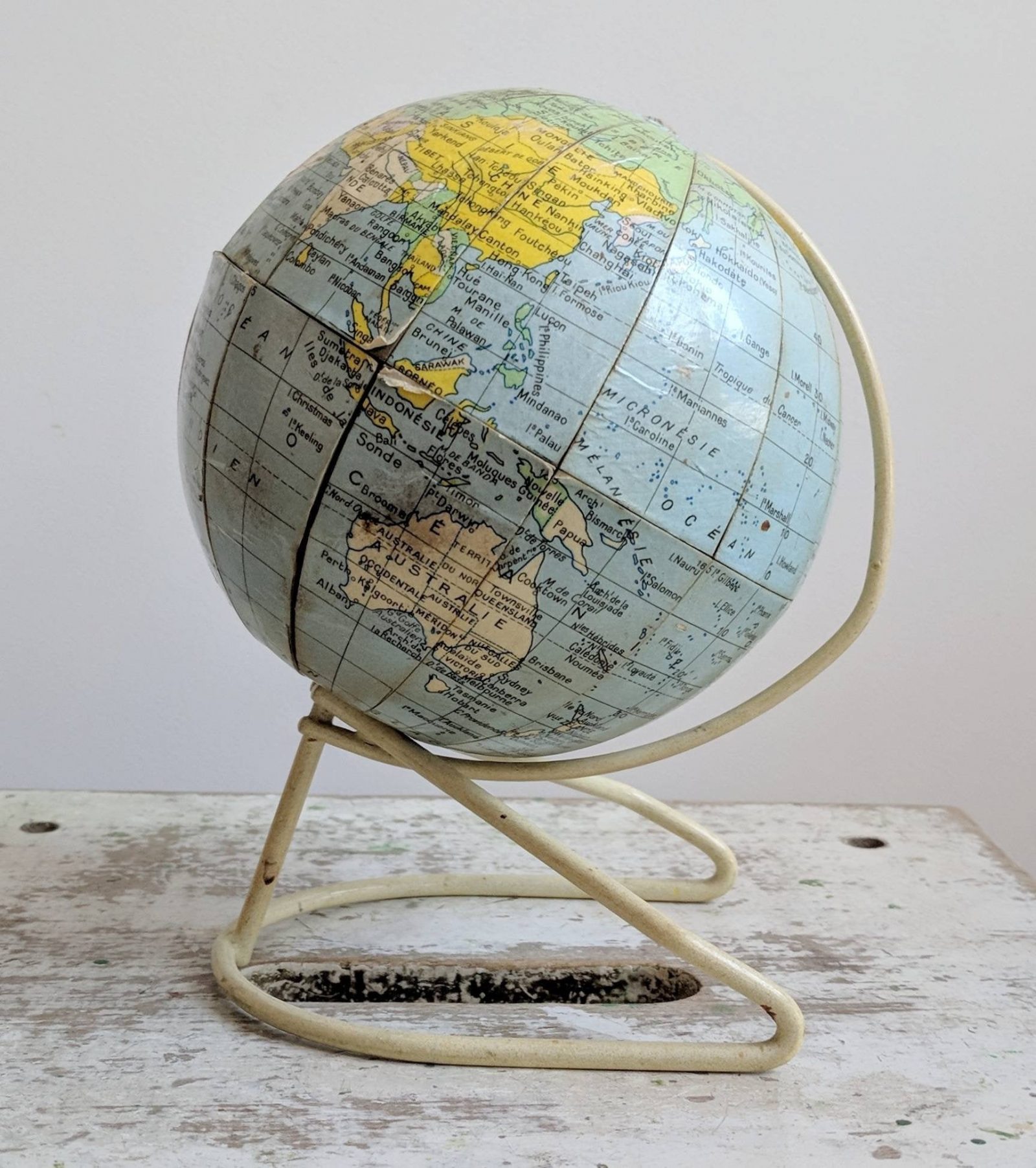 Written by Hannah Strandberg
Globes symbolize exploration, adventure and discovery. As a child, did you ever play the game where you spin a globe as fast as you can, and then stop it suddenly with your finger to determine where in the world you'll pretend to travel next? 9 times out of 10, you ended up in an ocean, but that has never stopped a good globe from inspiring wanderlust!
Every time you look at one, you can't help but think about the places you've been and the places you have yet to see. Plus, they look great on bookcases, desks and just about everywhere else.
We did a little treasure hunting, and found all kinds of globes out there! These are unique, with out-of-this-world features, storage compartments and some have historical significance!
At Flea Market Decor, we love to curate and share our favorite finds from across the web with you. Some of the products you'll see on this page are affiliate links, which means that if you click through and make a purchase, FMD will earn a small commission at no extra cost to you!
---
1.Schoolroom Savvy
It's estimated that this blue vintage globe was manufactured in the 1980s, with an Art Deco twist to the base. It'd look wonderful in a cozy study nook!
---
2. Adventure Is Out There!
These vintage-inspired globes are a literal call to adventure. Beautifully hand-lettered, it would look gorgeous in anyone's collection!
---
3. Shine Some Light
There's more than one way to fashion a globe. These one-of-a-kind light fixtures have that "Wow!" factor
---
4. One Giant Leap
Here's a globe that'll make you swoon over the moon! This moon showcases the exact landing sites of the Apollo spacecraft, including where Neil Armstrong took his first steps.
---
5. You've Been Everywhere
Why not keep track of where you've been with the world you travelled? Grab some cute push-pins at the store and start your pinning journey!
---
6. Old World Style
It seems that this late-1900s globe is a long way from home—Amsterdam! When you open the top, it becomes a drinking cabinet. Just goes to show what you'll find when the world opens its arms to you.
---
7. Trans Globe Airlines
This globe wants to take you 'round the world! The metal airplane topper adds the perfect touch of art deco goodness.
---
8. Metallic Magic
It's a beaut, alright. And these globes comes in many different metallic sheens from copper to teal blue. Pick your favorite!
---
9. Every Globe Tells a Story
What do you get when you combine mythology, cartography and vintage home decor? A 1950s celestial globe.
---
10. Old Mystery
This old world globe was hand-crafted in Italy in the 70s with a wood base. The lettering is in English and Italian!
---
11. Simple is Sweet
This sweet and chic globe will step right out of the 1960s and into your living room. It's a lovely,  understated piece that would be perfect for bookshelf decor.
---
12. Brass Beauty
Armillary spheres were invented in China during the Han Dynasty to track the sun and star coordinates. It adds a touch of ancient mystery to any room.
---
13. To Infinity and Beyond
Galactic adventure is right at your fingertips! Pair this globe with a few astronomy books or add it to your movie room for a futuristic twist.
---
14. Trinket Saver
Keep your tiny baubles in this charming trinket box. It'd be a fitting place to keep a small collection of foreign coins!
---
15. It's a Small World
What's a better gift than a mini globe with a big message? A unique and meaningful gift, this will brighten the desk of any beloved educator.
---
16. Star Struck
This celestial globe from the 1970s will show you a path through the stars. Plus, a dash of vivid blue is an excellent accent color for any space.
---
17. Adventures by Candlelight
You won't find a candle-holder like this anywhere else! Grab your favorite scents and you'll have the best-smelling globe ever.
---
18. This Little Light
This magnificent vintage collectible is from the 1940s—a very rare find. The paper is pasted over a glass sphere that allows it to be illuminated from within—a lamp and globe in one!
---