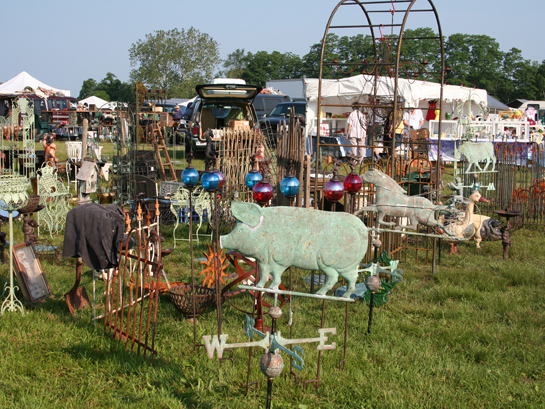 Expert flea market buyers come prepared and have a strategy. For me, flea market shopping is something I do for work and for my own home—a dream scenario for someone like me with an addiction to all things vintage. It's also a great way to learn what to do and what not to do. Here are my best tips and techniques to ensure a day full of bargains and good buys.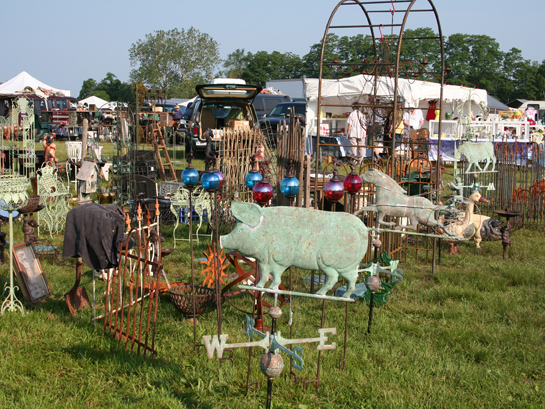 1. Early Birds vs. Late Birds
The old adage is true, the early bird does get the worm, but that's only if your worm is a rare find or a specific item. Arriving pre-dawn just after the vendors have set up means you'll have the pick of the litter. However, if you've got a loose shopping list and are aiming for bottom dollar prices, you'll have more luck coming late and catching vendors who'd rather sell low than haul more inventory home.
 2. Bring your Tools
Bring plenty of bags so you can pass up the plastic ones. Even if you're not anticipating big buys, bring a cart to stash the small stuff–it adds up. If you're on a serious hunt, take some time the night before to jot down dimensions, and snap a few photos on your phone so you can easily see if something will fit in a room or with your color scheme. And always bring plenty of cash (though many vendors will now be able to take credit cards), sunblock, water and measuring tape.
3. Plan a Route
Two biggest mistakes you make when flea market shopping is overbuying, and missing out on a great buy because of bad planning. When you first arrive, do a quick survey of the booths to get a lay of the land; take a few notes on the big items that catch your eye. Then start at the beginning and snake through. This will help you avoid buying that green lamp only to find that there is a much cooler one five rows down. If you spot a find that you want to think about for a bit, write a note about it and a reminder of its location.
4. Be a Better Bargainer
Part of the lure of flea-market shopping is the art of the barter. You'll find better deals by being nice. Ask the vendor is they can "do any better" on the price or if they could take a few dollars off for a grouping. Don't point out flaws or sneer about worth expecting them to lower the price. It's better to be respectful of the good's value than try to quibble the price down to the last penny.
5. Have an Open Mind
The real experts can spot the diamond in the rough. You can too if you remind yourself to evaluate an item on it's characteristics instead of it's first impression. Look at the shape, the texture, the color and the scale of the item; if two or more of these appeal to you, the rest can be altered or refurbished until that item is the total package.
by Jickie Torres