Melinda Graham
Happy first day of summer! Here at Flea Market Decor, we are more than ready for long summer days in sunny outdoor spaces. If you don't have a funky patio or other outdoor room, now's the time to hit the fleas and create a vintage-style garden getaway. Here's how: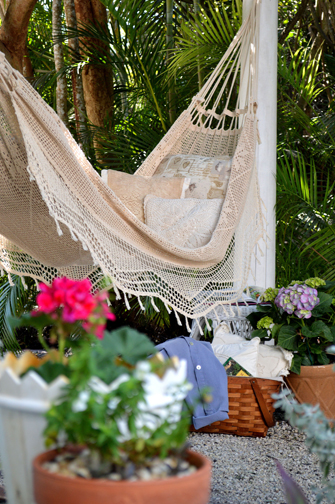 Step 1: Set Aside Space ­­for your Vintage-Style Garden Getaway
This vintage-inspired garden began as a humble patch of grass. Since it can be difficult to fashion a "room" when there are no walls and no ceiling, begin by making a visual boundary. In this case, the space is differentiated from the rest of the yard by the stone "floor," which sets the groundwork for the room.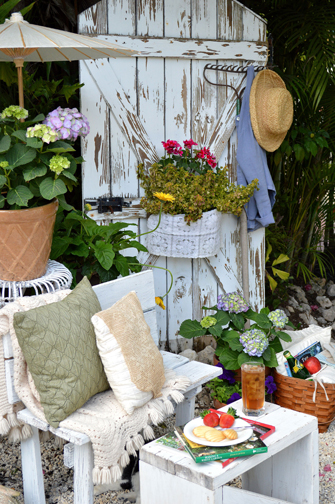 Step 2: Pretend Your Garden Is a Room
Now tackle the space as if it were an indoor room. Determine the space's use: will it be a sitting area, dining area, workstation or nap spot? Develop a color scheme. For this tropical garden room, the backdrop of rich green palms and natural brown stone inspire the color palette. With your space's use and colors in mind, scour flea markets for the furnishings that reflect your personal style and will also be hardy enough to withstand the outdoors. Pay attention to the lines and construction, not the finishes. Be creative when looking for the accents: old birdbaths and bookshelves make wonderful plant stands; random bits of architectural salvage can be tucked into the garden as funky accessories as well. Once you find pieces that fit your needs, you can begin the transformation.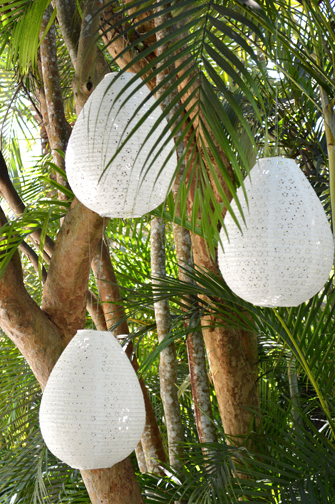 Step 3: Create the Look
Assemble your flea market furnishings and accessorize to create a cohesive look for your vintage-style garden getaway. The best way to create a set out of random items is to paint them all the same color. In this garden, the wood, wicker and metal elements all received several coats of outdoor oil-based white paint. Once all the heavy lifting is complete, the real fun begins. Accessorize! Try to mimic the style of the inside of the home, which will make a harmonious transition from inside to out. This beautiful garden reflects the vintage style of the beach home's interiors. White dishware, old linens and seashells add to the overall aesthetic of this working garden. With throw pillows and blankets, a crocheted hammock, a skirted workbench, table runners and the lace lantern, plentiful linens provide an elegant and unexpected finishing touch.
Written, styled and photographed by Melinda Graham