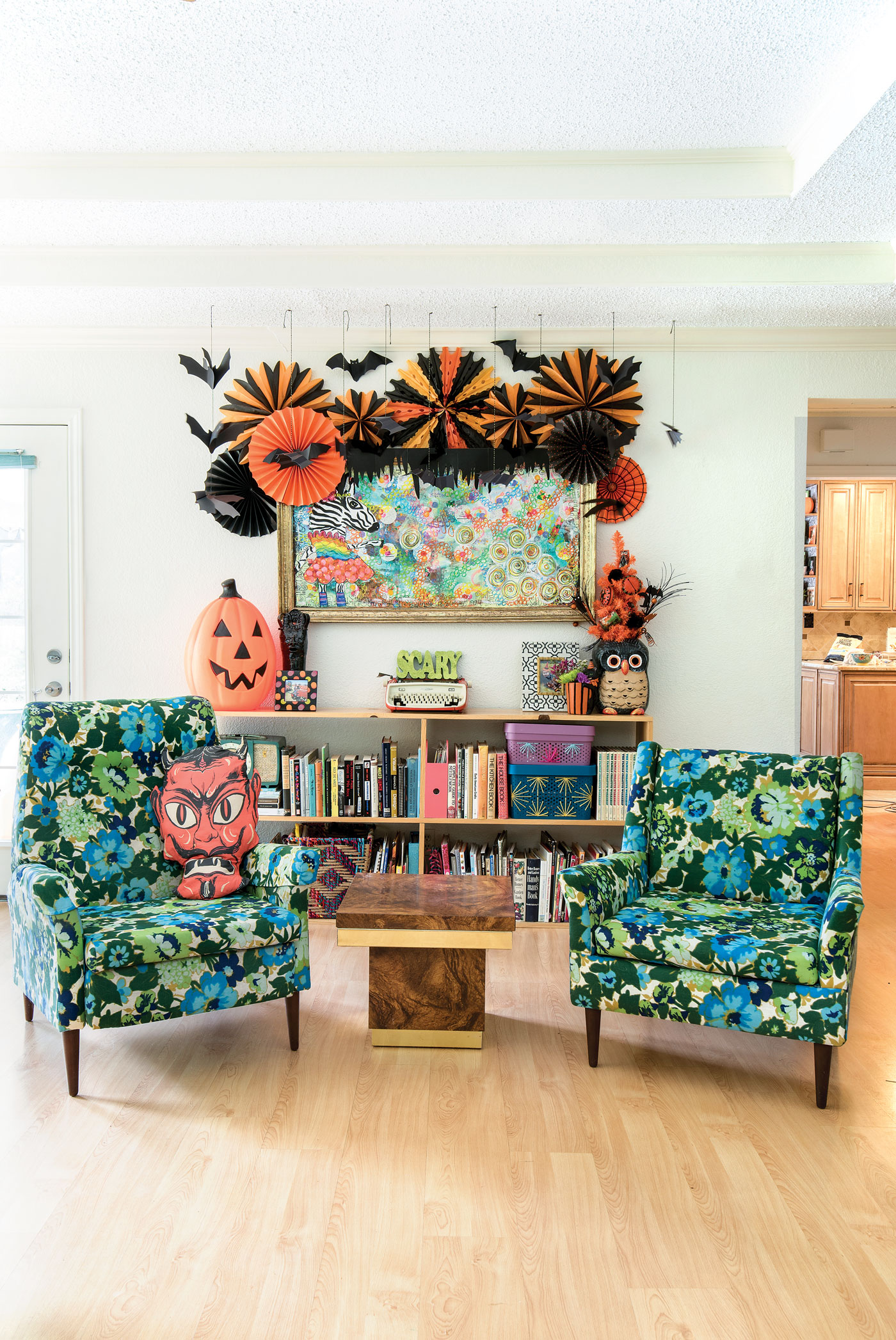 Written by Kathryn Drury Wagner
Photography by Scott Mason
"I DO HALLOWEEN AS BIG AS I DO CHRISTMAS," says Jennifer Perkins. Looking around her Austin, Texas, home, you might even be reminded of the film The Nightmare Before Christmas, as you will see a joyful mashup of Tannenbaum- meets-pumpkin patch. Jennifer is a writer and stylist who creates content for the DIY network eHow and more. She has hosted several programs for HGTV and DIY Network including Stylelicious and Craft Lab, and is the brand ambassador for Treetopia Christmas Trees.
Halloween was not a big deal to Jennifer when she was growing up, but once she had children, now 8 and 6, that started to change. "My son has a peanut allergy and all year long we go to birthday parties [where he can't eat peanuts]." In response, Jennifer started throwing epic Halloween parties.
The events, worthy of Willy Wonka, involved three months' worth of prep to bake and freeze cute treats—all peanut-free, of course. "I like to blame my son for my Halloween addiction," laughs Jennifer. "It's really an excuse!"
"I'm not super hardcore, but by July I've usually firmed up the date for the party," Jennifer says. By August, the Halloween decor start to come out, and Jennifer is in full swing. Luckily the house she lives in has two attics, one devoted solely to holiday items, the other to thrifted finds, so there's plenty of room to stash everything the rest of the year.
"Since I work for DIY Network and HGTV, I have to get Halloween decorations down and Christmas up pretty early. It's like a winter wonderland here by the end of October. When trick-or-treaters come to the house, they see a Christmas tree by the doorway. My children are seasonally confused."
Speaking of seasonal, she shops all year long for vintage Halloween items, especially at Round Top Antiques Fair. Her advice? Think Halloween in the spring, as dealers tend to mark prices up in the fall.
Jennifer enjoys collecting Halloween masks from the 1960s and '70s.

Vintage halloween masks and a garland of streamers make for a spooky display on the mantel
She also suggests thinking about things that aren't blatantly Halloween. "Things that are black, white and orange, in the right vignette, it could be Halloween. Like black diamond-point glass, I got into it," she says.
"In Goodwill and thrift stores, comb the aisles, and once in a blue moon, you'll find a papier-mâché jack-o'-lantern." One of her prized possessions is her father's papier-mâché jack-o'-lantern, from when he was a baby. "It's labeled with his name and age (1) … My collection is not a collection born overnight."
Surprisingly, Jennifer isn't into dressing up in costumes for Halloween; she truly relishes the decor and baking. The vintage plastic masks from the 1960s and '70s she collects aren't used for transforming into characters, but rather as artwork. Her kids know better than to mess with these hard-won treasures.