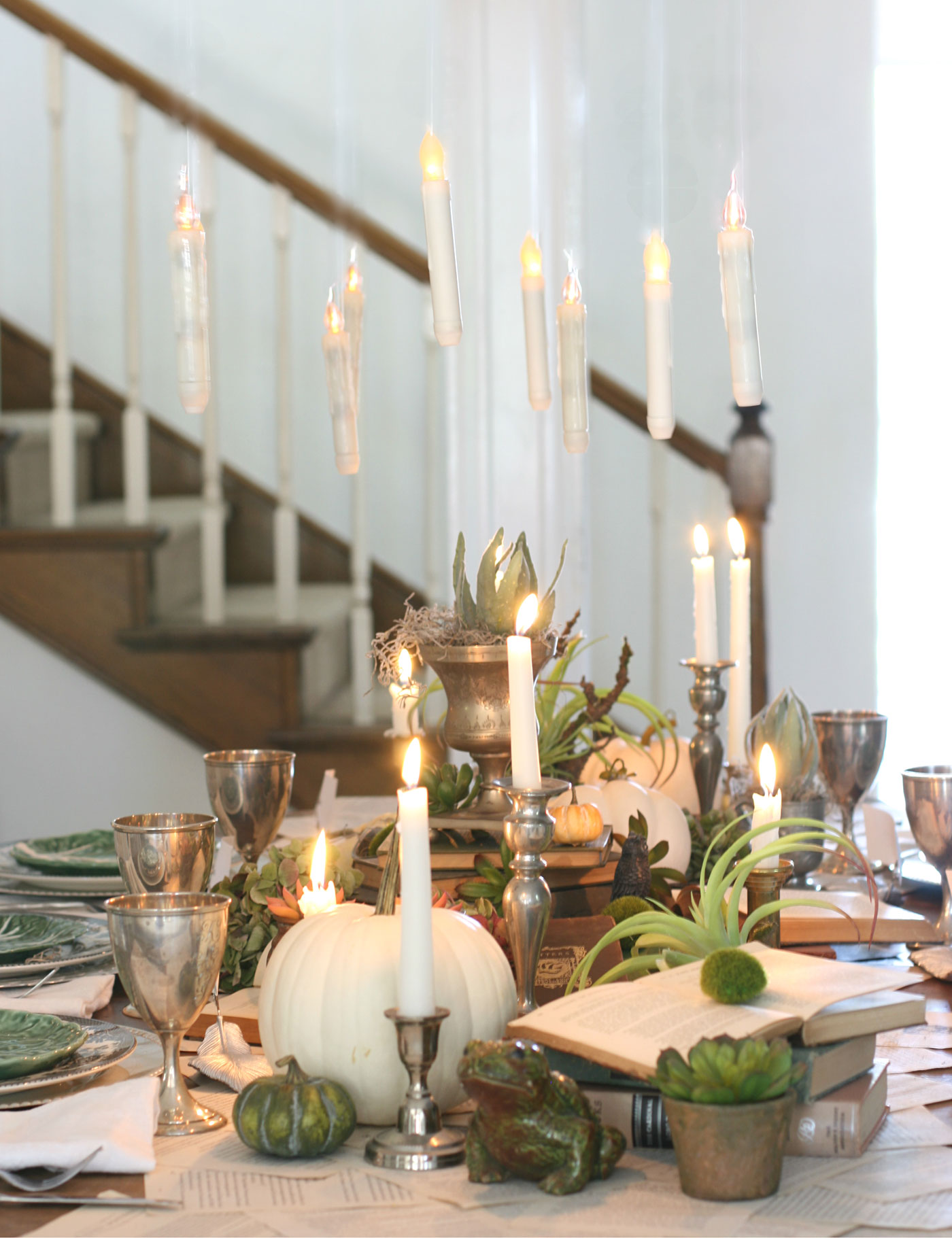 Romantic details add a vintage look to this elegant Halloween tablescape. Follow along as I help you create the perfect magical mood for your next Halloween gathering by using scattered book pages, heirloom silver, mysterious candlelight and fairytale creatures.
Scattered Book Pages
Aged pages are torn from a tattered book to create an effortless-looking table runner your guests will be sure to love. Start with a piece of contact paper slightly longer than your table, and then adhere your book pages in a scattered pattern to become the foundation of your spooky table setting. I like the pages to drape over each end of the table.
Piles of antique books can then be added on top of the book page runner, and are perfect for layering the rest of your Halloween accents on. Vary the placement of the books and even open up a few to reveal your favorite stories and illustrations.
Silver Treasures
Heirloom silver with a bit of tarnish adds to the mystical Halloween mood. At this table, each guest will have the pleasure of drinking from a silver goblet and enjoy the flickering candlelight from the silver candlesticks and antique candelabras in the room.
Succulents and Spanish Moss
Potions and magical herbs are a big part of the folklore of Halloween, so here we've captured the essence of an old-fashioned conservatory with the use of succulents and Spanish moss tucked in and around the books. Their muted colors work perfectly with this elegant Halloween mood, and the final addition of gorgeous dried hydrangea blooms finish off the old-fashioned look.
Spooky Creatures
Wise old owls and cute little frogs prove to be the perfect curious creatures at this magical table. Fairy tales are full of these fanciful critters, and their somewhat spooky nature makes them perfect for this setting.
Soft Colors
As you can see, the mood of this table is enhanced by the soft colors of all our tableware and accessories. Black and white transferware plates complement our scattered book pages, and green cabbageware plates vibe perfectly with the succulents and the soft green and white pumpkins on the table.
Suprises
It's fun to surprise your guests with subtle details that they may not catch right away. The magic of candles floating over the table is easily achievable with battery-powered tapers and a little fishing line. These floating candles easily attach to the ceiling with conventional thumb tacks.
Setting the Mood
The key to setting a mysterious mood at your party is to dazzle all of our senses. The right mood is created by how we feel, not just by what we see. At this dinner party, there are scattered references to everybody's favorite boy wizard, Harry Potter. These details are subtle; here to enhance the magic of the mood and add a bit of family-friendly fun. See if you can spot them in this elegant Halloween tablescape!
Crafting beautiful tablescapes is one of Fabiana's many talents and passions. She regularly shares her inspiring designs on her blog, Ciao! Newport Beach and on Instagram.