If you love vintage treasures, you know that much of the appeal is their fine craftsmanship and sturdy materials compared to how most new products are made. Plus, it's hard to let useful items go to waste. But styles change and a well-made piece of furniture may be given the boot because of an out-of-trend finish. Or, bits and pieces once cherished are now just a bunch of single earrings and broken pins and necklaces—a pile of stuff seemed destined for the trash. What to do?
Start seeing double! Get to know some basic "tools" and soon you'll be able to visualize the finished piece, ready for its close up. Once you hone your ability to see past the trash and picture the treasures that await you, you'll discover more projects abound than you may have time to complete.
Here are a few transformations to get you started: an embellished frame, chalkboard/catch-all caddy, romantic chair and updated armoire.
Embellished Frame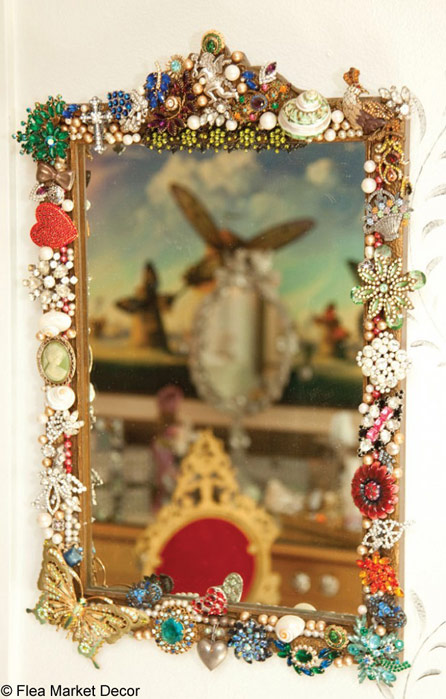 Comb local antiques stores, yard sales, thrift shops and flea markets—or your own stash—to find inexpensive elements to turn into one-of-a-kind art. Michelle Carder used "inexpensive baubles and shells" to transform this vintage mirror into a showpiece.
"My husband clipped off the backs of pins, earrings, etc., and we broke apart fake pearl necklaces," Michelle says. "We randomly hot-glued the finds onto an antique mirror with glue sticks and a hot glue gun. The hardest part is not burning yourself [wear gloves], and be sure to use angled tweezers to apply the jewels before the glue dries."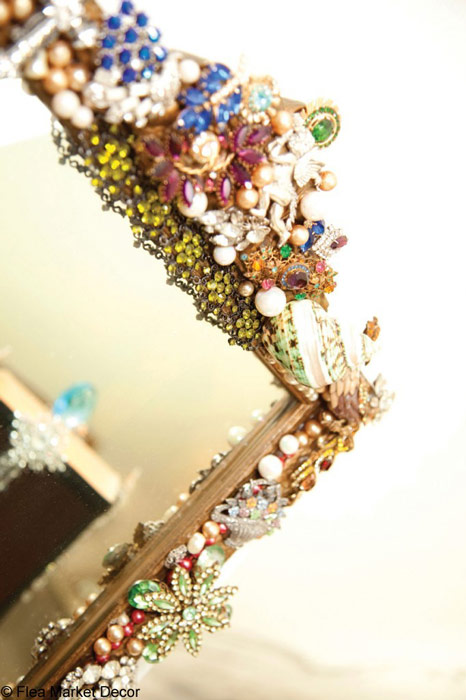 Use this technique to decorate mirrors, frames, serving and dressing table trays or smaller items like curtain tiebacks, photo frames, decorative vases and more.
By Hillary Black
Photography by Mark Mendez