If you're having trouble finding a space for your flea market art, try using it as a starting point for your décor. Reflect what you find in the painting to create a space for these favorite finds.
Here are a couple tips on how to achieve art-inspiration: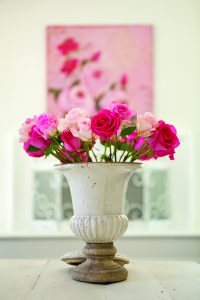 Use art as a mirror. In this photo, pink roses imitate the painting behind it. Doing this will subtly draw attention to your artwork.
Use art to inform a color scheme. In this room, hot pink, a color pulled from the large focal art behind it, is reflected in the furniture fabric. In addition, the fabric is opulent velvet reflecting back to the grand quality of the oversized painting.
By Hannah Hagen
Photography by Bret Gum